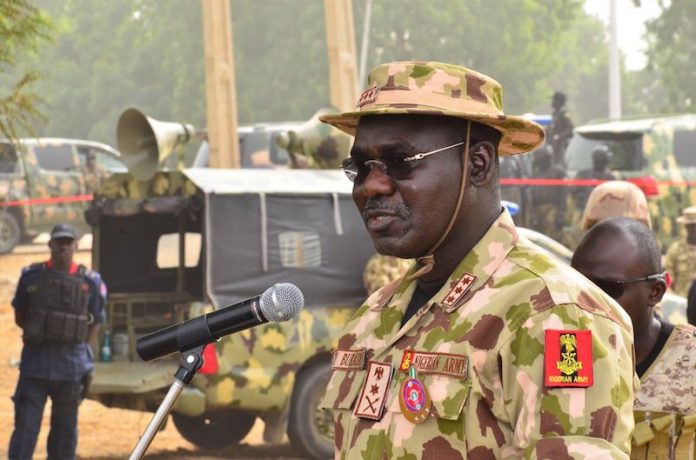 Kingsley Nwezeh in Abuja
About two week after Boko Haram insurgents killed scores of military officers in Borno State, terrorists resumed attacks on a military base in Buni Gari, Yobe State yesterday evening.
However, the Chief of Army Staff, Lt. General Yusuf Buratai, who visited special forces deployed in the north-east said they had all it takes to flush out the insurgents".
It was gathered that heavily armed members of the sect attacked a military base and some residential houses in Buni Gari town, in Gujba Local Government Area of Yobe State.
The army was said to have rallied a counter attack that forced the insurgents to beat a retreat, according to a military source within the theatre of war.
Meanwhile, the Chief of Army Staff (COAS), Lieutenant General TY Buratai has told troops of the Nigerian Army deployed in the north east that they have what it takes to flush out the remnants of Boko Haram terrorists wherever they are hibernating.
The COAS gave the charge yesterday while addressing Armed Forces Special Forces Battalion at their base in Borno State.
He added that, they were deployed in the North East to fill in observed gaps and make a difference in the fight against terrorism and insurgency in Nigeria.
Addressing them further he stated that they have all it takes to do the job and they should work together as a team, stressing that, the Nigerian Armed Forces have done a great job in the North East in terms of degrading the Boko Haram terrorists.
The attained success must be consolidated as they are adequately equipped, trained and with superior tactics than the terrorists. He implored them to dominate everywhere in the theatre and deny the terrorists freedom of action and movement. Later, the COAS had durbar alone with the troops in which they bared their minds where he provided answers.
The army chief also paid similar visit to Army Headquarters Strike Group where he had one-on-one interaction with them. Later in the evening he had dinner with the troops.
The visit to the troops by the army chief is coming at the end of the Chief of Army Staff's annual conference 2018 which took place in Maiduguri from November 28-30, a statement issued last night by army headquarters said.