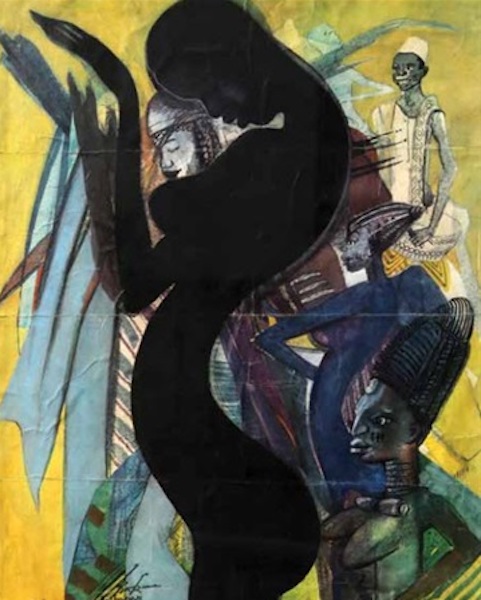 Ben Enwonwu's well-known "Negritude" sold for N25,850,000 ($ 71,806) to emerge the bestselling lot at the Arthouse Contemporary Limited's 21st Modern and Contemporary Art Auction held on Tuesday, November 20 at the Kia Showroom along Adeola Odeku Street in the up-market Victoria Island neighbourhood, Lagos. The 1991 80 X 53 cm watercolour on paper work was estimated to sell between N30,000,000 and 45,000,000 ($ 83,400 and 125,000).
Also at the auction, which began at about 6 pm, another well-known work by the artist – a 109cm fibre glass sculpture – "Africa Dances" sold for N16,450,000 ($ 45,694). This was a work that was estimated to sell between N 15,000,000 and 25,000,000 ($ 41,700 and 69,500).
Bruce Onobrakpeya's 147 X 208 cm metal foil relief work "Good Governance", which was estimated to sell between N6,000,000 and 8,000,000 ($ 16,700 and 22,300), followed closely on its heels to sell for N5,287,500 ($ 14,688).
Yet another Ben Enwonwu's 23 cm fibre glass sculpture "Remi", produced around 1977, sold for N4,230,000 ($ 11,750) and was estimated to sell between N4,500,000 and 5,500,000 ($ 12,500-15,300).
Besides Enwonwu and Onobrakpeya, this edition of the auction featured such modern masters as Akinola Lasekan, Ben Osawe, Tayo Adenaike, Chuks Anywanwu, Abayomi Barber, Okpu Eze, Ablade Glover, Rufus Ogundele, Simon Okeke, and Kolade Oshinowo, among others.
It also featured leading contemporary artists like El Anatsui, Peju Alatise, Gerald Chukwuma, Alimi Adewale, Sokari Douglas Camp CBE, Lemi Ghariokwu, Rom Isichei, Chike Obeagu, Nnenna Okore, Abiodun Olaku, Ben Osaghae and Kainebi Osahenye, among others.
The auction, in addition, also included three charity lots from Johnson Uwadinma, Muraina Oyelami and Nwachukwu Ike, in support of Arthouse Foundation, the non-profit artist residency programme based in Lagos, which provides a platform for artists to expand their practice and experiment with new art forms and ideas, offering live/work residencies throughout the year in three-month residencies.
The auction, which was led by noted auctioneer John Dabney, was sponsored by Kia Showroom, Veuve Clicquot, 7UP and Shiro.