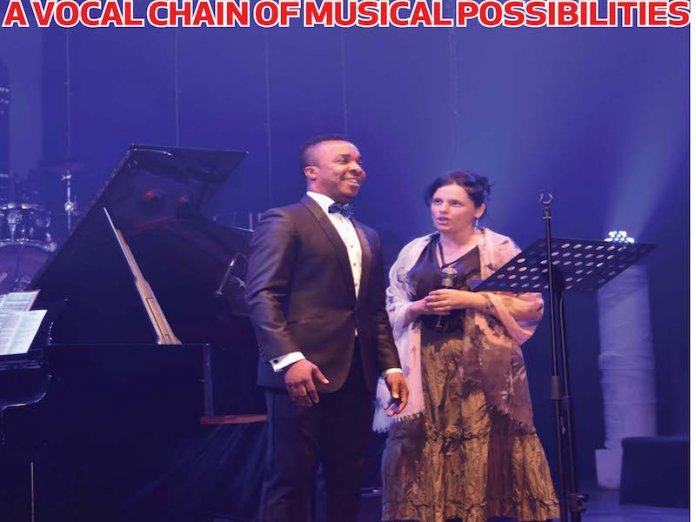 Guchi Egbunine's efforts to bring classical music closer to the street level is warmly received by a Lagos audience at a concert held at the MUSON Centre's Agip Recital Hall. Okechukwu Uwaezuoke reports
"I'm not a strict classical musician," Guchi Kest Egbunine, a. k. a. "Chief Tenor", informs the audience. "My friends know that."
His not being "a strict classical musician" is indeed the whole point of the Vocal Chain Concert Tour, whose Lagos edition has drawn aficionados to the Agip Recital Hall of the MUSON Centre in Onikan, Lagos.
Well, this is news to many! Especially, to those who are oblivious of the fact that the concert tour – called "Tour de Vocals" – is on its fourth year, having started in 2014. Wasn't the 2007 University of Nigeria graduate, who also holds a diploma in singing and practical musicianship from the Associated Board of the Royal Schools of Music (ABRSM), London, weaned on the classical music genre from his teenage years? Besides, even his impressive tenor voice has previously earned him roles in operas composed by such famous names as Mozart, Puccini, Verdi, Gilbert and Sullivan, among others.
By the time of his address to the audience, the concert's first segment is close to winding up. His captive audience – consisting of both expatriates and Nigerians cutting across all generational splits and societal strata – had sat through his endeavour to make the sublime musical genre more intelligible to an uninitiated public and had, at the instance of the emcees Julius Amakor and ATM, listened to the audio of his soon-to-be-released single, "Miserere".
Talking about his "Miserere", it is sufficiently reminiscent of the Gregorio Allegri's original composition for the Sistine Chapel Choir in 1638 intended for the Holy Week and the version by Amadeus W. Mozart. Yet, it is suffused with contemporary flavours and rendered not only in Italian, but also in English and Yoruba.
Guchi actual words swirls around bridging the gap between classical and pop or contemporary music. This explains his enthusiasm about the hybridisation – fusion, many would call it – of the two genres, which normally appeal to totally different sensibilities. Could that also explain the gaudy stage backdrop, which would have been better suited for a nightclub?
The end-result of his experimentation, albeit mostly euphonious, turns out to be a witches' cauldron of confections, which defy all attempts at classification or pigeon-holing. It starts with the concert overture: a comtemporanised version of Johann Pachelbel's Canon and Gigue in D Major, played by the band whose most recognisable members are Tosin Ajayi (the music director/ principal pianist) and Ibukun Kafaru (sound engineer/pianist).
Then, Guchi makes his first appearance on stage, sporting a red-fringed black cape over his black suit, for the Neapolitan song composed in 1902 by Italian musician Ernesto De Curtis, "Torna a Surriento". The song, which was officially copyrighted in 1905, enjoyed the same popularity as others like "O Sole Mio", "Funiculì Funiculà" and "Santa Lucia". It has been sung by renowned performers like Frank Sinatra, Elvis Presley, Dean Martin, Plácido Domingo, Luciano Pavarotti and Roberto Carlos, among others.
For MUSON concerts newbies, his vocal artistry becomes more evident with a duet performance of Andrew Lloyd Webber's "The Phantom of the Opera" with the soprano Blessing Agu. Actually, this song preceded the stage musical of the same name, whose lyrics were written by Charles Hart and Richard Stilgoe, with additional lyrics by Mike Batt. Originally, it was recorded by Sarah Brightman and Steve Harley and became a UK hit single in 1986. Eventually, Brightman (as Christine Daaé) and featured alongside Michael Crawford (as the Phantom) in its theatrical debut.
Perhaps, the sound engineers should be chastised for forcing Ranti Ihumoyan to wobble through Andrew Lloyd Webber's "Don't Cry for Me, Argentina" from Evita. The otherwise proficient singer finds herself struggling to project above the poor sound quality. Somehow, Guchi's rendition of Webber's "Oh, What a Circus" manages to wend its way through these landmines and right the wrongs.
But, Ranti gets the chance to redeem her image with her superlative performance of Georges Bizet's "Habanera", which has arguably been rated alongside Toreador as Carmen's most famous aria. "Habanera", which literally translates as "Havanan Dance", had its origin in the Cuban capital, Havana, in the late 19th century and became popular throughout the Spanish colonies.
It was in 1872, while he was in Paris, that Bizet was commissioned by the Opéra-Comique to write a full-length opera. Thus Carmen was composed with the help of a libretto by Henry Meilhac and Ludovic Halévy, which was based on the novel of the same title by author Prosper Mérimée. Bizet's full-length opera Carmen was set in Seville, Spain during the mid 19th century.
The concert's first segment's best offering turns out to be the 2005 Brits Awards-winning song "Angels", written by Robbie Williams and Guy Chambers and released as a single in December 1997, sung by Genevieve Ogu and Guchi.
Blond-haired violinist Oana Lonescu ushers in the second segment, after a 15-minute intermission, with a dexterous performance of Vittorio Monti's "Czardas". Lonescu obviously has come a long way with fiddling the string instrument and this earns her a well-deserved applause.
Between the soprano soloist Genevieve Ogu and Guchi, the Sound of Music medley – consisting of Lonely Goatherd, Edelweiss and Climb Every Mountain – seems cautiously rendered to sound as close to the original as possible. Really, a pop version of any of the familiar songs could have been an overkill.
And faithfulness to the original doesn't get better than the Swiss soprano Teuta Nicolet's rendition of the French composer Léo Delibes' "Les Filles de Cadix". Nothing less than a first-rate performance could have been expected from her given her renown in the local classical music circuit.
The dexterous violinist Emmaolin gets his limelight moment with his sterling instrumental rendition of Cold Play's "Viva La Vida", with Guchi interjecting with his voice the towards the end. Expectedly, this elicits the audience's rapturous applause for both performers.
The spotlight returns to Guchi, who first sings "Stars" from Les Misérables draped in a black cape over his black suit and, afterwards, the Christmas carol "O Holy Night" as well as "If I Can Help Somebody" by the late African-America diva Alma Irene Bazel Androzzo Thompson.
This concert actually winds down as Teuta Nicolet returns to sing the concert's parting Andrea Bocelli's "Con Te Partiro" with Guchi. But the real parting shot comes after the curtain call with Guchi treating the audience to "O Sole Mi O", the Neapolitan song written by Giovanni Capurro in 1898 and played at the opening ceremony of the 1920 summer Olympics in the Belgian port city Antwerp in place of the Italian national anthem.
The successful Lagos edition of The Vocal Chain Concert is a foretaste of what aficionados should expect at the Port Harcourt, Abuja and Benin editions, which will be holding for the first time this year.
––This concert was held on Sunday, November 25 from 6 pm