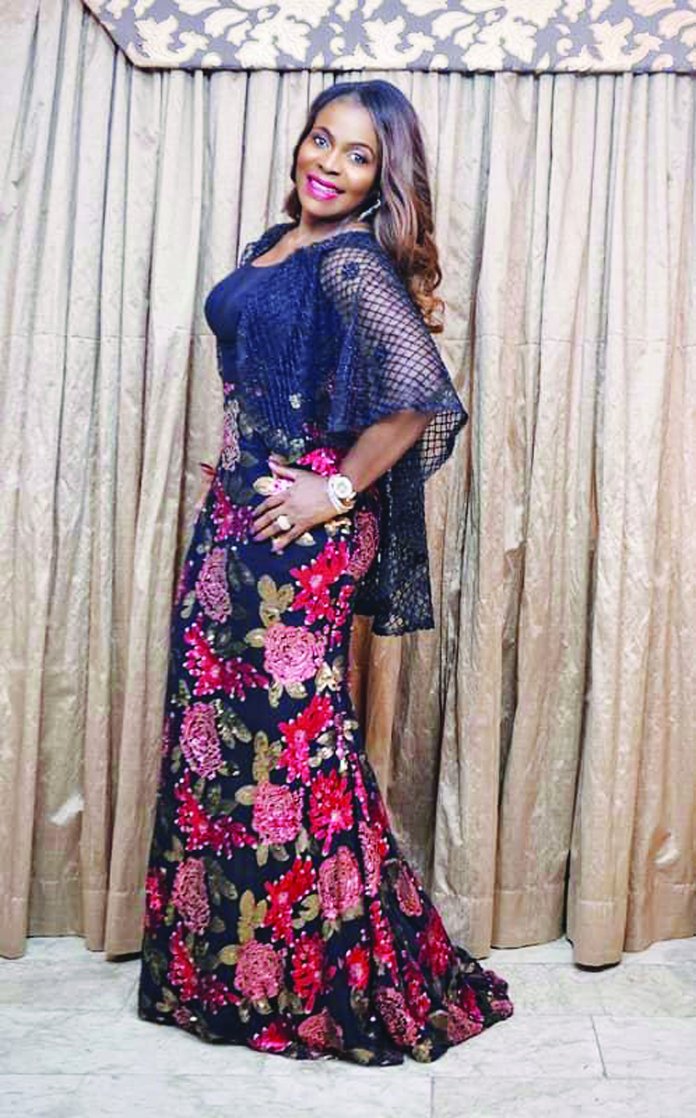 The founder of Seraphina Gems, Martha Najomo is unarguably one of the biggest luxury jewel sellers in Nigeria. She is everything you would wish to be in life. But success, greatness and fame were never thrust on her laps on a platter of gold. Martha actually worked hard for it. This beautiful woman had the picture of how rich she wanted to be in her head, but was slightly unsure of how to actualise it until she started her jewelry business way back in the university. Today, she has movers and shakers of the society as clients. This mother of seven children, speaks with Bayo Adeoye about her life at 56
How do you feel at 56?
I am grateful to God for still being here. It's only by His mercies that I'm alive and kicking. I'm thankful.
You look younger than your age. What is the secret even after seven children?
God first and personal life choices. When I say personal life choices, I mean eating right and exercising regularly. Also, I learned from my mum a long time ago not to sleep with problems. If they're on your shoulders and weighing you down, slant your shoulder and let them slip off. Again, she told me not to be a people pleaser. Whatever is right with God is all that matters. Nobody should dictate your life except you. Happiness comes from the inside and once you're happy within, you  glow from the outside. Envy no one because you don't know what shoes they're wearing and where it pinches. Do not be a photocopy of anyone. Be real and be true to yourself.
How were you able to manage bringing up seven kids?
God helped me. Truthfully, I'm fortunate to have children that have their head screwed on in the right place. Children that listen when you talk to them and even though most times they were away in school, God helped in making sure they didn't fall in with the wrong crowd.
What are the things you enjoy about having a house full of children?
I love having family around me. They bring joy and genuine love. When they say they love you, they mean it; especially your children. I'm not really a social media person so I get to hear new slangs, social media antics and all the daily gists from them. We talk and relate like friends. But most of them are out of the house now so it's just me and my television.
You are one of the top jewelers in the country, how easy is it running a luxury jewelry store like yours?
 First and foremost, I don't ascribe to that line. God enthrones man. I'm on my own lane. I'm a jeweler who has been here for over two decades. I must be doing something right to still be here so I give glory to God. Running a jewelry store is not easy and so many safety measures have to be taken in this country. Also, jewelry is a luxury item so it's not always easy but we give God praise.
Would you say it's been good since its inception?
It's not been all smooth sailing and it's definitely not been a bed of roses but we are still here. Every business has its ups and downs but it's mostly been good. God has been faithful. No lies.
What are the challenges handling such high end business in this terrain?
Security and debtors. Mainly people that would buy your items and thereafter stop taking your calls or keep fobbing you off. Then they go about calling you all sorts of names. Also, greedy people that fail to pick items based on their pocket capabilities. They pack your items and they disappear into thin air. Also, the present economy is really challenging as well. Like I mentioned earlier, jewelry is a luxury item so people have to think of feeding and basic needs first before buying it. But in all, God is faithful.
Being married to an equally known person like Capt. Chris Najomo must sure come with its own responsibilities. So how have you made a success of your marriage?
I'm an introvert really and I'm not 'out there'. I think that focusing on yourself and developing yourself is more beneficial than being known. Separating your private life from your public persona is equally very important. You have to balance everything really to make a success of it all.
One of your daughters is getting married soon to a Kenyan, how do you feel that she is getting married to a non-Nigerian?
This question has been asked over and over again. It's the same response I'll give once again. It's the person that matters and not the tribe. As long as there's friendship, genuine love amongst the persons involved, I'm fine. The world is a global village. It's not about the tribe or the nationality.
What marriage tips would you give her in these times?
Patience – Courtship (boyfriend and girlfriend relationship) is not the same as marriage. Communication is the key. No matter what it is, both of you should be able to talk about it and resolve issues. Nobody knows what's in your mind except you. So you can't expect your partner to predict and know what you want. Do not let third party into your marriage. Take your issues to God and not to man. You don't want your issues being told to a fourth and a fifth party.
Thrash out all issues immediately they occur as brooding over an issue never helps anyone. You only create insurmountable mountains over little molehills. Do not keep separate rooms. It helps widen the gap between you when you have a little misunderstanding with your husband.
If you have not been in business, what other thing would you have chosen?
Hnnmm… I've done this my whole life so I really don't know. But I know that buying and selling is my forte so maybe the boutique business? I've been buying and selling since I was nine years old so it would have been something that relates to that aspect I guess.
You are one of the most stylish women in Nigeria; what does style mean to you?
 Really? One of the most stylish? I actually just do my thing really. I wear what I feel comfortable in and what I feel suits me and not going with the trend and wearing outfits just because they're in vogue. I don't know about being one of the most stylish. I just try to dress up with the right accessories for the right occasion. That's all.
What is your favourite designer in the world and what would you not compromise on stylewise?
Favorite designers? I have a lot of favourites really. Top on the list is Vera Wang although I don't get to wear a lot of their clothing. I also love Escada, St. John and Teri Jon mostly because of the way they fit. Like I said, I only wear what suits me and not what everyone is wearing. Shoes – I love Loubs (although they're not comfortable but once in a while, you have to wear them. Beauty after all, is pain. I also like YSL, LV, D&G and Chanel shoes, anything comfortable really.
I wouldn't compromise on my accessories especially jewelry. Maybe because that's my field I guess.
How have you coped with being married to a pilot?
By being busy myself. Every woman must work. Every woman must have her handwork. No matter how little the business is, you must have something doing. You must have something productive to occupy yourself with. A marriage is a union of two but you must also have your own life and not be an extension of anybody. We just have to cope well.
What are you passionate about outside of business and fashion that gives you pleasure and fulfillment?
Studying the word of God; making notes to lead prayers in church, talking and counseling women about the true meaning of living, living life before dying because most women don't live/exist outside their marriage. Exercising, holidaying with family and friends and IrokoTV. After work, I like coming home to relax. I used to visit friends and hang out but I've come to realise that sometimes it's best to mind your business and stay in the confines of your home. People misconstrue your actions and the words you speak. They read different meanings into what is said and what is unsaid just because of a preconceived mindset about who they think you are.
What makes you tick now at 56?
GOD, He has always been there for me.
lf you were to describe yourself in three words, who would you say Martha is?
Sweet, spicy and sour. What you give is what you receive. If you give me love, you receive double love. Give me attitude and you receive it in full measure. No pretence, and actually very blunt.