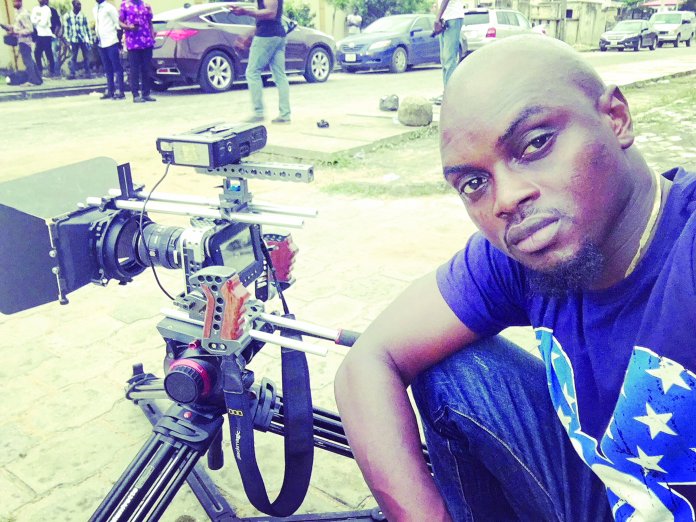 Hit movie, Ghost and the Tout, was not only praised for its huge humour but also picture quality. Meet Jude Legemah, the editor of the movie and the director of photography of several blockbuster movies. The highly sought-after cinematographer speaks to Chinedu Ibeabuchi about his dreams, specialty and issues affecting the industry
Who is Jude Legemah?
Jude Legemah is an introvert, calm and always eager to learn. I studied Banking and Finance at University of Benin. Jude Legemah is proudly Benin and hails from Oredo in Edo State. 
How did your journey to Nollywood begin? 
It all started nine years ago. I came to Lagos wanting to attend NIIT but fate smiled on me. I was lucky enough to meet my elder brother's friend. He advised me to join the creative department of Blast Media, a production company headed by Charles Uwagbai and Alex Mouth. It was a wonderful experience and up till this moment I have not regretted the decision. 
Before venturing into film production, were you a fan of Nigerian movies?
Not really, I hardly watch Nollywood movies. My attention was far off from that direction. 
What do you think has changed in this era of young and vibrant guys like you in Nollywood?
A lot has changed. We have more young and vibrant creative film makers that are driven by passion to make a difference. In this era, we are blessed with innovative technology that has made our work easier, more productive and inventive. Also, social media like YouTube has put Nollywood on the World Map. Nollywood garners fans from across the globe now.
When shooting, what biggest obstacles do you face and how do you tackle them?
Our major problems are finance, piracy and mediocrity. Others are Lack of quality control, bad story lines and lack of unity among practitioners. Most people come into Nollywood not for passion but for the money. But a few of us that have passion for our craft don't cut corners. We go the extra mile to get that perfect story and get the best cast to match each role, not minding the cost. 
How do you manage popular but highly pompous actors on set?
You don't need to chase them around. They have already penned it in a contract to finish the project. As a director or producer, you have to be calm so that your production will run smoothly. The actors who are proud and pompous don't last. Our industry is based on referrals. Most actors know this, so they behave themselves on set. 
What does the work of a Director of Photography entail?
Director of Photography (DoP) or Cinematographer is the crew chief that presides over the camera and light crews working on a film, television production or other live action piece. He is responsible for making artistic and technical decisions relating to the image. The study and practice of this field is referred to as cinematography.
What projects have you been involved in and which are you most proud of?
I have worked on several movies. These include the Ghost and The Tout (Editor and 2nd unit DoP), True Vision (DoP and Editor). Brother Jekwu (Editor), Esohe (Editor), Breathless (Editor), Deep Fever (Editor and DoP), Benevolence (DoP: Editor), Drive (Editor), Christmas is Coming, Okoro the Prince (Editor) and Kinsmen (DoP / Editor), just to mention a few. All these movies are Cinema movies. I am super proud of all of the projects I have worked on. My policy is 'you are as good as your last project.' So every Job is my best job.
As a proud Benin native, how have you tried to project Benin culture in Nollywood?
Esohe and Okoro the Prince directed and produced by Charles Uwagbai are epic Edo Movies that promote our culture and tell our story to a global audience. Currently, I am partnering with my cousin,  Osahon Amiuwu and we have some projects running in Benin like Panenka Spot Kick. Panenka is a sport programme to help youths in Benin get off the street and focus on becoming good citizens of the state. And also, there's Oduma Life, a pet project of the Crown Prince of Benin.
What can you say you are very proud of about your Benin culture?
I am a very proud son of the Soil. My culture and tradition have never changed. The average Edo man lives his life every day to promote the values and doctrines of our culture. 
Many youths dream Nollywood, can you share lucrative aspects in the film aside acting that they can try the skills?
First and foremost, you need to have passion for what you do. I can't say acting, editing or even producing is lucrative. You need to build an experience in the industry first, then find that that gives you joy, build your clientele base and money will locate you. Like I said, our work is based on referrals. 
Compared to Hollywood, what are the missing plugs that still need to be fixed in Nollywood?
A lot of things. First of all is budget, our structure and technical knowhow. Hollywood can budget $200 million for a project. But in Nollywood, we mange what we have. However, we are doing great within our budget constraints. If we have one quarter of the budget Hollywood has for a movie, our production will be at par with Hollywood. We are getting there.  
How would you describe your growing up as a typical Benin boy? Any incident that shaped your life that you are proud of or would like to advise others to avoid?
Growing up in Benin was fun. I did my primary, secondary and university education in Benin. Then our economy was by far better than what we have now. Life was easy. I lost my parent at a young age and I knew I had to look for a way to survive. Thank God, things went the way they did. My advice to the youth is that they should be patient, everything happens for a reason. Anywhere you find yourself, it is for a reason. Just be the best at what you do and hope for the best.
Did you at any point take odd jobs to survive?
No, I never did. I was actually working for my uncle as a graphic designer.
Tell us about your role in the Ghost and the Tout. How much did the movie make in cinema?
Ghost and Tout was a hit back to back. I was the 2nd Cinematographer and I edited the movie. Working on set was amazing. Toyin Abraham was amazing and she produced the Movie. I don't know the actual figure, Ghost and the Tout made a lot of money in the cinema, breaking records with lots of sold out tickets week in week out. 
Aside this movie, which other movie that you involved in is a blockbuster in cinemas?
Every movie that I ever worked on has always been a hit, from Ghost and the Tout to The WasherMan, Brother Jekwu, Kinsmen, Breathless and What Just Happened, etc.
To aim towards success in cinemas, what must film makers consider in their film production process?
Story is very important. You need to have a very good script, perfect cast and a crew that is ready to push beyond their limits to do a great job. 
How does a working week look like for a D.O.P/post production editor?
Currently, I work Monday to Monday. That's why I said you have to love what you do. At Creative Unit Studios, we are more like a family. I can't stay a day without seeing my colleagues in the office. While am on set, it's another life. The Jude you see in the studio is different from the Jude on set. I just love what I do. 
You seem to have done quite some works with Charles Uwagbai. How would you describe him in the industry?
I am very proud to be working with Charles Uwagbai. He is a very creative and innovative Director. He listens to you, he carries you along in every production and he always gives you tasks to make you a better person. Working with Charles Uwagbai is the most important thing that ever happens to me. 
Is there any old actor you admired? Who was that and what did you admire about him/her?
Like of Joke Silver, Pete Edochie and Olu Jacobs. These are amazing actors. These actors have been consistent over the years. We also have amazing new generation of actors now in Nollywood.
Many actors and film makers shy away from marriage. So tell us, have you not found Miss Right? Or perhaps there are enough wanabe babes to enjoy in the industry?
Marriage is a life long journey and you will certainly want to embark on this journey with someone you are compatible with. I am not shying away from marriage. In the nick of time, the wedding bell will ring.