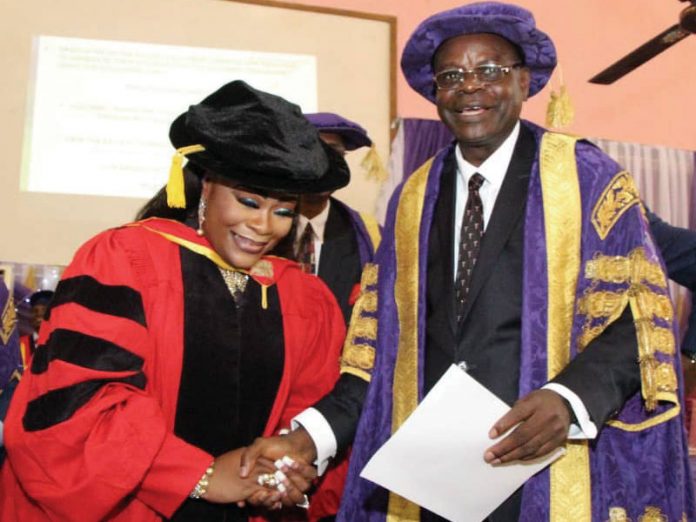 Sunday Ehigiator writes that for Sijuade Olusola Iluyomade, it was an honour well deserved when she was recently awarded with an honourary doctorate degree in law by Adekunle Ajasin University, for her innumerable humanitarian and charitable acts
On Friday, November 23, Mrs. Siju Iluyomade, was honoured for her innumerable humanitarian and charitable acts. The honour came in the form of a doctorate degree in law from Adekunle Ajasin University. At the event to honour her were Professor Tunji Abayomi, Pro-chancellor & Chairman Governing Council, Adekunle Ajasin University and the registrar, Professor Michael Sunday Ayeerun.
From her citation, it soon became obvious why she was singled out to honour. For years, her humanitarian acts cut across medical outreaches to underprivileged communities to skill acquistion programmes, health fairs, adopting a village scheme, empowerment
Asides being a wife, mother, minister of God, professional and leader in many spheres of life, Sijuade Olusola Iluyomade, is a trained lawyer from the University of Ife (now Obafemi Awolowo University, Ile – Ife), with over 30 years of post-call experience. Her formative years were spent at Queens College, Lagos; an all-girls boarding school.
Alongside her husband; Idowu Olusola Iluyomade, they co-founded the prestigious law firm, Iluyomade & Iluyomade & Co. in 1987, where she is a partner with interests in commercial practice, international trade finance, mergers and acquisitions, international joint ventures, energy and commercial law to mention a few.
She is a member of both the Nigerian Bar Association (NBA) and the International Bar Association (IBA). For her contributions to the development of the legal profession and legal education, the International Federation of Women Lawyers (FIDA); Lagos State Branch, Nigeria honoured her with a merit award on June 14, 2017. She is also an advocate on issues relating to sexual offences, child abuse, child and maternal health, and a major pioneer for the girl-child education in Nigeria.
Handmaidens Outreach
Flowing from a firm conviction in what women can achieve when they work together, Siju, as she is fondly called, pioneered the Handmaidens Fellowship in 1995, which has now become a popular, purpose-driven and multi-generational fellowship that meets weekly to teach and mentor countless women from all walks of life.
Testimonies abound of how the Handmaidens gathering have helped many find their purpose in life, as the ministry serves a lifestyle clinic through the impartation of the word of God, thereby empowering women to fulfill their destinies in Christ.
The Siju Handmaidens outreach is purpose-driven and multi-generational outreach that seeks to provide better life to all in need of it, in every way possible.
It has donated eight incubators to the Lagos Island Maternity as well as oxygen gauges, blood pressure machines, diapers, baby clothes, toys etc. In addition, the outreach, in conjunction with the City of David Charity Ball donated a dialysis machine to the Gbagada General Hospital. They also engage in hospital visits and care for patients on admission to encourage and offer support and succour through their ordeals.
Still on the platform of the Handmaidens, Iluyomade recently launched the Handmaidens Women in Leadership Series (HWILS). The HWILS is a platform to equip women with the skills, insights, invaluable networking and resources to create economic gains for participants and to propel women to be on the cutting edge of humanities, sciences and the arts.
This platform has in a short span of time attracted considerable support from leading women to come together to make progress towards achieving two pillars of the United Nations 17 Sustainable Developments Goals; reduction of illiteracy and gender inequality.
She also recently initiated the 'Born to Inspire Awards' to inspire succeeding generations of women.
Arise Women
In 2009, Siju conceived and birthed the Arise Women, a non-governmental organisation (NGO) and the 'Arise Women Mobile Clinics', to render free medical care to the grassroots and advance women's health through health promotion, education and advocacy.
She is the convener of the annual Arise Women's Conference; a true national landmark programme, which holds every last Saturday of October, for women from every walks of life. The focus and essence of the conference is encapsulated in its motto 'Arise for A Woman Today' so that the women of influence can take the message of upliftment to the grass roots.
Arise Women is a phenomenal and household name, which is working across Nigeria to empower women especially in the lower cadre of the society and break the barriers which limits them economically. Arise Women which operates under the slogan, 'The hand that rocks the cradle rules the world', believes that women have great power and influence as they have influence over the development of the children and the home.
It likewise delivers healthcare services primarily to women and children but not excluding men. It also empowers small and medium scale enterprises (SMEs) by providing financial support and skills acquisition to women.
To create role models and spread the gospel of women empowerment, she recently launched the Arise Ambassadors Award to deserving women. The Arise Ambassadors are all over the nation, using their sphere of influence to accelerate nation building.
Arise Women have embarked on various laudable projects with a particular focus on healthcare delivery to women and children not excluding men.
Mobile Clinics/Women Medical Outreach
Arise Mobile Clinics; best described as a doctor's office and clinic on wheels with all the facilities for laboratory services and special medical test, takes free healthcare to the doorsteps of communities across the nation. Most specially; into the hinterland and underdeveloped areas as accompanied by highly committed volunteers and professionals, including, doctors, nurses, pharmacists and laboratory technicians.
Arise Women carries out free consultations for diabetes, hypertension, pneumonia, HIV, blood sugar and cervical cancer screening. They have also sponsored surgical repair for 10 women who developed Vesico-Vagina Fistula (VVF) on a Medical Facility called Mercy ships; an international charity.
The Arise health-inspired odyssey and lifesaving mission is anchored on three mobile clinics valued at over half a billion Naira. Arise Women offer free medical services every second and fourth Wednesday of the month at its clinics. In addition, the Arise Women have de-wormed about 8,000 pupils under this programme and brought home to the little children, the simple meaning of love and care.
Arise started its out-patient clinic at the high-end hospital, Healing Stripes-Dialysis and Diagnostics Centre located in upscale Victoria Island, Lagos. In this well-heeled hospital, Arise opens its doors to women from all walks of life including market women, hawkers, business persons and all and provides them with quality primary healthcare, assures them of an environment that enables them to comfortably discuss their health challenges and get possible solutions.
The Arise out-patient clinic holds on two selected Wednesdays every month. In the same vein, the Arise Women espouse the virtues of hygiene and teach on preventing communicable diseases, health education and the importance of immunisation.
Widespread Outreaches
Asides the medical outreaches, Arise Women have catered to the dire needs of the internally displaced persons (IDP) at the Federal Government approved IDP camps. It gave out foods and relief materials, and also attended to their medical needs including taking delivery of babies.
In Makoko, a riverine area in Lagos, Arise sponsored the building of a school, provided mattresses and mosquito nets. Also, under the Arise Prison Medical Outreach, the Arise Women visited Kirikiri and Ikoyi Prisons in Lagos, where they provided drugs, sanitary items and household materials to the inmates. They also conducted free medical tests and consultations on the inmates.
From Ikeja, Surulere, Ebute-Metta, Ilaje, Bariga and Makoko, Yaba to Ejigbo, all in Lagos, the medical outreach continues to illuminate that notion of good work enunciated in God's manuscript; the Bible, through uncommon and soulful dedication to the wellbeing of the ordinary people.
'Adopt- A-Village Scheme'
The Arise 'adopt-a-village scheme' is undoubtedly revolutionary. The idea is to adopt villages under their initiative for a seven-year development programme.
The Arise women ventured to Dafara, a rustic village on the precincts of the Federal Capital, Abuja. In Dafara, Arise has constructed boreholes, renovated and re-equipped primary schools, built computerised library, provided school furniture, school bags, educational tools and software.
In the same village, for the year 2018, Arise is presently constructing a 10-bedroom ultra-modern hospital and a community centre set to be commissioned this November. In Kpaduma, another village on the precincts of the Federal Capital Territory, the Arise women built a school and provided boreholes for the community.
In Kobi Village, the Arise women are building a school, and providing a major medical outreach to the village and its environs with the full participation of the men in the village and the village heads.
Arise has now adopted this villages for a revolutionary change in the next seven years under their initiative to adopt villages for their seven-year developmental programme.
Arise Women, using education, teaching, training and the 'Arise Module' as a tool to teach compassion, good neighborliness, tolerance, kindness and other virtues have impacted the lives of thousands of people.
Arise women have also initiated the Arise goes to School initiative. The good hearted women have visited Queens College and Methodist Girls High School, both in Lagos among others.
In these schools, they offered medical care to students as well as teaching and non-teaching staffs. They also provided a generator set to the Rebecca's room, and a resource centre for the visually impaired students of Queens College.
Skills Acquisition Programme/ Health Fair
Siju is intentional about strengthening virtues of integrity, strength, fortitude, diligence, hard work, forthrightness, kindness and compassion among other virtues. She considers it a necessity for every woman to be totally accomplished in all she lays her hands to do.
Siju speaks with un-vacillating conviction about the promises and possibilities that can be unveiled when ordinary people are given the opportunity to acquire skills.
Consequently, under the Arise skills acquisition programme, Arise has recognised the hard truth that, lending a helping hand to the needy is not only about handing over cash but more importantly, teaching and acquiring skills for economic gains.
Although delivered free of charge, the skill acquisition programme is intensive and thorough. The women are taken through intensive classes and training sessions.
Arise has in its 10 years provided skills acquisitions and empowerment for women by sending them to experts to learn leather works, millinery, baking and through the help of facilitators put thousands of women to work by teaching them soap, pomade and insecticide making, bead making and event planning.
At the end of their training, Arise supports these women with modest financial resources and equipment such as sewing and grinding machines, deep freezers and hair dryers among others.
The Arise Women's Conference holds annually on the last Saturday of October together with the health fair where all women come together. At the conference, health checks and consultations; including eye tests, dental checks, fertility clinics, cancer screening centre's, sickle cell anemia are carried out free of charge on all attendees. They utilise major medical consultants, leading hospitals, and professionals at the fair.
Collaboration
Arise Women with collective effort and collaboration with wives of top state functionaries and Military Service Chiefs, who are women of great influence and other women bodies including the Federation of International Women Lawyers (FIDA), Police Officers Wives Association (POWA), International Women Society (IWS) and Market Women Associations have with one voice, one vision and purpose, timely advanced the cause of women and the girl child in Nigeria, in line with the vision of Arise.
The 'Arise for a Woman empowerment campaign' was launched on March 9, 2018 with the aim of empowering business owners with N100,000 to move the business forward.
In empowering women, Siju speaks to the psychological and spiritual well-being of their capacity to multi-task and engage in multi-roles, be it the academia, policy making, church ministry, business finances or the sciences.
Accomplishments
Siju has focused on total wellness and healthy living alongside primary healthcare delivery. She plays host to thousands of participants at the 'Arise Walk For Life', a health awareness walk that is held annually.
Siju also hosts the annual Redeemers day celebration for 'All RCCG Schools' in Region 20 (Apapa Family) and 'Behind closed doors with Pastor Siju' designed for singles and newly wedded; where the importance of family life as it impacts career is discussed.
She is also an incurable romantic and accomplished author with a collection of poems entitled, 'Expressions of Love', and other published works including Spring Time; Snap out Of It; The Women Also; See No Evil, Hear No Evil; Arise magazine, Arise Women and the Handmaidens Monthly Newsletter, among other publications on Christian daily living.
She relentlessly uses her skills to advocate the ills of the society, and bring about the desired change. She is on the board of various organisations such as, Visible Assets Limited, God's Children Great Talent (GCGT), Healing Stripes Hospital, River Bank School, to mention a few. She co-pastors with her husband, Idowu Iluyomade, and they are blessed with wonderful children.