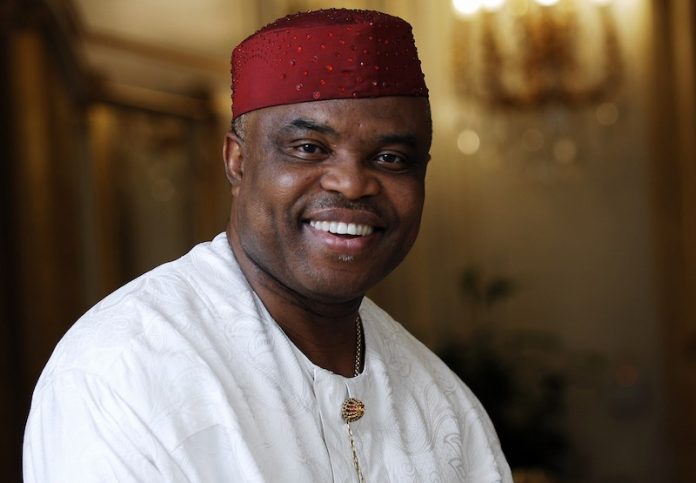 Goddy Egene

The Chairman of Seplat Petroleum Development Company Plc, Dr. A.B.C Orjiako,   has  sold  1.2 million ordinary shares  of his holdings in the company between October10 and November 1, 2018.
The shares, which were sold at an average price of N592.02 per share amounted  to N710.424 million.
In notification to the Nigerian Stock Exchange (NSE) yesterday, the  Chief Financial Officer of Seplat, Mr. Roger Brown,  said following the   sale,  Orjiako  now holds a direct interest in 16,151,325 ordinary shares and an indirect interest in 29,800,000 ordinary shares of  the company totalling 45,951,325 shares which equates to  a voting interest of  7.81  per cent  based on issued share capital of  588,444,561.
Brown said the notification was made in accordance with Rule 12 of the Amendments to the Listing Rules of the NSE and  Article 19 of the EU Market Abuse Regulations of the London Stock Exchange (LSE), the two bourses, where Seplat is listed.
The shares of the company closed negatively yesterday, shedding   9.6 per cent or N62.70 to close at N590 per share. Year-to-date, the stock has shed 5.7 per cent, compared to the 18.5 per cent declined  so far suffered by the NSE All-Share Index.
Seplat , which is the only petroleum production exploration firm listed on the NSE, recovered from a loss of N45.4 billion  in 2016 to a profit of N81.1 billion in 2017.
The company has also shown very bright prospects in the current financial year, having recorded a profit of N27 billion for the nine months ended September 30, 2018 as against a loss of N1.62 billion in the corresponding period of 2017.
Orjiako had told shareholders last June that the company would put more investment in its gas business in 2018 so as to boost revenue and deliver more returns to investors.
According to him, most of the investments would be in gas business, which he said contributed about 27 per cent of its revenue in 2017.
"Our strategy to diversify and grow our sources of income through the expansion of our gas business continues to gain momentum. Since the government launched various initiatives to stimulate investment in the gas sector, including opening the Domestic Supply Obligation ('DSO') price to commercial market forces, Seplat has been at the forefront of gas commercialisation and made substantial investments in support of the government's energy agenda," he said.
Also speaking on the performance of the company,  Chief Executive Officer of Seplat,  Austin Avuru, said: "I am pleased to report that Seplat made a return to full-year profitability in 2017, registered strong cash flow performance and significantly strengthened the balance sheet. In a year of contrast, we were plagued throughout most of the first half by force majeure at the Forcados terminal…Our proactive and decisive management coupled with the strong underlying fundamentals of the business have seen us emerge from an exceptionally challenging period a much fitter and stronger business that is well equipped to deliver long-term value for our shareholders."