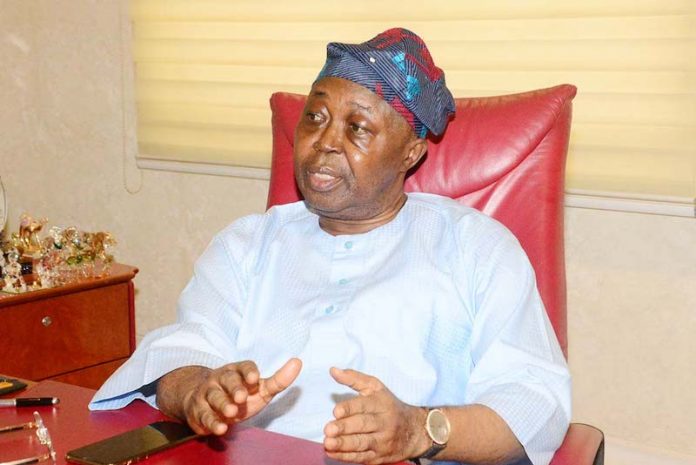 The need for public and private sector synergy to develop the country's education sector was the centre of discourse recently when a businessman, philanthropist and Chairman, Caverton Offshore Support Group, Mr. Aderemi Makanjuola donated a 500-seater ultra-modern lecture theatre to the Lagos State University, in commemoration of his 70th birthday. Funke Olaode reports
Education no doubt is the solid rock of any society as it catapults a nation from obscurity to a developed world that commands respect among the comity of nations.
Against this backdrop, the private sector, corporate organisations and individuals have been charged to collaborate with government to move the Nigeria education sector to a greater height.
This remark was made by the Governor of Lagos State, Akinwunmi Ambode at the inauguration of a 500-seater ultra-modern lecture theatre donated by the Chairman of Caverton Offshore Support Group, Mr. Aderemi Makanjuola to the Lagos State University (LASU) to mark his 70th birthday.
Among others, the event was attended by the Pro-Chancellor, University of Lagos, Dr. Wale Babalakin; Chairman of Honeywell Group, Mr. Oba Otudeko; the Oba of Lagos, Rilwan Akiolu; Pro-Chancellor of LASU, Prof. Adebayo Ninalowo; LASU Vice-Chancellor, Prof. Olarenwaju Fagbohun and Prof. Akin Oyebode who delivered the commemoration lecture.
The governor thanked Makanjuola, a philanthropist for building such an exceptional edifice, saying that the government needs more of such kind gesture from individuals and corporate organisations to address the infrastructural deficit in the education sector.
He said while it is a fact that education is the bedrock of national development, running a qualitative education system is capital intensive, adding that due to the competing demand of other sectors and the scarce resources, government needs the support of individuals and corporate organisations to provide adequate infrastructure for public schools. "Whatever we need to do in terms of endowment we need to start thinking about legacies that we will leave behind for posterity," he added.
According to the donor, the desire to give back to society especially LASU was borne out of his involvement with the institution, having been part of the governing council since late 80s. "Education is important and I believe if we have good environment for learning, students will excel. I felt that I should do something because when you help people you are helping yourself. Again, anything for Lagos should be the best. I went to the University of Leicester in United Kingdom and I felt Lagos, Centre of Excellence deservers the best that I must give back.
Makanjuola seized the opportunity to publicly thank his guardian since childhood, Alhaji Jimoh Gbadamosi for his support, saying that his virtues and values made him to become who he is today. He thanked his wife, Yoyinsola for her support in raising the children.
On the building, he said the governor did a lot to ensure that the building was erected and that the lecturers were committed and it helped to complete the building within six months. "Let us continue to invest in infrastructure."
Makanjuola also encouraged all to help mankind and be forward-looking. "Opportunities are there and that is why we should encourage the younger ones. I remember when we started Caverton, nobody gave us a chance, but today here we are."
On his part, the Chief Missioner, Ansa-Ud-Deen Society of Nigeria, Sheik Abdulraham, commended the donor for his heart of kindness, saying, "he is a man of means who places posterity above prosperity by deciding to invest in education and donate a lecture theatre to LASU.
"This is a selfless service to humanity. I don't know him to be a politician. He is a man who believes in today and tomorrow by investing in the youths. If we have people like Aderemi Makanjuola, there is hope in this country. God will continue to enrich him with good health."
In his remarks, the vice-chancellor thanked the state government for giving the university a face-lift, which he said has boosted the confidence of students and teachers of the institution and even made the alumni proud of "this beautiful citadel of learning."
The visibly elated Fagbohun described Makanjuola as a benefactor and hero. "Since the establishment of the institution, it has produced eminent people who have gone out to shape both social, political and economy of the nation. The government has changed the narrative by changing it from a perceived glorified secondary school to a university that we can be proud of.
"His commitment no doubt has opened floodgates of goodwill which we are benefitting today from unassuming businessman and philanthropist. Today, that 500-seater lecture theatre is standing tall and it has changed the landscape of LASU. The name Remi Makanjuola has now become part of the legacy of LASU."
Pro-Chancellor and Chairman, Governing Council, Prof. Adebayo Ninalowo extolled the virtue of the Caverton boss, whom he described as a distinguished Nigerian with a noble gesture humble; unassuming and gentle man. "I respect this man for his simplicity; he is a generous man whose generosity cuts across and I am not surprised that LASU benefitted from his kind gesture. This is not the first lecture theatre he will be donating. He donated one in Minna, early this year, he donated one at Summit University in Offa, Kwara State in memory of his late mother. This is the third one; we are indeed grateful."
In his brief speech, Babalakin, the Chairman of Bi-Courtney Group also canvassed "more funds for higher institutions. He said it is a self-protective policy to spend more on the education sector. "If we fail to develop our universities, we will face the consequence in the future. So we must meaningfully invest in Nigerian education for the sake of posterity.
"Education is at a cross road today in Nigeria and if we don't find a solution early enough we will all regret it. If we don't spend a lot of money on education from all sources, government, public, private, donor, alumni and so on, we have a long way to go."
In his commemoration lecture titled 'Town and Gown: Giving in the Age of Scarcity', the guest lecturer, Prof. Akin Oyebode called on universities' management to seek other means of generating funds outside government subvention in order to have adequate funds to run their institutions.
"From every university in Nigeria from the University of Ibadan to the newest, they need more funding. So anytime anyone thinks of university by provision of bursaries, scholarships or whatever we are happy because we are improving the situation of our universities.
"Governments alone cannot undertake development projects required in our universities. Facilities cannot be enough so governments cannot do it alone. We are not in universities to make money. We are in to improve the stock of human capital. So we need more funds in our universities," Oyebode said.
Commending Makanjuola for the gesture, the retired professor said the like of Makanjuola is rare. "There is no way we can write the history of LASU without mentioning Aderemi Makanjuola. He is not a politician. He does not want a vote from us. But he simply built this lecture theatre to add value to LASU and humanity at large. The rich should take a cue from him to build facilities for our higher institutions."
In his goodwill message, Oba Akiolu described Makanjuola as an incredible man who decided to leave a legacy. "Funding of education is very important because it is the only catalyst that can change the society. Remi Makanjuola is somebody that is dear to my heart. I am not surprised at what he has done today. His father too was a generous giver. I know this will not be the end of his kind gesture in providing infrastructural projects for education."
An ally of the celebrant, Mr. Akin Kekere-Ekun said: "Remi Makanjuola is a man of integrity, upright, honest and impeccable character, who dabbled into a terrain once reserved for the expatriates, aviation. Today, he is a success story. Makanjuola I know he is a committed man to his God, family and society.
"This is not the first time he would be committed to LASU. He donated money for research at Lagos Medical Institute. He is a man who is very much in line with education because he believes education is a gift of life. Beyond Nigeria, his alma mater, Leicester University, United Kingdom had also benefitted from his milk of kindness, as he has contributed generously to the institution."
Extolling the virtue of the celebrant, the All Progressives Congress governorship candidate in Lagos, Mr. Babajide Sanyaolu said: "Makanjuola is a man that I have emulated in the last 30 years. As a young university leaver, he is man I looked up to and watched how he grew his business. I learnt a lot from him as a man of impeccable integrity. A man of sound mind who has dedicated his life to God and humanity."