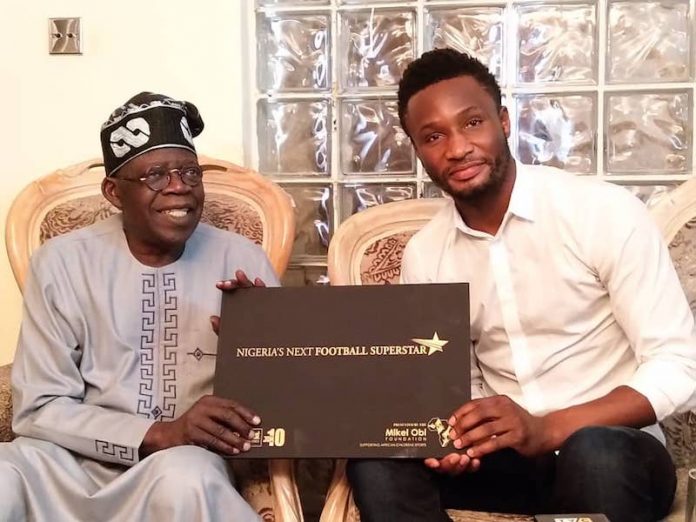 Femi Solaja
It was a major breakthrough ahead of the official launch of Nigeria's Next Football Superstar project of Super Eagles Captain, John Mikel Obi, following its endorsement by the National Leader of ruling All Progressives Congress (APC), Asiwaju Bola Ahmed Tinubu.
At the visit to his resident in Lagos yesterday, the former governor of Lagos State said he was delighted with the project the Super Eagles captain wants to embark upon, considering the fact that it will further help to project the name of the country in good light and at the same time help to discover hidden talents in the grassroots across the nation.
"I am very proud to receive you and honoured. I am a great fan of you but not a fan of your former club Chelsea. I watch your games passionately with the national team and you have distinguished yourself as a good leader of men.
"I regard you as a one of my family members because as you have captained this country football for some years now, the youths look up to you as a patriotic leader that they will want to emulate.
"You are not just a symbol to the youths but a great symbol to the elders of the nation and I'm really proud of you and will be ready to assist you to reach your goal as you aim to transform as many Nigerian youths to be leaders in their respective careers in football," Tinubu remarked.
While thanking the APC chieftain, Mikel said it is time to give back to the kids and that his desire to help develop the youth was to ensure that the next generation of talents will take the game far beyond the present cadre and it will further help to lift the image of the country in global football circle.
"After fortunately coming through the rigorous process of the Pepsi Academy in Nigeria, I know first hand how many flames of dream died along the way and I want to help change that.
"It is always a struggle as a kid in Africa to reach your goal and it's part of the reason why we have come to meet Asiwaju so that we can help, guide them to be among the Nigeria's next football superstars," he remarked.
The project which will be launched in the first quarter of next year will be for children between the ages of 13 and 16 out of which nine boys would be picked as winners and will receive two weeks training session at a top English club and a chance to earn a year youth team contract.
Aside that, the chosen players will enjoy an all-expense paid two-week trip to United Kingdom and will also have One-on-One training session with the former Chelsea star and will get pep talk from world-class football agency and an insight into English Premier League and a chance to meet with footballing heroes.
The winners, according to Mikel would be chosen by top class coaches, scouts and footballing talents.
He said the foundation will highlight incredible talents across Africa, giving children a genuine chance to pursue their dreams .
The Foundation which is in partnership with multi-platform broadcast network, Kwese, will hold selection trials in Abuja, Port Harcourt and Lagos. Aside Nigeria, the foundation will also hold trials in Algeria and South Africa.