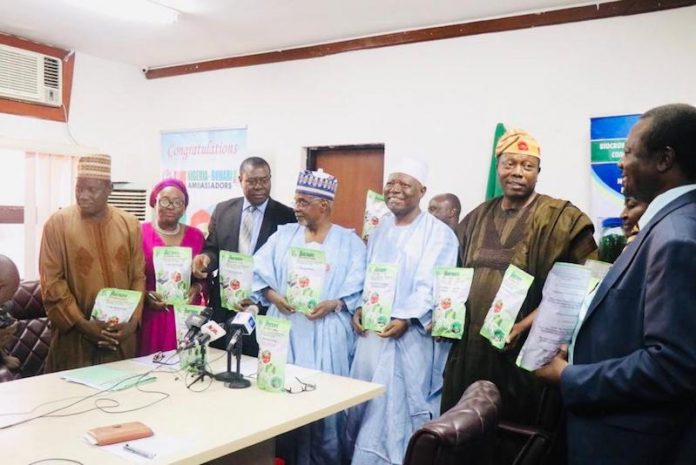 Bennett Oghifo
The use of poisonous chemicals for the preservation of food, particularly seedlings will now be a thing of the past with the development of bioinsecticides by the National Biotechnology Development Agency (NABDA) in collaboration with BIOCROPS Biotechnology Company Ltd, an indigenous company.
The Bioinsecticides are organic and harmless to people, the environment and are safe alternatives to Snipper, a chemical that scientists believe is dangerous to human health and the environment, but popularly used as a crop insecticide.
To produce the bioinsecticides, a Memorandum of Understanding (MoU) was signed between the National Biotechnology Development Agency (NABDA) and BIOCROPS in Abuja, recently.
NABDA, an agency under the Federal Ministry of Science and Technology, is a public institution which has the mandate to acquire, domesticate, deploy, carry out well-focused research in biotechnology, coordinate, facilitate and promote biotechnology activities in Nigeria, said the Permanent Secretary, Federal Ministry of Science and Technology, Mr. Bitrus Bako Nabasu, at the signing ceremony.
He said BIOCROPS, an Indigenous and Private Biotechnology Company, is an ERGP Laboratory incubatee of the Federal Ministry of Budget and National Planning with a focus on peri-urban agriculture and novel products. Biocrops whose founding predates the establishment of NABDA, adopts a social business model to strengthening its relationship with its clients by focusing on value creation that is delivered in scaled production of assorted high-quality seeds and seedlings; scaled production of Bio–fertilizers, pesticides and nematicides; efficient supply of biotechnology services; agricultural value chain creation; biotechnology consultancy and food production.
Biotechnology is a valuable tool for addressing the several challenges of Nigeria in terms of food production, genetic improvement of living systems, as well as improved health management, environmental sustainability and industrial growth, said the Permanent Secretary.
"NABDA and Biocrops have today reached a historic landmark in their relationship by signing this MOU which will ultimately lead to immediate production of Nigerian developed and manufactured biotechnology products, such as, Biofertilizers, Biopesticides, Technology Seeds and Elite seedlings, including elite Yam varieties promoted by IITA and YIISWA programme which are grown in the Air. This is in line with the Economic Diversification Agenda of the present Administration under the able leadership of President Muhammadu Buhari.
"Biocrops today has brought synergies between farmers, top notch Research Institutions within the country, digital finance experts, novel market ready products and indeed game changers in the agricultural space."
He said the feat by both organisations goes to show the seriousness with which the government of the day regards agriculture. "Nigeria today has signified its readiness to promote and compete in the global village. This collaboration has attracted an initial funding of about N3.2 billion in its phased implementation, and will produce close to 10,000 jobs that did not hitherto exist in this country.
"NABDA, through the Federal Ministry of Science and Technology has found a worthy partner that is research rich and product ready and that demonstrates the efficacy of Public Private Partnership when harnessed effectively."
He described the partnership as "the beginning of good things to happen to bring back the lost glory of Nigeria's economy. We sincerely welcome and acknowledge this memorandum as a significant forward in the quest of the administration of President Mohammadu Buhari, at making Agriculture a main contributor to the Nigerian economy."
He said globally, science and technology is shaping development and the way people think and act. "Government has demonstrated in time past its determination to make science and technology the hub on which the wheel of development revolves. Premised on this, the President has promised to make science and technology the country's mainstay, and not to allow any research result go to waste ever in this country."
He said the Federal Ministry of Science and Technology through its Agencies, as a matter of policy, has been forging and supporting collaborations among Public and Private Institutions/Organisations to facilitate development, equity investment in projects and access to new revenue and capacity to service delivery for the fulfillment of the visions and aspirations of the national Science and Technology.
Caption: R-L: President of the Nigerian Institute of Quantity Surveyors (NIQS), QS Obafemi Onashile, signing a Memorandum of Understanding with the Director of Qatar Green Building Council (QGBC), Mr. Meshal Al Shamari when the former led a delegation of the Institute to QGBC headquarters in Doha, Qatar… recently