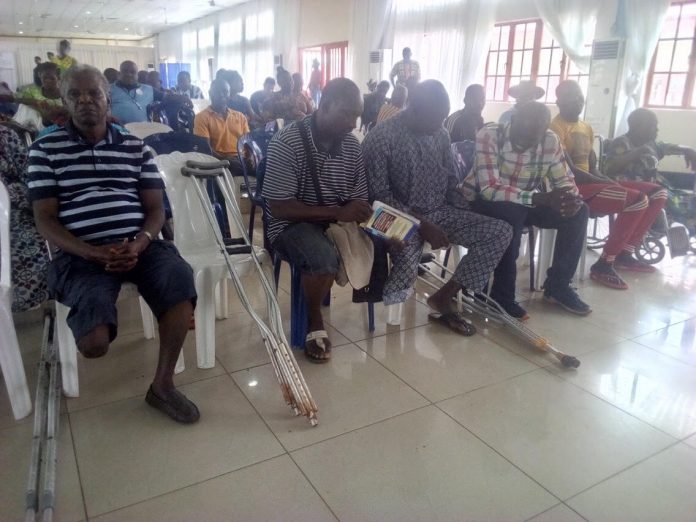 About 300 hundred amputees last week in Benin City, Edo State, received free custom-made prosthetic limbs. Adibe Emenyonu who was at the event tells how the gesture was made possible by the office of the wife of Edo State Governor in conjunction with ISHK Limb Centre, and St. Theresa's Catholic Church
Fifty-five-year-old Mrs. Oshafi Ebi, had her left leg cut off two years ago after an accident, which left her hospitalised for more than eight months. She ended up on a wheelchair.
Similarly, Samuel Ufochukwu, a 60-year-old trader had one of his legs amputated after spending six months both at the conventional hospital and traditional bone setters, before the affected leg was finally cut off to avoid further decay.
 A clutch was recommended for him after the damaged leg was amputated to avoid further traumatic stress.
Recounting his experience, he said the accident which almost killed him,  occurred three years ago while coming back from Onitsha, where he went to buy goods to sell in Benin City.
While the aforementioned persons had their own accidents when they are of age, Odinore Augustina, a worker with St. Theresa's Catholic Church, said hers happened when she was just six years old.
More pathetic is that of Osaretin Idemudia, a timber merchant, who said his left leg was cut off right inside the forest when a tree fell right on one of his legs three years ago.
However today, Idemudia, Augustina, Ufochukwu and Ebi now have a new lease of life. They can now walk without the aid of clutches and wheelchairs, courtesy of St. Theresa's Catholic Church, Benin; Edo First Lady, Mrs. Betsy Obaseki and ISHK Limb Centre, the humanitarian arm of Tolaran Group.
The four are part of the 300 amputees  whose faces now beam with smiles when their legs/arms were fixed with prosthetic (artificial) limbs.
In her remarks, during the fixing of the prostheses, wife of Edo State Governor, Mrs. Betsy Obaseki, said the gesture was the handiwork of Tolaran Group, a customer to Bank of Industry (BOI), where she works.
Obaseki who came in company of the wife of the state deputy governor, Mrs. Maryann Shaibu, also thanked the beneficiaries for making themselves available, hoping that the replacement would improve their lives.
She advised the beneficiaries to always get in touch with the committee that handled the exercise in case they have any issue with their prosthetic limbs.
In his speech, Branch Coordinator, Tolaram Group, Bidlan Jaiprahash,
told the beneficiaries to always keep their prosthetic limbs clean and avoid contact with water.
He said should there be any case of damage, repairs can be made at a subsidised fee, adding that the replacement if properly taking care of, can last for a very long time.
Speaking on behalf of St. Theresa's Catholic Church, Odinore Augustina, said with the limb replacement, (they) beneficiaries now have a new lease of life in the sense that they can move freely, unlike in the past when they move with the aid of clutches and wheelchairs.
On behalf of the beneficiaries, Ebi, thanked the Edo first lady and all those who facilitated the prosthetic limb for them, adding that they are very happy that they can move about freely like persons with two legs.