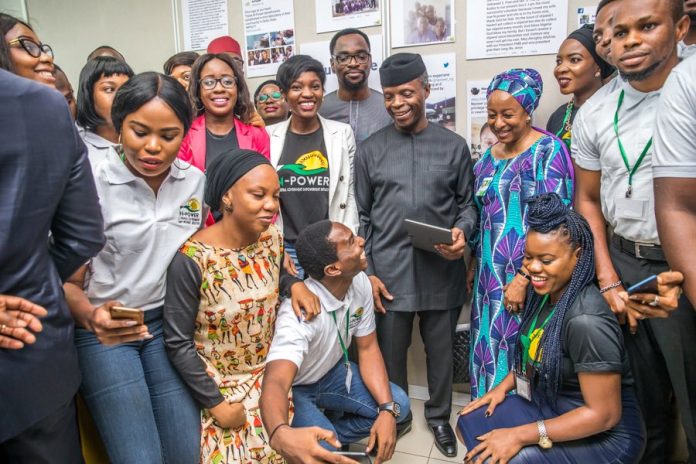 Nseobong Okon-Ekong and Ojo Maduekwe write that Nigerian politicians have become skillful at presenting what they intend to do when elected, but leave a yawning gap on the how they intend to achieve same
It is late afternoon and the crowd was becoming a little bit restive from a long period of waiting. The political campaign was starting four hours behind its 11:00am schedule. Arrival of dignitaries to the event signaled its commencement. In the midst of the cacophony of loud music blaring from the Public Address System and cultural dance, the voice of the masters-of-ceremony cut through the din like a blunt knife. Again and again, he screamed the slogan of the political party. Not satisfied with the response, he kept shouting the catchphrase until, the reply became a thunder that reverberated round the arena.
One speaker after another was introduced to the gathering. Each did the same thing. Striking a popular song that was moderated to cast aspersion on political opponents, the audience was incited to sing along. The narrator spent a lot of time condemning the opposing political parties and candidates. He said nothing about what he can do. When he said anything at all about his capacity, it was in the realm of the bogus and the outlandish. Usually, audience members were not given any opportunity to probe these presentations. Even if there were discerning listeners, they could not raise their concerns in public.
A typical political party rally in Nigeria is a show of raucous entertainment and vile dressing down of partisan enemies. Hardly does it address topical issues that should generate beneficial conversation.
In the 2011 governorship contest in Akwa Ibom State, for instance, Senator Godswill Akpabio, who was then seeking votes for a second tenure as governor promised to establish 31 industries-one in each of the local governments in the state. Without being guided by any feasibility study. He did not even say which industry would be sited in a particular place. Akpabio won the election and served out his tenure without establishing any industry anywhere.
It may well be that he never intended to establish any industry. He would have made history if he did. But the Nigerian politician is not interested in scoring high marks of achievements. Faced with stiff competition, with similarly well-funded rivals, perhaps the most expedient thing is to spin a web of bizarre lies with the sole aim of getting elected. The classic campaign of a Nigerian politician seeking public office is managed by compulsive falsifiers who spin stories about everything, but what they are actually expected to do, which is sell a body of eloquent and realiseable policies that can get someone elected.
It bit has become cliche to see politicians in Nigeria take to the podium during election campaign to mudsling their opponent for not living up to previous campaign promises, while at the same time making vague promises they as well have no idea on how to execute to the electorates.
Nigerians are familiar with vague promises made by politicians across the political parties, such as the pledges to 'tackle insecurity', 'revive the economy', 'stabilise the Naira', 'construct roads', 'kill or end corruption'. These are a few examples of promises politicians and their party make, with no attempt to explain how they intend to achieve them.
During the 2015 general election, the All Progressives Congress (APC) and President Muhammadu Buhari (its then presidential candidate) were caught promising all manner of change to Nigerians, some of which have been denied by the party or broken by Buhari in a space of three years.
For instance, it was reported that Buhari, during one of his campaigns in Owerri, Imo state said he was going to make the Naira equal the U.S. dollar. Although the media did not provide the specific quote to this promise, Buhari was quoted as saying the following: "It is sad that the value of the Naira has dropped to more than N230 to one dollar. This does not speak well for the nation's economy."
Reacting to the claim, then Deputy Director of Policy and Strategy of the APC Campaign Organisation, Mr Bolaji Abdullahi had said what Buhari made was only a description of the economic situation at the time and promised that the APC would improve on the economy.
As with other promises that were made prior to that time, the APC was not exact on how it was going to revive the economy.
Some of the promises made by Buhari and the APC in the heat of campaign and which they've failed to implement include stabilizing the Naira; ban all government officials from seeking medical care abroad; implement the National Gender Policy, including 35% of appointive positions for women; state and community policing; generation, transmission and distribution of at least 20,000 MW of electricity within four years; create additional middle-class of at least two million new home owners in the first year in government; and have at least one functioning airport in each of the 36 states, and a host of other promises.
One of the promises in particular was broken by Buhari himself. On May 7, 2017, the president left the country for the United Kingdom where he would stay in London for 103 days receiving medical attention. After that he would travel a couple more times outside the country for checkups with his doctors.
On the issue of fuel subsidy payment by the Nigeria National Petroleum Corporation (NNPC), Buhari had once described it as a scam, but under his watch, the NNPC has continued paying the same subsidy on petroleum. Recently the Senate set up a committee to probe the payment of $3.5 billion in fuel subsidy by the Buhari administration.
It looks like 2015 is on repeat. Both presidential candidates of the APC, Buhari, and the Peoples Democratic Party (PDP), Atiku Abubakar are making promises to the electorates. While Buhari has promised to take Nigerians to the 'Next Level', Atiku has pledged to 'Get Nigeria Working Again'.
Atiku's policy is arguably a borrowed caricature the 'Let's Get America Working!' campaign which seeks to restore a dynamic and prosperous middle class to drive economic growth by helping to advance policy decisions that create and maintain good middle-income jobs, guarantee retirement security, expand access to the American Dream, and ensure that the benefits of the ongoing economic recovery are felt by the many, not just the few.
Buhari plans to take job creation to the next level by engaging one million graduates through the N-Power policy and also skill up 10 million more under a voucher system in partnership with the private sector.
One million farmers will be assisted by the Anchor Borrowers' Programme. 1.5 million jobs along dairy, beef, hide and skin, blood meal, crops, will be created by the Livestock Transformation Plan, and five million more jobs will be created by the Agriculture Mechanisation Policy.
Buhari also promises to make available $500 million in funding for the tech and creative industry to create 500,000 jobs and train 200,000 youth for outsourcing market in technology, services and entertainment. He has also vowed to create 300,000 jobs for vendors and farmers by increasing the number of children fed under the school feeding programme.
Buhari's plans have been criticised by both laymen and experts. Being the hardest hit, ordinary Nigerians are weary of a Next Level under Buhari. They worry what the Next Level of another four years could be like, if within his first four years Nigeria could go from 8.3% unemployed rate to over 18%, and the country's debt up from N12 trillion to N22 trillion.
The irony of this is that the same Buhari who had claimed in 2015 that he would create three million jobs yearly if elected president, is the one whose policy have boomeranged, costing Nigerian youths their job.
Some experts such as a former president of the Nigerian Bar Association, Olisa Agbakoba, have described the 'Next Level' promises as a "complete disaster", calling it a "handout" with no "conceptual overhang".
While unveiling his 'Next Level' plan, Buhari said his first term was used to lay the foundation for what he had promised Nigerians during the 2015 elections, "a secure, prosperous and corruption-free country".
Critics of the president are of the opinion that Nigeria is not yet secure, neither is the country prosperous nor corruption-free. Even when one was to agree with Buhari that the Boko Haram terrorists do not occupy anymore Nigerian territory, it cannot be said they've been defeated.
Also, the Fulani herdsmen appear to be an even bigger security threat. An estimate of about 20,000 Nigerians since June 2015 have been murdered by the combined threat of the Boko Haram and Fulani militias.
Nigeria is not yet a prosperous country. The World Poverty Clock ranks the country as the poverty capital of the world. With 86.9 million Nigerians now living in extreme poverty, the country has overtaken India as the country with the most extreme poor people in the world. This figure represents nearly 50% of Nigeria's estimated 180 million population.
Instead of Nigerians experiencing prosperity, standard of living has taken a dip since Buhari became president. For instance there have been astronomical increases in the prices of building materials such as cement; and foodstuffs such as rice. Not to mention that fuel is now sold higher, yet, it is still being subsidised by the federal government.
Another area where Buhari is laying claim to have delivered but critics disagree, is in the fight against corruption. It was under his watch that his former minister of finance, Mrs. Kemi Adeosun, after admitting to forging her National Youth Service Corps certificate, an offence punishable by 14 years imprisonment, was allowed to leave the country without prosecution.
Then we have one of the president's allies, incumbent governor of Kano State, Abdullahi Ganduje, who was caught in an investigative video receiving bribe. The Economic and Financial Crimes Commission (EFCC) under Buhari has shown no interest in investigating the matter.
As well, critics of Atiku's plan to get Nigeria working again claim that it is equally full promises and not much on the details of how those promises would be achieved. But the PDP thinks otherwise.
The party's National Publicity Secretary, Kola Ologbondiyan, said Atiku's document offered practical solutions and answers to the myriad of economic, social and political challenges facing Nigeria.
"The Atiku Abubakar policy document is a product of very wide, painstaking and productive consultations with Nigerians from all walks of life, critical stakeholders and development partners in key sectors, in the overall determination to chart a new course for our nation. In line with the PDP's people-based manifesto, the Atiku Abubakar policy document places utmost priority on the people by focusing chiefly on their yearnings for job creation, infrastructural development, poverty eradication, human capital development, inclusiveness and national unity," he argued.
For critics of Mr. Abubakar's policy document, they cite instances such as the PDP candidate's promise to grow Nigeria's GDP by building a "broad-based, dynamic and competitive economy with a GDP of US$900 billion by 2025", and deliver 20,000MW of electricity by 2025 through by "diversifying its (Nigeria's) sources of power".
Other promises are: To promise five million bpd of petroleum in 2025; lift 50 million people out of extreme poverty by 2025; and reduce unemployment and underemployment rate to a single digit by 2025.
Also, Atiku has jumped on the create-millions-of-jobs promise craze, by pledging to create 12 million jobs in his first term as president. Some critics are also of the opinion that his document is equally lacking in plans on how he intends to make his promises materialise into achievements.
Criticising Atiku, National Chairman of the APC, Adams Oshiomhole, told journalists recently that "If you are going to create 10 million jobs, how come that when you were in government and you produced a SEED document where you promised to create seven million jobs, by the time when that government was out, we had lost Michelin; Dunlop closed down, textile industries closed down, we witnessed unprecedented industrial obituary and factories were closing one after the other?"
When he promised to privatise the NNPC, critics of Atiku worry that he might want to relive the allegation leveled against him by Kaduna state governor, Mallam Nasir El-Rufai, that he influenced the sale of government enterprises to friends while in charge of the privatisation programme under the government of President Olusegun Obasanjo.
Like Buhari, Atiku has pledged to "give youths 40 percent of appointments in my cabinet if elected the president of Nigeria in 2019". Even Agbakoba who has described Atiku's plan as having "all the nice indices" still acknowledges that it "needs more work" to be workable.
Since both policy documents by the ruling APC's Buhari and the opposition PDP's Atiku are criticised for lacking the ways in which their promises can be executed, one expects that at the presidential debate before the February 2019 elections, Nigerians can get to extract the juice from both candidates by asking them questions not just on what they intend to do when elected, but on the how they intend to achieve same.