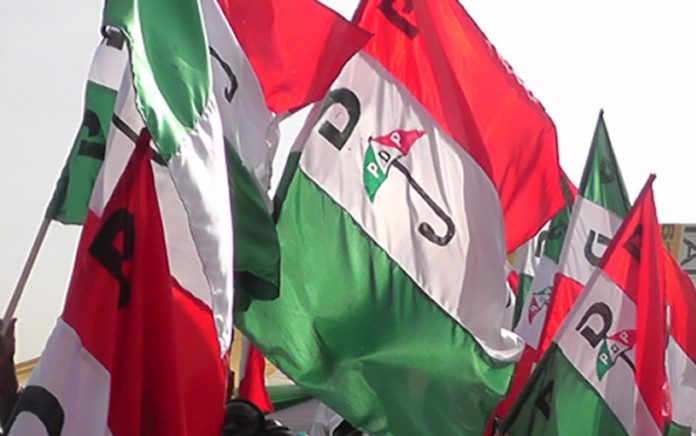 The Chairman of the Peoples Democratic Party (PDP) in Enugu State, Hon. Augustine Nnamani, Friday addressed newsmen over the destruction of the PDP-led government's billboards at the entrance of the Akanu Ibiam International Airport, Enugu, welcoming the Vice President, His Excellency, Prof. Yemi Osinbajo to the state.
Hon. Nnamani, who noted that Enugu State under the present administration of His Excellency, Governor Ifeanyi Ugwuanyi had been peaceful, regretted that a few individuals in Enugu, who were unsettled by the existing peace and good governance in the state, had returned with their needless antics.
The PDP Chairman added that "this dastardly act was a clear confirmation of our stance that we never destroyed billboards of the opposition political parties in the state or prevented them from mounting their own." He stressed that contrary to the unfounded allegations against the PDP, "from what you have seen now, this is a clear testimony that they are the ones destroying our billboards."
According to him, "the same thing happened to our billboards, few weeks ago, at Abakpa, Enugu East Local Government Area, where about five billboards were destroyed by opposition political parties.
"This actually shows that there were few people in Enugu State who do not want the peace which has been entrenched by the present PDP-led state government to continue, because our government is known for its friendliness and penchant for peace. We accommodate everybody, we allow opinions from all sectors of the society, we don't go against anybody,  our campaigns are based on issues."
When asked if the PDP specifically suspects any opposition party, Hon. Nnamani explained: "A few days ago, like you all know, the APC, the opposition party in the state accused us of destroying their billboards and I came out openly to say that such a thing never existed. But from what you have just seen, it shows that our own billboards are the ones being destroyed."
Hon. Nnamani therefore urged the security agencies in the state to fish out the culprits and bring them to book as well as "put adequate measures in place to ensure that this kind of dastardly act does not repeat itself
again."