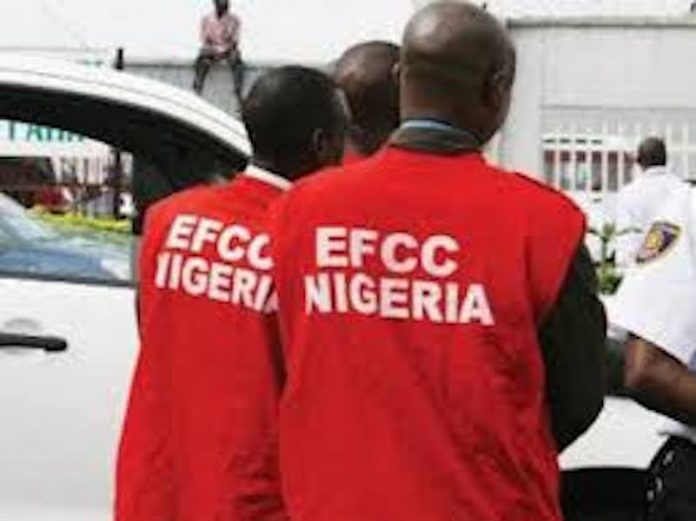 The Economic and Financial Crimes Commission (EFCC) has arraigned 22 officials of the Independent National Electoral Commission (INEC) and a retired Director of the commission, Ahmed Stephen Ozovehe, in Kogi State for offences bordering on criminal conspiracy.
They were arraigned before Justice Alaba Ajileye of the Kogi State High Court in Koton-Karefee.
The information was contained in a statement on EFCC website.
The EFCC alleged that sometime in March 2015, the defendants engaged themselves in criminal act of conspiracy to fraudulently obtain the sum of N32, 120, 000 as benefits for themselves during the 2015 general election.
Prosecuting counsel, G.K. Latona, informed the court that the matter was slated for arraignment, noting: "However, due to the absence of the second defendant, I will be seeking a short adjournment to enable me determine the next step to take regarding the matter."
The defendant was said to be among the INEC staff who lost their lives in a tragic motor accident that occurred in the state recently.
The defence team, however, argued that "the prosecution ought to have known by now that the second defendant cannot be in court to take his plea," and therefore, urged the court to take the plea of the defendants in court.
Justice Ajileye, thereafter, ordered those present to take their pleas.
One of the counts read: "That you, Ahmed Stephen Ozovehe, a retired Director with Independent National Electoral Commission (INEC)/Election Observer; Adison Mailafiya Administrative Secretary of INEC in Kogi State and Ogwudu Edeh Micheal, a Deputy Director of INEC, sometime in March 2015 in Lokoja within the jurisdiction of this court did engage yourselves in criminal conspiracy to confer benefit of the sum of N32,120,000 from Haliru Haruna, Sase David Z, Dauda Usman Umaru, Christopher Utile, Garba Zubairu Adamu and James Yiyeh all electoral officers of INEC in the state in relation to their function of conducting the general election in 2015, thereby committed an offence contrary to Section 26(1)(i) of the Corrupt Practices and Other Related Offenses Act 2000 and punishable under Section 10(a)(ii) of the same Act."
They all pleaded 'not guilty' when the charge was read to them.
They were afterwards admitted to bail in the sum of N10million, one surety in like sum; the surety must not be below level 12 and must be a civil servant (state or federal).
The matter was adjourned to December 6 and 13, 2018, for hearing.