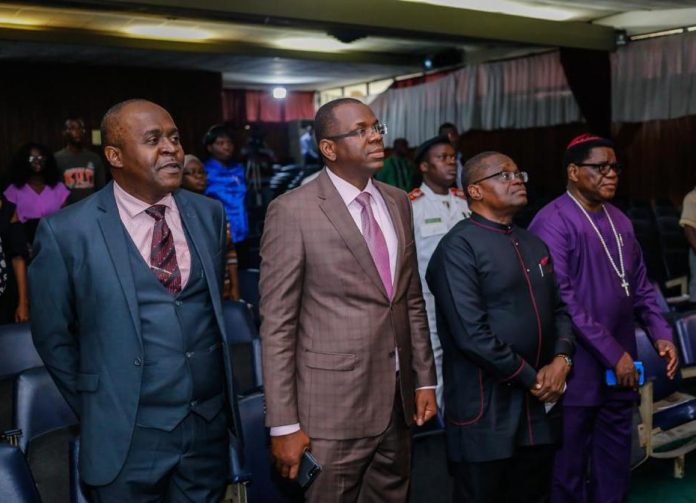 Ogechukwu Obi
Determined to ensure that Nigerian youths are properly positioned to channel their energies towards positive national development, the  Student Christian Movement (SCM) of Nigeria  in collaboration with other stakeholders, has tasked governments at all levels on the need to invest in youth development.
The National President of SCM, Oguazi Onyemobi, speaking at a Stakeholders' Convergence Summit, themed: "Positioning the Nigerian Youth for Cutting-Edge
Development," in Lagos on Thursday, said the summit was organised for the purpose of ironing out issues affecting Nigeria youths.
Stressing that youths are the backbone of any nation considering their energy and potentials, Onyemobi however lamented that they are being marginalised as their abilities are not properly harnessed.
Continuing, the SCM President urged all stakeholders to come together to deal with the issues and prepare a great future for Nigerian youths.
Calling on all top government officials, business men, the church, corporate organisations and social advocates to collaborate in tackling challenges facing the youths, the SCM president lamented that "our nation is in a retrogressive mood because we are not harnessing and channeling them to the right direction."
Onyemobi, who called on every stakeholder to make the youth issue a top priority, said: "We cannot overlook them, we need to create time and resources for youth training and development. We should provide resources for training and mentoring, and ensure that their abilities and efforts are channeled in the right direction".
To provide the right atmosphere for this to be done, he noted that "we must sow into them the good seeds in order to reap and provide resources to ensure that their potentials are properly harnessed.
"We want to build a youth workshop centre that will provide facilities for entrepreneurship, so they can develop their own skills and build their future."
Calling on the state governors and other stakeholders to contribute to the project, Onyemobi said: "We believe that only the best is good enough to take a people out of mediocrity to excellence, only the best can deliver people from moribund state to a state of new life.
"For us to come out and emerge as a nation, we need to put in the best into our young people, bring into them the things that will change them and the change has to begin within for them to believe that they can make it. We believe that building a youth centre will take care of this."
Speaking also, the Governor of Lagos Akinwunmi Ambode, Akinwunmi Ambode, tasked Christian students on having a close relationship with God Almighty and taking their studies with all seriousness. Represented by Mrs. Bunmi Fatimekun of Lagos State Ministry of Home Affairs, the governor said youths should endeavour to avail themselves of the various skill acquisition programmes of the state government, which he noted, will make them to be self-reliant when they leave school.
The Director General, Institute for National Transformation, Prof. Vincent Anigbogu, who spoke on "Turning Nigerian Youths into agents of change," said that to turn the youth into agents of change, we must understand the times and seasons to be able to reach the 350 million population target for Nigeria by 2050.He said, "To survive the population explosion, our economic growth must outpace our population growth. Youth development is a must."
Lamenting that Nigeria has not for a long time witnessed the kind of tribal and religious divides that are prrsently plaguing the nation, Anigbogu noted that failure to train the youth will result in youth extremism, social vices, restlessness, hence we must harness their energy and channel it properly.