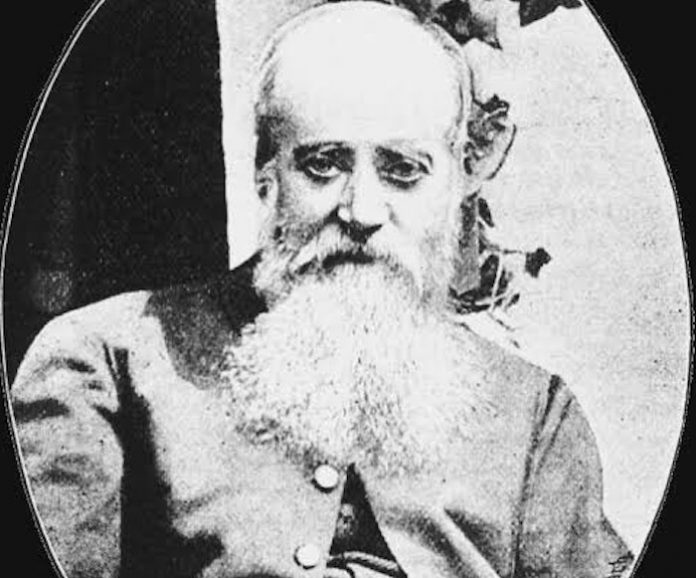 Adedayo Adejobi writes that in celebration of 160 years of newspapering and journalism in Nigeria, the Nigerian League of Veteran Journalists and Governor Ibikunle Amosun of Ogun State, have set plans in motion to host the world to a grand event in Abeokuta, where it all started in 1859
When Reverend Henry Townsend, the founder of journalism in Nigeria, introduced the profession by publishing the first tabloid 'Iwe Irohin Fun Awon Ara Egba' on November 23, 1859, he probably had no inkling how far his idea would stretch through the decades. However, 160 years down the line, journalism has truly evolved in Nigeria from sectional to national and even global reportage.
Hence, to commemorate the occasion of the 160th anniversary, the Nigerian League of Veteran Journalists (NLVJ), under the leadership of Eddie Aderinokun, are working in tandem with the Ogun State Government to light up the journalistic firmament of Nigeria with a historic celebration of the origins of journalism in Nigeria come 2019. For the Ogun State Governor, Ibikunle Amosun, it promises to be nolstalgic when Abeokuta, Ogun State capital, goes agog in hosting an assemblage of media gurus to celebrate where the profession started from.
According to Segun Adenuga, member, NLVJ, "journalism is 160 years old in Nigeria, and the world prepares to be in Abeokuta to mark the birthday of newspapering and journalism in the place where it all started".
History of Journalism in Nigeria
But how did journalism start in Nigeria through Henry Townsend, the Scottish missionary? He was sent from Exeter, in United Kingdom to preach and propagate the ethos of Christianity to the communities and also spread the gospel to all corners of the country. Townsend, knowing that he would not be able to communicate effectively with the people without affording them the opportunity to be able to read and write – hence the establishment of the first newspaper in Nigeria at Abeokuta, the present capital of Ogun State, on November 23, 1859.
It looked a coincidence when one recapitulates that five months earlier, to be precise, on June 6, 1859, another Reverend of Scottish extraction, T. B Macaulay, had opened with just six pupils what was to be Nigeria's first secondary school – Christian Missionary Society, otherwise known as CMS Grammar School Lagos.
It was an era of "firsts" in the annal of history of Nigeria, when in June 1863, barely four years after 1859, Lagos had its first Newspaper, known as ANGLO-AFRICAN.
Role of Journalism in Politics
From all indications, 160years, either in the life of human being or an institution, is a milestone that cannot be wished away. It is on that premise that one should recollect what journalism has achieved in the political firmament of Nigeria before independence and after independence in 1960. It would be pertinent to state here that journalism had played a major role in our clamour for political and economic emancipation from our colonial masters.
The saying that the "Pen is mightier than the Sword" was succinctly demonstrated when the doyen of Nigeria' nationalism, Herbert Hesse Macauley, aka Ejo ni gboro, relied strongly on the influence of the print media, as the case were, to propagate his nationalistic fervor, leading to his forming a formidable political party that later became an household name – National Council of Nigeria and Cameroun (NCNC) in 1944, which gave birth to the existence of the first truly nationalistic party in Nigeria. It was also very evident that Dr. Benjamin Nnamdi Azikiwe founded the West African Pilot in 1937 to boost his political image and also had other five tabloids scattered in his political base in the East, North and West. It was a harvest time when Zik led his party to victory in Lagos, beating Action Group members into Western House of Assembly seats in 1951 elections. What a revigorating tonic journalism added to Zik's political sagacity.
One cannot but adduce the fact that Chief Jeremiah Obafemi Awolowo, the most articulate administrator Nigeria ever had, cut his political teeth through the establishment of his newspaper – The Nigerian Tribune, founded in 1949. Though Awo, was not a journalist, he had Chief Samuel Ladoke Akintola, a journalist of note to rely on. It is fitting to recall that through the instrumentality of their widely circulated tabloids, West African Pilot and The Tribune, both Azikiwe and Awolowo, respectively, came into the political consciousness of Nigerians as the most revered politicians in the last 70 years.
Their investment in journalism points to the fact that no democracy can strive without the active participation of the Fourth Estate of the Realm. Apart from informing and educating the people, journalists are also opinion moulders in the life of a nation, particularly those operating under democratic rule. Democracy depends upon literate, knowledgeable citizens, whose access to the broadest possible range of information enables them to participate in the public life of their society.
Heroes of Journalism
Thus, as we celebrate 160 years of journalism in Nigeria, it behoves us to also celebrate the veterans of the profession – those who have toiled to upgrade the standard of journalism in the last century. We have to give kudos to Ernest Ikoli, Dr Nnamdi Azikiwe, Eronsile Anthony Enahoro, Chief Akintola, Lateef Kayode Jakande, Peter Enahoro, Babatunde Jose, Abiodun Aloba, Alade Odunewu, Bisi Onabanjo, Duro Onabule, Smart Ebbi, Horatio Agedah, Sam Amuka-Pemu, Dayo Duyile, Ishola Folorunsho, Henry Odukomaya, M. C. K. Ajuluchukwu, Abiodun Sogunle, Mike Pearse, Segun Osoba, Christopher Kolade, Dele Adetiba, Abba Zorro, Felix Adenaike, J. T. Thompson, Peter Osugo, Bisi Lawrence, Ben Lawrence, Eddie Aderinokun, Jibade Fashina-Thomas, Tola Adeniyi, Gbolabo Ogunsanwo, Saka Tinubu and Bonar Ekanem.
Essence of Christiane Amanpour's Visit
To mark the 160th anniversary, the doyen of journalism Christiane Amanpour, is billed to visit Nigeria. The 60-year-old, born of a British mother and an Iranian father began her journalism career in 1986 with BCC's Radio Four as a summer intern and later CNN and CBS, two of the most popular stations in the world, becoming the world's best-paid correspondent. Her rise to stardom was a typical case of from rags to riches.
After, finishing her education at an exclusive Catholic boarding school in England, Amanpour had hoped to get into medical school, but did too poorly in her A-level examinations. She opted for a sales clerk job in a department store, and then as a cleaner in a pub.
Her entry into journalism was by accident. One of her three sisters enrolled in a journalism institute in London, but withdrew before the term was over. Amanpour went to get a refund for her, but was refused, she said, "Could I take my sister's place instead", and her request was granted. Arguably, the hottest property in television news today, Christiane Amanpour, had risen to become the First Lady of global television since 1986. She has made historyby becoming the first to work simultaneously with two leading TV stations in the world, signing for CNN and CBS in an unprecedented deal that allowed her to contribute a minimum of five reports in a year to "60 Minute", the American hugely popular, long running magazine show – while still working full time for CNN, in a business where exclusivity is everything.
Unarguably the world most travelled journalist, Amanpour at 60, still loves London, the birth place of her mother, adored Tehran, the Iranian capital city, where her father hailed, and Paris her adopted city. Meanwhile, the organisers of the 160 years of journalism in Nigeria have begun frantic efforts to let the iconic TV star Amanpour have a cursory look at the activities slated for a grand show in Abeokuta, where she will be feted by the state governor, Senator Ibikunle Amosun.
Nigerian League of Veteran Journalists
The Nigerian of Veteran Journalists League was set up some 30 years ago by a group of veteran journalists including Edward Aderinokun, Ben Lawrence, Pa Sam Amuka, Jibade Fasina-Thomas, temple Benson, Olu Akaraogun, Abba Dabbo, Lindsay Barret, Tony Amadi and a long list of veterans who worked tirelessly to ensure the longevity of the association. The celebration of 160 years of Nigerian journalism is therefore a major turning point in the history of the association.
When Aderinokun was asked the other day what informed the decision to celebrate 160 years of journalism in Abeokuta, called the Nigeria Media Sexacentennial, he replied thus, ''it is very important to note that the power to read and write was given to Nigerians through journalism. How so? Before the first newspaper, Iwe Irohim was printed in Abeokuta on November 23, 1859, by a certain English Reverend gentleman Henry Townsend, whom I refer to as the father of education and of all journalists and publishers in Nigeria, there was no formal way to teach Nigerians how to read and write.
"Because the missionary work of preaching the gospel of Jesus Christ was impossible except the person to whom you are preaching can understand your preaching, faith is impossible. In this case, the people preaching were English speaking, and the only way they could establish that their work was successful was to ensure that converts can on their own find time to study the scriptures by reading. So it follows that the 'ready-for-harvest fields' of Nigeria at that time had to be cultured for harvest. Thus, the reverend had to innovate by creating the local newspaper to stimulate reading.
"Just imagine what the man had to contend with! But today we take for granted the fact that we can read and write as good as the oyinbos themselves, if not better in some cases; remember bro Wole Soyinka's literary feats, remember Chinua Achebe, remember Chimamanda Adichie et all. Nigeria has a rich history of newspapers and newspapermen and women without whom today's long list of great writers and editors would have evolved. Without editors like Ernest Okoli, Dr. Nnamdi Azikiwe, who edited the West African Pilot, Chief Obafemi Awolowo who published the Nigerian Tribune (still on the newsstands today), Chief Anthony Enahoro who edited the Comet of the ZIK Group of Newspapers at 22 and was later to move a motion for Nigerian Independence at the House of representatives as a young parliamentarian, we won't be where we are today as The Fourth Estate of the Realm.''
Giving credence to big names of old and today in the pen-pushing trade, he continued, ''I have only mentioned a few names that sort of led from the frontline of Nigerian Journalismn in the 1940s and 1950s, but I cannot avoid mentioning a host of others like Samuel Ladoke Akintola, Bisi Onabanjo, Dapo Fatogun (Daily Express), Gab Idigo, Roy Ezeabasili, (Nigerian Outlook), Babatunde Jose, Angus Okoli, Peter Osugo, Peter Enahoro better known as Peter Pan, Gbolabo Ogunsanwo, and Theresa Ogunbiyi (Daily Times) and many others of historic note.
"We must not forget today's leaders in this process. Sam Amuka-Pemu, the founder and publisher of Vanguard Newspapers and past founder of Punch, and as well as editor of Sunday Times is today 85, still playing an active role in the Newspapers Publishers Association of Nigeria (NPAN); and the biggest fish of today's publishing empire, Prince Nduka Obaigbena, the publisher of THISDAY Group of Newspapers and its television wing, Arise News Television, which operates internationally with offices in Lagos, Abuja, London, New York, United States of America.
"So, if we roll out the drums to celebrate 160 years of journalism in Nigeria, we also are celebrating education and the blessings of education indirectly. And lest I forget, this is what the reverend Henry Townsend said about his mission: 'I have set on foot a Yoruba Newspaper. My first number is out, I am writing the second. My object is to get the people to read, i.e. to beget the habit of seeking information by reading, it is difficult'.
"So as a body, we felt we had to remind us all as a people, that journalism practically gave birth to Nigeria as we know it today and that we must remember our roots and water it properly, so that we can navigate the future with sure footedness and clear headedness.''
Ogun State's Contribution
Thus, the stage is finally set where Nigerian newspapering started in Abeokuta. That said, it is no more news that under this Amosun-led government, the state has accelerated to become Nigeria's industrial hub and the fifth on the World Bank's sub-national rankings of States on Ease-of-Doing-Business Index. Not only that the state's internally generated revenue (IGR) under his leadership was jacked up astronomically from N700million in 2011 to between N6-7billion in 2016, (this is equal to a 1000 per cent growth, making Ogun State second only to Lagos in the Fiscal Sustainability Index (2016),
It was therefore heart-warming when the governor at a meeting with the president of the league, Aderinokun agreed in principle to host the event with fanfare just as he has been doing in the last three years with the now African Drum Festival, where about 25 nations were represented with a display of the world's tallest drum amidst pomp and Afro-centric pageantry. Fortunately, the governor also attended the African Church Grammar School where the league's president was one of the founding students.
Secondly, the event would feature the inauguration and ground breaking of a Nigeria Media Hall of Fame and an Institute of Media Research and Training Center. There would also be a Gala/Awards ceremony where past and present practitioners, as well as performing public servants past and present, would be honoured.
Amazingly, amidst a media exhibition and an international colloquium the descendants and representatives of Townsend, with whom the organisers are currently in talks as regards being present in Nigeria at the event, would be lavishly hosted by the state government spearheaded by the governor. For Amosun, as he completes his eight years of stewardship, what better way to sign out than in a blaze of glory by celebrating the phenomenon (journalism) that raised the profile of Abeokuta and Ogun State into one where giants of literature like Wole Soyinka, governance guru like Obafemi Awolowo and music avatar