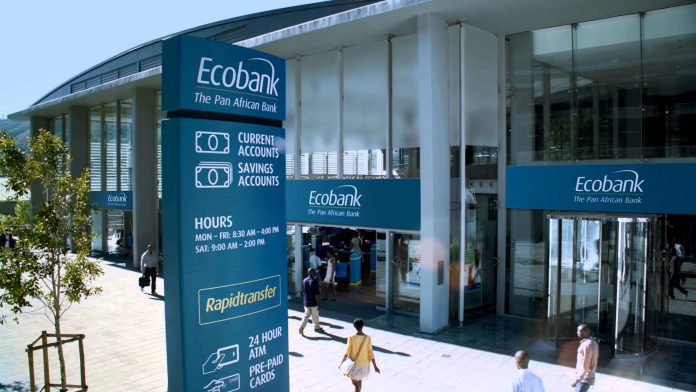 Goddy Egene
The share price Ecobank Transnational Incorporated (ETI) rose 1.59 per cent yesterday as the bank announced the successful raising of $200 million syndicated loan facility.
In a notification to the Nigerian Stock Exchange (NSE) yesterday, ETI said the facility was oversubscribed at $268.5 million, with ETI increasing Deutsche Bank's mandate as arranger from $150 million to $200 million.
"The facility supports ETI's goal of maintaining a diversified funding base with strong market access. The loan will be due for repayment in November 2019," it said.
The stock of the parent firm of Ecobank BankGroup rose by 1.5 per cent from N15.75 to N16 per share on day that the NSE All-Share Index appreciated by 0.51 per cent to close at 32,201.28.
Generally, trading on the first day of the week was driven by renewed buy interest in market bellwethers such as Nigerian Breweries Plc, Nestle Nigeria Plc and FBN Holdings Plc.
The bulls were in full control with 27 price gainers compared with only five losers. Glaxosmithkline Consumer Nigeria Plc led the advancers with 9.9 per cent, trailed by UACN Property Development Company Plc with 9.7 per cent.
NPF Microfinance Bank Plc chalked up 9.5 per cent. Prestige Assurance Plc and Jaiz Bank Plc garnered 8.9 per cent and 8.8 per cent respectively.
Other top price gainers included: Continental Reinsurance Plc (6.3 per cent); Consolidated Hallmark Insurance Plc (6.1 per cent); Japaul Oil and Maritime Services Plc, Regency Alliance Insurance Plc(5.0 per cent apiece). Flour Mills of Nigeria Plc (4.6 per cent) and United Capital Plc (3.8 per cent).
Conversely, Mutual Benefits Assurance Plc and Union Diagnostic and Clinical Services Plc led the price losers with 8.0 per cent each. Forte Oil Plc shed 7.7 per cent, just as WAPIC Assurance Plc and Diamond Bank Plc went down by 4.7 per cent and 1.1 per cent in that order.
Meanwhile, activity level weakened as volume and value traded shed 9.8 per cent and 35.6 per cent to 148.1 million units and N1.8 billion respectively. The top traded stocks by volume were Oando Plc (30.3 million shares), Diamond Bank (16.4 million shares) and United Bank for Africa Plc (12.9 million shares) while Nestle Nigeria Plc (N408.8 million), GTBank Plc (N338.6 billion) and Oando Plc (N154.2 billion) were the top traded stocks by value.
Performance across sectors was largely bullish as three of five indices tracked trended northwards. The NSE Consumer Goods Index led with 1.4 per cent, while the NSE Insurance Index and NSE Banking Index trailed, appreciating by 0.8 per cent and 0.4 per cent in that order.
On the flip side, the NSE Oil & Gas Index fell by 0.7 per cent just as the NSE Industrial Goods Index closed flat.