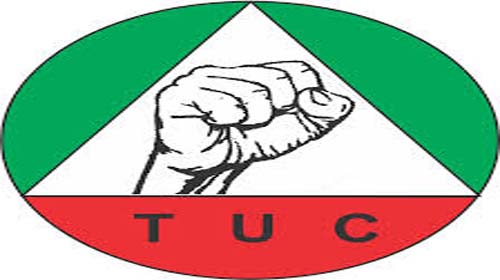 By Wole Ayodele in Jalingo

The President of Trade Union Congress of Nigeria (TUC), Mr. Bobboi Kaigama has charged state governors to cut down on ostentatious and reckless spending to enable them pay the N30,000 minimum wage submitted by the tripartite committee to the federal government.
Fielding questions from journalists in Jalingo yesterday, Kaigama noted that a situation where state governors expend over N10 billion on charter flights in a year and claim they cannot pay N30, 000 minimum wage is highly disgusting and provocative.
 He noted that civil servants in the states are privy to the level of ostentatious and reckless spending state governors indulge in and therefore would not accept the narrative that states cannot afford to pay the new minimum wage.
 According to him "We know the humongous amounts state governors expend on charter flights. It runs into tens of billions of naira annually. What we're saying is that they should stop indulging in ostentatious and reckless spendings to enable them pay the N30, 000 minimum wage. It is very provocative and disgusting for some governors to keep saying they cannot pay".
 The TUC President however maintained that most governors in the country are prepared to pay the proposed N30,000 minimum wage submitted by the tripartite committee.
 He accused the Chairman of Governor's Forum and governor of Zamfara State, Alhaji Abdulaziz Yari of rejecting to pay the new wage because of his personal interest and that of some non performing governors.
He berated the Zamfara governor for appointing ridiculous number of political appointees and permanent secretaries that he pays huge salaries as well as a local vigilante group that are being paid N15,000 monthly.
"We know that most governors are prepared to pay the N30,000 proposed minimum wage. The Chairman of the governor's forum and few others who hired hundreds of unnecessary aides, are rejecting the proposal due to their selfish interest. And that is why we ask any governor who says he cannot pay to go to his state and tell the workers there that he cannot pay," he said.
 Kaigama however insist that Nigerian workers are prepared to vote out such governors in the forthcoming elections so as to guarantee good governance.
"Such governors rejecting the N30,000 minimum wage should know that Nigerian workers have evidences of their financial mismanagement and would act at the appropriate time," he noted.
He decried the level casualisation of workers in the country both in the private and public sectors and assured that the minimum wage document would address some of the issues involving casual staff.
He maintained that labour laws in the country spells it out that nobody should work as a casual staff for more than six months after which the worker must be given a permanent appointment saying labour would ensure governments and all organisations abide by the law.