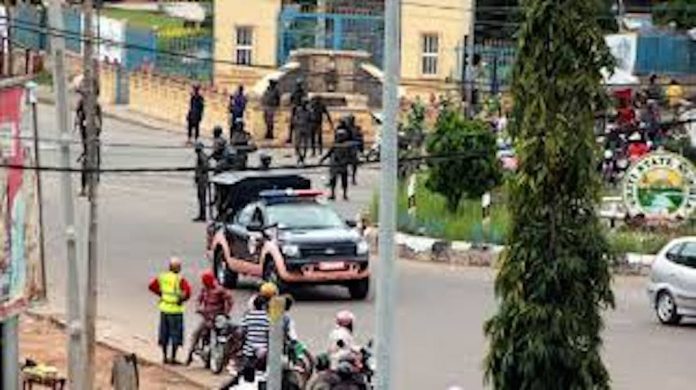 By Emmanuel Addeh in Yenagoa
After a week that was marked by cult killings in parts of Bayelsa State, especially Yenagoa, the state capital, relative calm at the weekend returned to the state with the arrest of some cultists by the new State Police Commissioner in collaboration with local vigilance groups.
Popular among the incidents that sent jitters through residents last week, were the killing of a 16-year-old Mathematics female Student of the state-owned Niger Delta University, who allegedly dragged her iPhone with her assailants.
There were also two cases of robberies in the state capital, which left one person dead in Kpansia Community, where a supermarket opposite FCMB was robbed by the hoodlums.
The other incident occurred at a busy supermarket in Amarata area by Imgbi junction, where robbers came in a commercial tricycle and one person was shot dead during the confrontation.
Also, a boy was stabbed in his throat by cultists trying to rob him  adjacent Latik Hotel,  INEC Road at about 8pm, same way a woman heading for Zarama market was stabbed to death at Biogbolo, Yenagoa.
However, peace appeared to have returned at the weekend after several suspects were picked up by local security groups and handed over to the police.
The police said among those arrested were two suspects who allegedly masterminded the killing of the undergraduate, Seiyefa Fred.
Spokesman of the command, Asinim Butswat said the breakthrough was as a result of the partnership of the new police commissioner, Joseph Mukan, with relevant vigilance groups in the state.
"On 16 November, 2018, at about 0500hours, with the assistance of the Bayelsa State Vigilante Service, one Junior Daumunabo 'm' 20 years, of Ebis Mechanic Street Amarata, was arrested with a locally made pistol.
"The suspect led Police to arrest  one Ayibakepreye Idionyo 'm' 30 years who allegedly supplied the locally made pistol.
"Upon interrogation, Junior Daumunabo confessed to be a member of the Greenland cult group, he also confessed that he was a member of the gang that shot and killed Seiyefa Fred" the police said.
 Findings also indicated that one Ezeago was the leader of the gang who allegedly gave the gun with which Seiyefa was killed allegedly by Danumunabo.
Mukan, the new CP, had recently engaged all the local security groups spread over the local governments, assuring them of the confidentiality of information given the police. He said this in reaction to the complaint by the vigilantes that the cultists were after them and their families during a meeting held in his office.
Meanwhile Governor Seriake's Special Adviser on Security Matters, Mr Boma Spero-Jack has assured that efforts were being intensified to ensure the arrest of all those involved in the cold-blooded murders were rounded up.
He said that government would continue to give priority to security as a major factor for development and stability in the state.