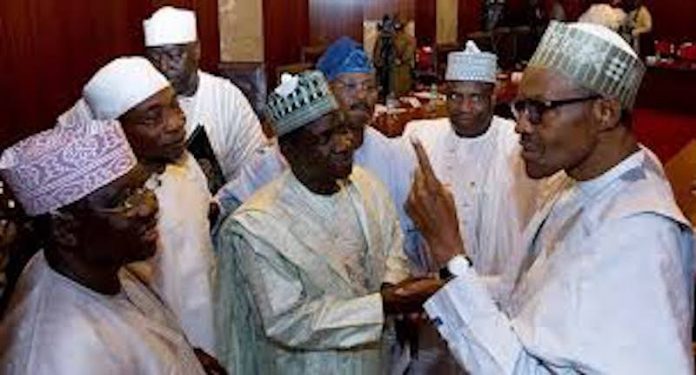 Shola Oyeyipo in Abuja
There are indications that the meeting between President Muhammadu Buhari and some state governors on Monday at the State House in Abuja over the proposed N30,000 minimum wage was deadlocked.
Governors of Lagos, Kebbi, Plateau, Bauchi, Akwa Ibom, Ebonyi, Enugu, Kaduna and Zamfara States had held a closed-door meeting with the president on Monday.
Though no official statement was made after the meeting, THISDAY gathered that the meeting was not able to resolve the issue.
Prior to the meeting, one of the governors had hinted journalists that they were at the State House to deliberate on the minimum wage with a view to finding a meeting point.
State governors had maintained that they would be unable to pay the N30,000 minimum wage as demanded by labour, and had warned that they would be compelled to lay off workers if they must pay the proposed minimum wage.
Not able to reach an agreement on the matter, the governors had set up a committee to meet with Buhari on the issue.
It was however gathered that the governors had agreed to a minimum wage of N24,000 as against the N22,500 they earlier settled