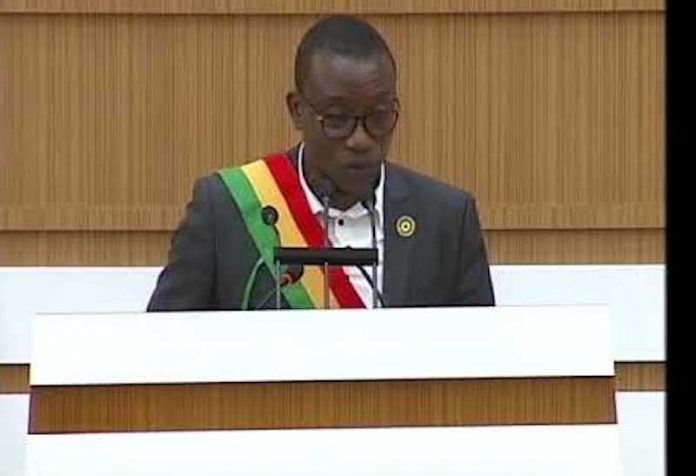 Gboyega Akinsanmi
The Speaker of the National Assembly of the Republic of Niger, Youssouf Aya, has decried the poor level of trade among countries comprising the Economic Community of West Africa States (ECOWAS), lamenting that the situation is a major impediment in the achievement of the sub-region's full economic integration.
Aya, who called for the dismantling of all obstacles to free movement of goods and people, particularly at Member States borders, charged leaders in the region to fast track the implementation of the single currency policy in the region.
He gave the charge at the opening of the second ordinary session of the ECOWAS parliament in Abuja on Thursday.
He said, "We should be able to banish long queues at check points of member states. We need to move at a very high speed and we need to develop intra trade in the community.
Aya insisted that the current level of trade among member states put at 15 percent is very low and hampers the realisation of the vision of the founding fathers of the ECOWAS.
He said it was important for leaders to have a voluntary attitude to remove all obstacles to single currency, adding that adoption of single currency would reduce cost and strengthen trade in goods and services.
He also called on member countries that are yet to ratify the African continental Free Trade Agreement (AfCFTA) to do so without further delay so as to bring about the much needed economic revolution in the continent.
According to him, Africa with its over one billion population and a GDP of over $2 trillion makes the continent the largest trade region in the world.
Speaking after the session, Speaker of the ECOWAS parliament, Mustapha Cisse-Lou said the implementation of the single currency policy rest with the Heads of States and Government of member states, restating the parliament's willingness to harmonise economic policies in the region.
He said it would be difficult for the region "to develop without the harmonization of economic policies. It is a process that has to be sped up, as we cannot think of development without harmonising our economic policies in our region."
He noted that the session "is mainly to look at the community', budget for 2019. With the enhanced powers of the parliament to carry out over sight of projects and programmes, the Parliament will ensure they reflect the developmental needs of the people."
Responding to the call by the Nigerian Speaker on the Parliament to support efforts at providing lasting peace in the Sahel, Cisse 'Lo, noted that since most of the countries in the region are members of the ECOWAS, the Parliament would give the issue the needed attention.
On the issue of Morocco's membership of the community, the ECOWAS Parliament Speaker, who noted that the decision rest with the Heads of States, however disclosed that the parliament has set up a committee to consider the impact on the community's economy.