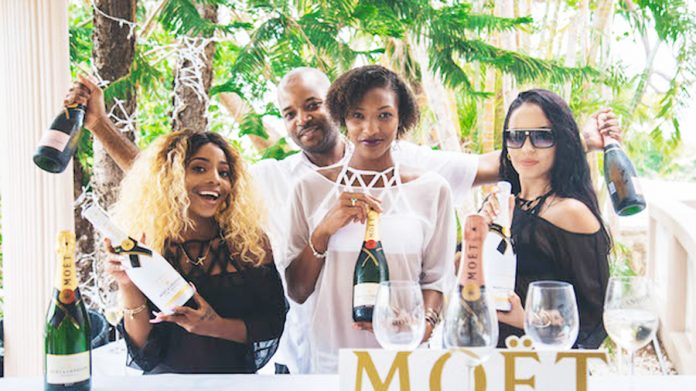 This Sunday, Worlds most loved Champagne Moet & Chandon will be hosting a select few to a Secret Location Garden Party.
Garden parties are known for their exclusivity, finesse, glamour and class, and The Moet and Chandon secret Garden Party promises to be nothing less.
Moët & Chandon is set to launch its exotic Limited Edition – Nectar  Imperial "Urban Jungle" bottle, by hosting the exclusive Garden Party.
Here's an inside look on what you should expect from the brand's exclusive garden party to unveil the limited edition Nectar Imperial 'Urban Jungle' bottle.
The Limited edition "urban jungle" themed bottle design displays the tropical and fruity essence with vanilla aroma and fruits like mango and pineapple, and it embodies the unique Moët & Chandon style; a style that  distinguishes itself by its bright fruitiness, seductive palate, and elegant maturity.
Moet & Chandon will play host and set the stage for glamour, class and fashion excellence. 
The selected guests will be treated to an exquisite cuisine specially prepared by renowned Chef Daniel. The menu will have an array of rich and spicy flavored food, which pairs particularly well with the Moet Nectar Imperial. When Special moments such as this arise, it MUST BE Moet & Chandon
In a true Moet and Chandon style, there will be the full range of Moet & Chandon – including Moet & Chandon imperial, Moet Nectar Imperial and Moet Nectar Imperial Rose and the Limited edition Nectar imperial from the Urban jungle bottle.  Over the course of the evening guests will enjoy the champagne poured delicately into the golden Moet goblets.
Guests will also be entertained to a variety of Garden party games such as; life board game competition, and other fun activities.
This Garden Party celebrating the launch of the limited edition Nectar imperial Urban Jungle bottle will reiterate Moet & Chandon, as always present for celebrating life's most treasured moments.