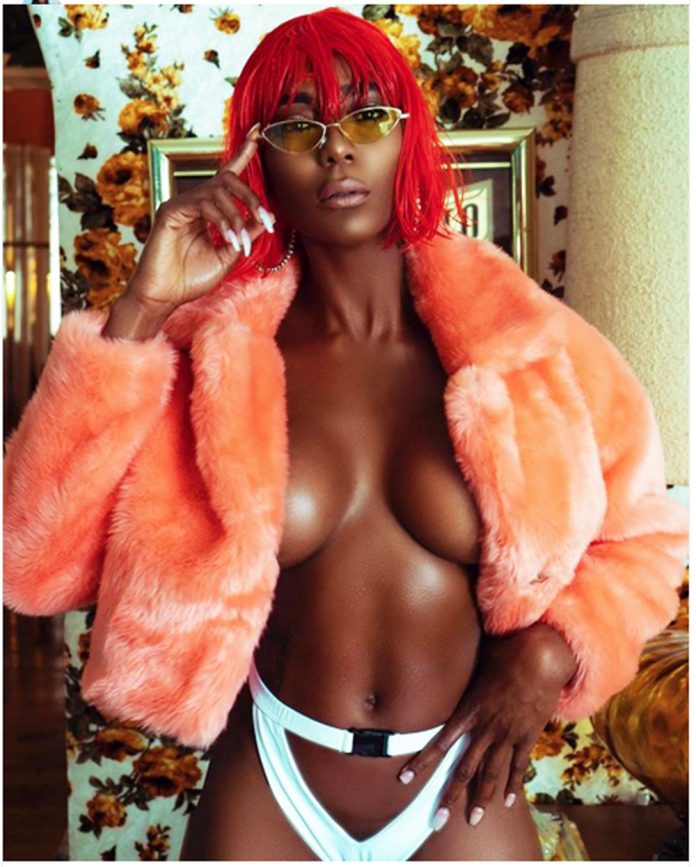 SUPER SATURDAY  
Ex model, Faith Morey excites her fans with scintillating pictures revealing voluptious portions of her endowments, writes Ferdinand Ekechukwu
There's something about her many sultry images online that leaves you to the imagination of her as transgender. Maybe for her incredibly sculptured body, but one can arguably say she's not, on a closer look though. Coupled even with the fact that she's a young mother, puts paid to that. This, aside that not a few know her makes her not your regular celebrity star with just a little less than 53,000 followers on Instagram and less than 300 on twitter.
The ex-international model, Faith Morey, gave her fans something to salivate about on Tuesday with a picture revealing a generous portion of her chest. The Ikwerre, Rivers State-born exhibitionists attempted to overdo herself as she had only a fur coat covering parts of her breasts. She tagged the picture posted on Instagram: "Once you get a taste of peace you'll cut anyone off to keep it."
Born Faith Chituru Amadi, the mother of one started modeling in 2008 and had previously stated that Naomi Campbell was her role model. She got her breakthrough after participating in Nigeria's Next Super Model competition in 2009. She got married to Randy Morey in 2010 and they have a son named Ethan. Since leaving the runway, Faith Morey has concentrated on her family and selling swimwear and lingerie online.
She has also made posting pictures in several stages of undress on social media a pastime. This super sexy and family happy lady, Morey, met her husband in the course of her career. "I am grateful for my modeling career because it led me to my husband. You have to love someone to marry them and stay married. The love and bond between couples keep their marriage. My husband is supportive of my career."  
But despite being married, men are after her. To this she had noted that she cannot trade her family for guilty pleasure despite advances from men, which to her is an appreciation of how beautiful she is. "I have a family to consider. I would not want to throw my family away for my guilty pleasures. Even as a married woman, I still get advances from men. It only reminds me that I am a beautiful, black and intelligent woman. I would check the mirror the day I stop having admirers," she once declared in an interview.
She's comfortable posting steaming pictures of herself online though, like ritual, she does. She also went braless occasionally, when it was needed and in some cases, photos of herself and her son, Ethan, travelling the world, visiting friends and just enjoying each other's company. As a starter, she had to learn to be a lady. "Nobody wanted to give a dress to a tomboy. My toned legs posed a challenge. Nigerians have their version of how a sexy leg should look, and a curved or toned leg wasn't it. I used to wear trousers to castings so they could pick me for my walk and not my legs.  "I came to the US and I realised the sexiest legs were the curved legs. Now, when I walk on the street, women approach me to ask who my trainer is. Also, as a six-foot model wearing a size 11 shoe, it was difficult to get my size. I used to keep my legs behind my seat, so people would not see my toes sticking out of my shoes. It was quite embarrassing", that has been her challenge. Being a mother has changed her life in a tremendous way; she wouldn't imagine a life without her son.
Being a mum taught her patience, unconditional love and how to be open to negotiation. "I love every aspect of motherhood. Being a mother keeps me on my toes. You do not know what it is to be selfless until you have a child."
On her personality, she's outlandish. "When people see me, they say I am pretty and perfect, and my close friends say I am a weird average girl. I could say I am shy when I walk into a room full of people.
"However, I am confident at the same time because I am not afraid to express myself. I am principled, old fashioned and family-oriented. I am a goal getter and very ambiguous." People mistake style for brand. My style is a reflection of how I feel. Often times, I combine outfits from different designers and when I step out, people scream and ask where I got the outfits from. I like shorts, shirts and a pair of heels. I love shoes and I splurge on them when I shop."