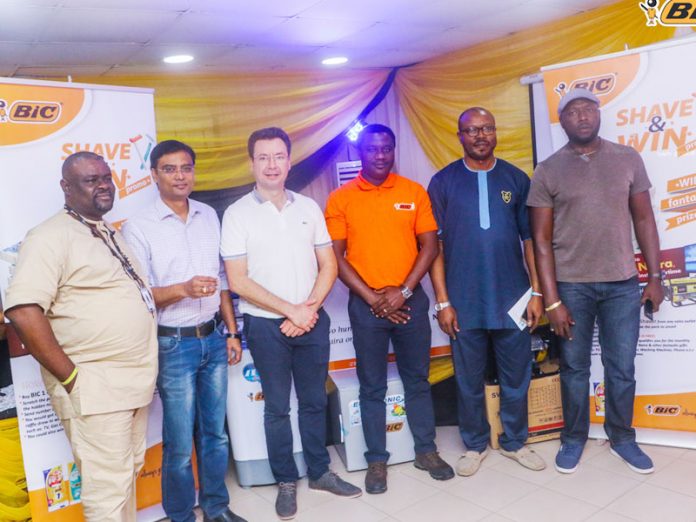 Mary Nnah
BIC, a family-owned company listed on the Paris Stock Exchange and a world leader in stationery, lighters, shavers and promotional products, is rewarding consumers in its ongoing Shave and Win promo.
For more than 70 years, BIC has honoured the tradition of providing high-quality, simple, inventive and reliable choices for everyone, everywhere, every time.
The BIC Shaver "Shave and Win" promo, which started on September 24, will be on for three months, and will end precisely on December 31, 2018 while raffle draws will be held every month at selected locations as will be communicated to the public, during which loads of prizes, which include cash, home appliances and more as well as a star prize of N1million would be won each month.
Speaking during one of its raffle draws held recently in Lagos, the Managing Director, CFAO, NIPEN, Mr. Regis Tromeur, said the promo is an annual consumer promo and this year the promo has held for a couple of weeks from which lucky winners emerged and were rewarded with cash prizes and lots of home appliances among other rewards during a draw held at the company's premises in Lagos.
"The purpose is to reward our consumers. Bic has been leading the shavers category in the Nigeria market for the past four decades, so every year we make sure that we not only supply the best quality shavers in the market but that we also reward our faithful consumers in a Shave & Win Promo that spans all though the nation", he noted.
BIC products have been present in Nigeria since the mid-1960s. BIC® Shavers are available within different segments and variants; men and women wet shaving, in single, double and triple blades with products such as BIC® 1, BIC® Comfort 2, BIC® Twin Lady or BIC® Flex 3.
Through its unwavering dedication and thanks to everyday efforts and investments, BIC has become one of the most recognised brands and is a trademark registered worldwide for identifying BIC products, which are sold in more than 160 countries around the world.
Taking a cursory look at the Nigeria economy, Tromeur said the company still has confidence in the nation's economy despite the fact that it has been on the downturn in recent times.
"CFAO has been in existence for more than a hundred years and we have been in partnership with Bic since the early 70s. We started operations here in 1973, so we would always be optimistic about Nigeria as the population keeps growing, every year there a million consumers that are getting to the stage of shaving.
"So, we are still confidence in the Nigeria economy even though the economy has experienced some difficulties in the last couple of years", Tromeur said further.
He said however that the economic downturn was not peculiar to Nigeria alone as a lot of oil-driven economy around the world have faced same difficulties.
"We have adjusted to it, we have made our market presence stronger and we have ultimately overcome the situation and now we are obviously configured for the next few years", he added.
Speaking on the impact of the Shave & Win promo generally on the company, he said, "During the period of the promotion, the sales obviously goes up because the promotion rewards consumers and so it attracts more purchases from consumers.
"Last October, we experienced significant increase in our sales and we expect that beyond the time of promotion, we would manage to keep those consumers intact."
The Business Development Manager, BIC Nigeria, Mr. Adeyemi Ojo explained further that this particular edition of the promo, is the second one, having held the first edition last year during which two brand new cars were given out to the lucky winners.
He said: "For the success of 2017, we are trying again to reward our consumers in 2018 and this year, BIC is making it bigger by reaching out to more people.
"The essence of this promo is to give back to the consumers who have been supporting our business since the inception of BIC and we want to tell them thank you. We want to give to them what we feel is due to them."
He noted that with just a token purchase of N70 worth of BIC shaving stick, one stands the chance of winning a million naira and any of the other prizes.
"So it just takes you to invest N70 to win as much as N1million. Just buy a shaving stick, scratch the card inside the park and send a text to the code given on the card at no cost to you and you would get a reply immediately indicating that your name is already on the platform which qualifies you for the raffle draws, like what we are doing today. Above that, you have instant winning of recharge cards because we are giving 30,000 recharges cards to Nigeria during this promo", he noted.
Deputy General Manager Commercial, NIPEN, partners with BIC, Mr Adedamola Adelabu, said the promo has been quite impactful, adding that, "it's one of BIC's ways of saying thank you to the consumers who have stayed with us.
"This is a brand that is really credible; it is actually number one brand in Nigeria. We have had significant impact on our sales and the consumers have also come back to say that they really appreciate this laudable project.
"Overall, there is going to be some handsome rewards which include cash and electronics items to consumers from now to December", Adelabu said.
Reaffirming the company's confidence in investing more in Nigeria, Adelabu said, "Our consumers have been pretty much consistent and that consistency and the ability for us to really understand the landscape and to know where there is to meet our consumers' needs, is what has sustained the business this far.
"This is a relationship that has ran for decades and we hope retain the momentum. Consumers' confidence is reassured from year in, year out by the quality of our products and we do quality checks on our products in view of the fact that we have very laudable reward scheme and loyalty scheme in place and consumers are always willing to stick by us and with BIC, our partner, it has been a very commendable relationship back to back.
"The support has been very rich, trade response has been phenomenal, and consumers are ever loyal to the brand because we have always assured them consistently of quality offering in our products."