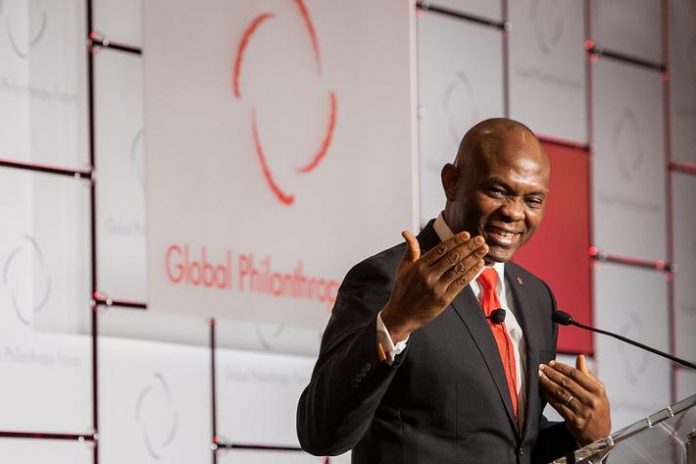 By Nosa Alekhuogie
The Chairman of Heirs Holdings and Founder, Tony Elumelu Foundation, Mr. Tony Elumelu, has called on African leaders to develop policies to attract private sector investment.
He made this call while speaking to private sector captains, global investment leaders and key players in Africa's development sector at a plenary discussion at the Africa Investment Forum titled: "Championing Investments in Africa – Conversations with the private sector," in South Africa, recently.
The event organised by the African Development Bank featured robust and interactive conversations on the investment landscape of Africa with a view to articulate fresh strategies that strengthens the economic framework of the continent, as well as map out a bold blue print to attract and retain private global capital.
 At the plenary session with Elumelu were the Prime Minister of Rwanda, Edouard Ngirente; the Prime Minister of Cameroon, Philemon Yang; President Sahle-Work Zewde of Ethiopia and President Macky Sall of Senegal.
A statement explained that the conversation came on the heels of the recently held Tony Elumelu Foundation Entrepreneurship Forum – the largest gathering of African entrepreneurs in which Elumelu, in an interactive session with President Nana Akufo-Addo of Ghana and President Uhuru Kenyatta of Kenya, had shared his broad business insight and tackled the peculiar challenges young Africans face in doing business on the continent.
Speaking on the importance of creating an enabling environment to attract foreign investments, Elumelu said: "Beyond signing deals, we need to make sure our deals work. Our leaders need to go back and reform our policies and economic framework."
He further spoke on the need to attract the global investment community by leaving a visible trail of businesses successes.