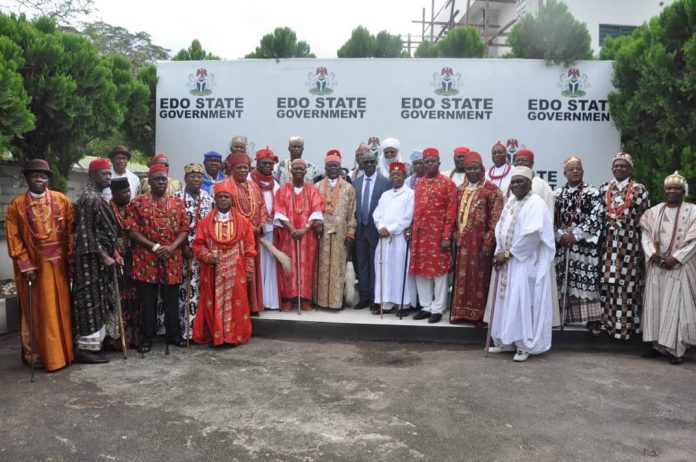 Arising from the second consultative meeting of the National Council of Traditional Rulers of Nigeria, South-south, South-east Chapter, held in Benin City, Edo State recently, some royal fathers posited that the road map for a credible election is to ensure the safety of the local communities. Mary Nnah writes
It was a sort of social gathering, but the purpose for it was solemn. So as royal fathers assembled at the second consultative meeting of the National Council of Traditional Rulers of Nigeria (NCTRN) South-south, South East Chapter on October 30, at the Best Western Homerville Hotel, Benin City, Edo State, it was to tackle serious issues that concern the safety of various communities in the nation, mostly as the general elections draw closer.
So, they chose a place with a serene atmosphere where they could have hearty discussion, far away from home and the typical burdens of having to attend to numerous issues that arise from their various communities.
The Crux
The crux of the meeting of the traditional rulers was that as preparations for the 2019 general elections deepens, it was pertinent for them to draw a road map for elections that would be free, fair and violence-free. Most importantly their concerns were for the safety and security of lives of members of their various communities during and after the forthcoming elections. It was therefore a gathering for the monarchs to reach a common ground to secure the wellbeing of their subjects.
Chairman of the Second Consultation Meeting, HRM Edmund Daukoru, the Mingi XII, Amayanabo of Nembe Kingdom, Bayelsa State, said the meeting was specifically convened to consider the security situation in the country, particularly at a time when the elections were just around the corner.
He said: "The elections are just around the corner, many parties have done their primaries and campaigns will follow very soon.  This is always a very tense time and as traditional fathers, we felt we should get together and look at the matter from the grassroot point of view.  We have at many other times looked at it from a holistic national point of view, but we felt that those brands of skills require quite some injection of money to get implemented, so this time we changed the tactics and we said let's look at it from a practical local point of view.  We felt that if our local governments and communities are safe, then Nigeria is safe."
Daukoru said, the gathering was a complete departure from the past where they had always "focused on the problems on a very high level.", adding, "now we are talking about community security at local government level, at the level of our respective kingdoms and senatorial districts. These are where our concern rests now".
He noted however that the royal fathers were of course not overlooking the larger issues. At the sidelines he said they formed chapters of NCTRN, of which the Sultan of Sokoto, Muhammadu Sa'ad Abubakar III and Ooni of Ife, Oba Adeyeye Enitan Ogunwusiare are the co-chairmen.
Asked what exactly the royal fathers advise people to do in relation to security , Daukoru said:  "That is the mentality we want to disagree with.  Anybody can sit down and write out a shopping list that is all over the map, calling on government to do this and that. Those prescriptive things take a long time to get implemented. And it's on a scale that you cannot really tie output to input. It is only at the level of the traditional fathers that we have some grip and authority over what happens in our communities and we have made sure that our recommendations do not involve much money, but something that we can implement by just applying a bit more of our time."
He stressed further that although these were things traditional rulers do all the time, but as the national elections draw closer, they needed to re-dedicate themselves. "We have made sure that the recommendations we arrived at this meeting does not require much money, but requires something that we as traditional rulers do every day and can implement by just applying a bit more of our own time. But close to elections, we need to re-dedicate ourselves to what we already have been doing, reaffirm the things that we have been doing, draw up check lists by using our local vigilante and engaging the local Divisional Police Officers (DPOs). "
Advocating for Violent-free Elections
Speaking on the theme of the meeting, "Ensuring a Violent-free 2019 General Elections in Our Zones and Kingdoms: The Role of Traditional Rulers", and the task ahead, he said: "There are three aspects of approach to this. There is the pre-election aspect which we should engage in very diligently because elections exacerbate already existing tension in our communities. So, we must address those flashpoints. Those that cannot be immediately resolved, at least stakeholders should have an understanding for moratorium, a kind of ceasefire that they should not be allowed to colour the elections.
"Then, there is the period starting from screening to primaries to the actual campaign strings and then the election day itself, we should ensure that we have secured places in our communities where voting materials and ballot boxes can be stored, and again, we should consider the means of conveyance of materials from the capital to the local governments areas and the kingdom areas.  These are issues on which traditional fathers can fruitfully engage with the local law enforcement and other groups, at least to satisfy ourselves that the right preparations have been made. Not to wait until the problems begin", he added.
Recommendations 
He recommended that after elections, there should be no victor, no vanquished, adding, "I am talking again strictly at community level.  It is ether the monarch himself or people who are close to him, to whom he can delegate, to engage with the lowest strata of the society at the level of town halls to make sure that there is no victor, no vanquished. If there is anything that entail swearing in, let the losers also be encouraged to attend as a show of good will. A traditional ruler can use his leverage to plead with people to show charity towards one another."
He also enjoined politicians to exercise patience, noting that many renowned world leaders tried several times before they finally won elections to rule.
"Globally, we can draw upon many examples from history of leaders who tried several times before they won and upon our lives' experiences to tell our people that it is not a do or die affair. If you lose this time, you still stand a chance next time. Examples teach more than just plain words and we have the experience history, contemporary affairs, exposure and personal knowledge to enjoin our people to toe the path of peace. Money that is used in fruitless labour pursuing appeals against election verdicts, should be better spent preparing for the next election," Daukoru noted.
Unified Platform
Principal sponsor of event, the Ebere Emere Okori, Eleme of Eleme Kingdom, Rivers State; HRH (Dr) Appolus Chu, said the meeting was a platform where the traditional rulers from the South-south and South-east part of Nigeria come together and speak with one voice on policies that would be made in the interest of the nation.
"We cannot continue to wait until when government calls us to assemble before we begin to talk about things that concern the national security. The general election is fast approaching and that is why we on our own have come together to prepare against the unforeseen."
He stressed that the whole essence of the meeting was to ensure that traditional rulers rise to their responsibilities of ensuring that things go the right way during the forthcoming general elections, adding, "When things are not going right, we the traditional rulers who are like fathers to the nation, won't just fold our hands and allow things to go out of place before intervening.
"For today's consultation, we have looked at ways of ensuring a violence-free 2019 general elections. Aside that, we have looked at other areas of common interest and ground, where the traditional rulers from the Southern part of Nigeria would come together and rub minds.  We have touched the area of violence-free election, which is the theme of this meeting and we have touched other areas of collaboration amongst our various communities."
Advice to Politicians
His advice to contending politicians was: "Go there and test your popularity not by violence." He also called on subjects of various communities to comply with every laid down electoral rules during the elections while they go out to cast their votes as well as conduct themselves properly during voting.
Chu also called on government and other stakeholders to provide conducive environment where people would vote during the elections without being molested.
Paradigm Shift
The Olowa of Igbara-Oke, Ifedore Local Government Area of Ondo State, Oba Francis Adefarakanmi Agbede, Ogidi III who represented the Ooni of Ife, HRM Oba Enitan Adeyeye Ogunwusi, said, "We have come, and we have observed and what we are actually taking home from our observation is the issue of security and how we can discuss with our communities to ensure safety.
"This is another paradigm shift from today on, especially as it concerns the incessant insecurity, election challenges and bringing together a synergy of the traditional rulers in Southern Nigeria. Essentially, we need to cooperate or operate. This is our constituency, we cannot run away from it. It is a great platform to assist the government during the general election. We only play advisory roles, we are not empowered to take any political action but at least we are closer to the grassroot and that is our fundamental concern and we want everything to be peaceful and successful", he noted.
The Chairman, South-east Council of Traditional Rulers, HRH Eze Eberechi Dick, the Eze Udo 1 of Mgboko Mgwa Amaisa, Abia State, expressed belief that the meeting can bring back Nigeria as one region that speaks with one voice.
"We held the first consultation meeting in Abuja and today being the second, you can see that the attendance is more, which means the idea behind this meeting, which is to discuss issues affecting the nation, particularly in terms of peace and security is yielding good fruits", he noted.