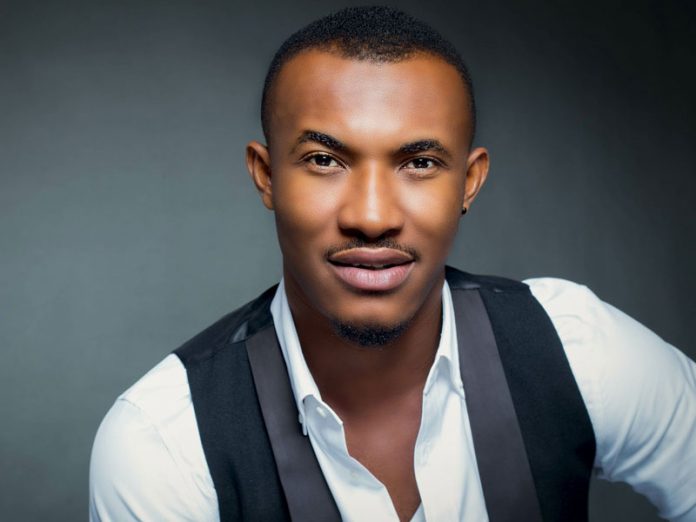 His exquisite, sky blue tailor-made suit accentuates his good looks. With square shoulders fit for a male model, his grace, gait and gumption are unmistakable. A smile flickers on his face as his lissom lips move momentary. His arched eyebrows provide slight shade for his glistening eyeballs – sharp in focus and enthralling in fixation. His oval face – darkened by an isolated rash of beard beneath his chin – glistens as he flashes a smile to the admiration of his fans. As an actor, Gideon Okeke has played dynamic roles both on stage and the screen. He is believed to have found fame and fortune in his M-Net TV drama series, Tinsel, character. Yet, there is more to Okeke than meets the eye as Vanessa Obioha writes in her encounter with the handsome acto
Some actors have memorable characters that cling to them like a second skin, such that whether they are in character or not the widely held opinion of them is retained as top-of-the-mind. Take for instance Pete Edochie's character, Okonkwo in Things Fall Apart or Sola Sobowale's Toyin Tomato in the Super Story series 'Oh Father! Oh Daughter!' Nollywood actor Gideon Okeke suffers similar fate. Though he was first beamed to the Nigerian audience as a contestant on the first edition of reality show Big Brother Nigeria, it was his character in the award-winning long running M-Net's TV drama series Tinsel that registered his name in the minds of many.
Okeke played the role of Philip Ade-Williams, the spoilt, haughty son of media mogul, Fred Ade-Williams, (played by Victor Olaotan) in the series.
Due to his peerless interpretation of that character, the popular view about Okeke is that he is cocky. His features in other productions such as Steve Gukas' award-winning movie '93 Days' or in 'Crossroads' which recently fetched him an Africa Movie Academy Award (AMAA) have in no way diminished the memory of his Tinsel character.
This in no way undermines his acting skills. As an actor, Okeke has played dynamic roles both on stage and screen. Whether he is on stage playing the late Afrobeat legend, Fela Anikulapo-Kuti in the musical, 'Fela: Arrest the Music', or the love interest of a successful events planner in 'When Love Happens', he always throws all in the ring to deliver a believable performance.
In real life however, Okeke shows a humble side of him that is rarely captured on screen. He offered this reporter a ride to his home — which is nestled in a serene neighbourhood away from the bubbling noise of the city — where the interview was scheduled. As he drove through the tarred road leading to his abode, he pointed at the trees dotting both sides of the road.
"You see this. Can you breathe the air here, it is dense. This is what I enjoy. It is away from the noise in the city. I don't want all of that. I like it here. This means a lot to me."
Perhaps, growing up in a place like Ajegunle where boisterous encounters are a daily occurrence influenced his decision to seek a reserved environment.
"Maybe, that's the brain working by itself. Perhaps that's what it understands. What you grow up seeing everyday becomes what you want to change. Actually you can live anywhere and control your business. You can have a condo in the city but keep your family away from all that. But it's all about choices. Take away the traffic, I'm comfortable here."
And the erratic power supply and corruption too which he described as the two common problems that bound every Nigerian. This he said makes it difficult to have a definite class system in Nigeria.
"The rich cannot really intimidate the poor because we all ply the bad roads, experience unstable power supply and are led by corrupt leaders. The only difference is the physical coins."
Okeke and his wife paint the picture of a young couple in love. It is evident in the way they call each other 'babe', share a private joke and stare at each other with lovey-dovey eyes. They had met through a friend. Since they tied the knots earlier this year, Dera has become Okeke's muse. Like her husband, she exudes a charming and humble disposition.
At home, Okeke looked so out of his Philips Ade-Williams character — a role he played for 10 years. He was dressed in black knee-length shorts and orange t-shirt which accentuates his boyish physique. His demeanour sometimes is very calm and unassuming, and at other times, lively and determined.
What is more interesting about Okeke is his unwavering Christian faith. Throughout the interview, he hardly answered a question without making reference to the Supreme One and the Holy Bible. He believes every opportunity is part of a bigger plan such as his long stay in Tinsel.
"I've done Tinsel for 10 years – left the show last year. Playing that character for that long is all about facing what's in front of you because it all adds to the bigger plan. There is no time lost. It's perfect. Everything is perfect under the sun, under the will of God. When I think about it, when I write it out there, it's just following its natural course."
However, there are times when Okeke steps into his Philips Ade-Williams character, particularly when asked if he is as cocky as his on-screen personality.
"People say that about me and in a cocky way, I respond to them. It is out of logic. In all sense of humility still, I am not trying to feign modesty, but have you heard God introduce himself? He is I am that I am… go and find out. He has never introduced himself as 'please bear with me, it is I.' He boldly tells you to go and Google it… I am that I am. And I have been made to understand that I am joint heirs with his son, I am his kid, and of whom shall I be afraid of? That he who is inside of me is plentiful more than whomever you bring forth to my face. If I have that information as a child of a king, do you know how I am going to act outside of my gate? If you saw a prince, do you know how they will talk to him? You can't approach him anyhow because they have many hands that are on the job. We are an extension of his expression. He said: 'Go in my name.' Why do you need other people's opinion to be legit? You have already been made. You are already an extension; you carry the DNA of the Most High."
He rolled his sleeves to display a tattoo of his name 'Echezonachukwu' on his right arm.
"It means don't forget God. It is a guiding principle. It is beyond this art work, the acrylic, it is in the power of what I see here whenever I say it. It is in the power behind it, that's what leads one."
Acting is serious business for the graduate of Applied Bio-Chemistry from Nnamdi Azikiwe University, Anambra state. His passion was stirred at a young age. He recalled watching a lot of TV as a young boy which was encouraged by his father.
"My dad made me watch a lot of TV. TV is different information to me, bingeing and watching stuffs is different to me. I detest that label couch potato. There are some people who are on that couch, that's their job to just stay there and tell you about films and TV shows. You can't throw a blanket on everybody."
That habit is yet to die. Watching films is part of his lifestyle as an actor. His favourite actors are from Hollywood. They include Hollywood action movie buffs like Tom Hanks and Denzel Washington. He however has a soft spot for 'The Revenant' actor, Leonardo DiCaprio.
"When they say a guy has ears for music, DiCaprio has ears for music of life; understanding and conveying a story. There is a lot the script doesn't say, but you watch some actors and you know this is him and not the script. He understands what it means to get there for the script sake; where the script stops, you complete. Understanding all those things, the timing and its art, it's a gift."
He again used a biblical reference to buttress his point: "I believe that when people are making film; cinema that is meant to change a life, even if it is comedy or satire, for as long as it is meant to communicate something, you are that place in Genesis when he said, 'let there be light'. You see what the Bible said about God seeing that it was good? Do you know that he freaked out too at his creation, but he couldn't tell anybody? He told himself… and for that he said 'come guys, let's make man in our own image.' For these things, whatever you know how to do; if you are a writer, it is not your power that your brain functions the way it does; that your brain can capture vocabulary and conveys meaning and emotion. It is not your power. You didn't read it in school. You hone your craft according to what you see. Your brain and my brain are like this laptop," he said pointing to his laptop on the table.
"For it to be more, it has to connect to a Wi-Fi, a bigger UPS for it to show it has more potential. Whenever you think of something, you have connected to the bigger UPS – God. It is his thoughts and plans for you."
To further hone his craft, he acquired knowledge from the Strasberg Institute in New York, where he got his professional training in acting. He also attributed much of his success to the African International Film Festival which he said has provided a great platform for local talents to collaborate with experts in other film industries.
Lately, he's been getting offers to act on international productions, though to him that is not a validation of his prowess. He however believed that Nollywood actors should challenge themselves to align to global best practice in the craft. But more importantly, he believes that Nigerian filmmakers should make films for humanity.
"It just feels like we are making films for aliens because you know what films should make you do? It should make you think, inspire you to change something. Even a comedy should make you flip."
Like most actors, Okeke plans to work behind the cameras. In fact, it is already happening without his approval. He hinted that one or two productions are on the pipeline and would kick off once the right collaborators come on board.
Apart from acting, the actor once tried his hands on music. He released a single after he left the Big Brother Nigeria house but didn't faithfully pursue the talents. However, the big piano that occupies a space in his living room suggested that the dream is very much alive. For now, he only plays for 'special people'. He is also a model and a TV host.
Being in the spotlight has not robbed Okeke of his private life. He still enjoys going to the market and bargaining with the sellers. He loves the privacy of his home. It is his safe haven.
"You see how I live? Somebody will look from the outside and call it lonely; do you know I'm having a ball? It is not lonely. I go where I chose to go. When the invites come to my email, I select where I want to go. I don't have to be everywhere. If I didn't show you this," he said, revealing another tattoo on his left arm, "You won't know I have another one there. That's how you should come out. The masquerades, they are performers. You don't see masquerades every Sunday. You go to the market square and you sit and wait for hours. The masquerade will come and perform for 15 minutes and leave. You will carry the memory of the dust he raised for another market cycle before he comes back again. That's how you should present yourself to the world, you are a masquerade. You shouldn't be everywhere all the time."
With the way Okeke expresses his Christian faith, one wonders if he would ditch the screen for the pulpit one day.
"Not yet. I know I carry a vision. T.D. Jakes puts it this way: 'I'm too creative I can't build a house.' I'm too bubbly to create one thing and say this is the end. You see why God said go and procreate. He is too creative to have made Adam and say this is the end. So, he made an extension through Adam and said, 'go and continue my work for me," he said.