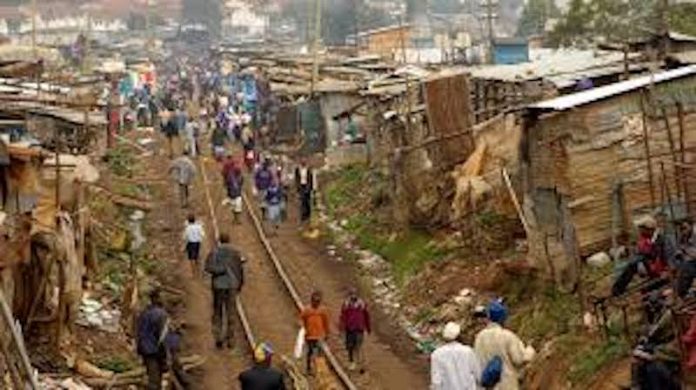 Ring True with Yemi Adebowale; yemi.adebowale@thisdaylive.com; 07013940521 (text only)
As More Nigerians Slip into Extreme Poverty…
As I pen this piece, kerosene, the cooking fuel of the masses, sells for between N250 and N280 per litre in Lagos. It is much higher outside Lagos. The masses have been spending more in the last three and half years to fuel their kerosene stoves. It has been a big battle for survival for them as the prices of goods and services skyrocket, dragging many into extreme poverty. So, it did not come as a surprise when the World Poverty Clock reported that over 1.1 million Nigerians slipped into extreme poverty just in four months – June, July, August and September – this year. This has brought the number of Nigerians living in extreme poverty (below $1.90 a day) to more than 88 million.
In June 2018, the Brookings Institution named Nigeria as the poverty capital of the world, with 86.9 million extremely poor people. Nigeria overtook India as the world poverty capital, despite being six times smaller in population than the Asian country.
According to the World Poverty Clock, created by Vienna-based World Data Lab, 88,011,759 Nigerians are currently living in extreme poverty. The World Bank, IMF, United Nations, and major development institutions across the world are forecasting that Nigeria will not hit the 2030 target for ending global poverty. This is because the responses to poverty reduction by our governments at all levels have been feeble.
The federal government in particular, has deliberately pushed many into poverty due to its flawed economic policies, programmes and raging insecurity. A good example here is the plight of millions of displaced Nigerians living in extreme poverty in IDP camps across the country. They have been pushed into extreme poverty by the raging insecurity.
The World Poverty Clock reports: "The outlook for poverty alleviation in Nigeria is currently weak, with nearly six people slipping into extreme poverty every minute. Nevertheless, the overall effect will be muted; by 2030 we estimate the percentage of Nigeria's population living in extreme poverty will increase from 44.2% to 45.5%, representing a total of some 120 million people living under $1.90 per day."
While poverty in India continues to fall, Nigeria wallows in darkness, rising fuel and food prices, disease, insecurity, hunger, unemployment and malnutrition, all leading to more people falling into extreme poverty.
The truth be told without sentiment; the economy handed over to the Buhari administration was a fairly good one with consistent growth in GDP and industrial capacity utilisation. Under Obasanjo, late Yar'Adua and Jonathan, industrialists and SMEs were running their businesses with little encumbrances. The Naira was fairly strong and stable. The forex policy was also friendly to industrialists. That was why industrial capacity went up in the last three years of the Jonathan administration.
So, how well-managed has this country been under wailing Buhari and Osinbajo? Are there positive stories to tell in areas like the value of our currency, economy, electricity, fuel prices, manufacturing, job creation and so on? The truth is that this administration squandered virtually all the gains of its predecessors. I challenge pro-Buhari activists to point to a single tangible achievement of this administration in critical sectors like security, education, health, road, economy, power and housing. Even the President and his family members are flown abroad regularly to enjoy foreign medicals.
This government brought pain, blood and tears to Nigerians, with thousands of businesses and manufacturers gasping for breath, while millions of Nigerians lost their jobs. The Naira, our symbol of nationhood has never had it so bad. At a point, it was trading for as high as N520/$. This is the same Naira Buhari inherited at about N220/$. Which corruption is bigger than buying petrol at N145 per litre? Which corruption is bigger than plunging Nigeria into unprecedented foreign debt? What do we have to show for all these borrowings?
Nigerians continue to be ranked among the poorest globally. So, what has this government done about this in almost four years? Is Buhari unaware of the country's rising unemployment figures?
Any serious government would have ensured a robust engagement of these unemployment and poverty figures. Now, Nigeria has surpassed India as the country with the largest number of people living in life-threatening poverty despite the fact that India's population is almost four times that of Nigeria's. This is another insignia of disgrace that should task Buhari and his cohorts. Our President should concentrate on pragmatic steps to pull more Nigerians out of poverty instead of regaling us with skewed anti-corruption stories. Forward-looking Nigerians are tired of these monkeyshines.
Amosun, Okorocha and the Wages of Greed
Prior to the primaries of the All Progressives Congress, I watched Governor Ibikunle Amosun of Ogun State on television, dishing out orders at the state's APC stakeholders meeting in Abeokuta. The bemused stakeholders watched him anointing his choice for governor and announcing himself as the candidate for Ogun Central Senatorial seat. It was "powerful" Amosun in action, singlehandedly picking APC candidates for all elective positions in the state.
For Amosun, those opposed to his dictatorship can as well go to hell. Well, his opponents did not go to hell; they simply pulled the rug from under his feet, leaving him stranded. His anointed governorship candidate, Adekunle Akinlade, has been thrown into the deep blue sea by APC leaders in Abuja. The powerful Amosun has now been consumed by superior powers. He wanted everything but he may end up with nothing. The news in town is that he is planning to move his anointed candidates to one of the fringe political parties. Emperor Amosun looks set to burn all his fingers with his gluttony.
The other Emperor in Imo State, Rochas Okorocha, is desperate to have his son- in-law, Uche Nwosu, succeed him as governor. He also wants a senatorial seat for himself. Just like Amosun, Okorocha wants to determine APC candidates for all elective positions in the state. Greedy Okorocha is also struggling for survival as the Hope Uzodinma gang wrestles him. Already, they have taken the governorship ticket away from his anointed candidate.
Okorocha is plotting plan B for his anointed governorship candidate. However, he looks good to fail again. This governor has no iota of credibility in the state. I am shocked that he is even dreaming of producing the next governor of Imo State despite his acrimonious tenure. No single individual has ever inflicted this much pain on the hapless people of Imo State as Okorocha did in almost eight years.
The cataclysmic Okorocha government turned Imo State to a big mess. No one will forget in a hurry the ruthless demolition of the famed Eke-ukwu Owerri Market, in spite of a subsisting court order. Imo, under Okorocha, has become a failed state, with the government unable to meet its basic responsibilities to the citizens. Facilities in the health, education and other sectors have collapsed. In Okorocha's Imo, civil servants have huge backlog of unpaid salaries. Imo State retirees are also wallowing in poverty, due to enormous unpaid annuities. All these have resulted in so much poverty in this largely "civil servant" state.
The limited resources of this state are being squandered amid poverty. A good example is when this governor suddenly crops up with an aircraft, said to have been acquired with the funds of the suffering masses of the state. He then went about celebrating, with the impression that this was capable of turning around the fortunes of the state. The impact of Imo Air is yet to be felt. What about Okorocha's ludicrous trip to Turkey, with about 100 of his cronies, supposedly to study that country's industrial magic? How much has Imo gained from the lavish trip? This governor has glaringly turned Imo State into a family business and personal property. His family members occupy key positions and get juicy contracts.
Top businessmen, members of the academia, technocrats, retired senior military officers, as well as other professionals of Imo State origin have joined the noble movement against Okorocha, using the platform of Imo Economic Development Initiative. It is pleasing that this formidable opposition to Okorocha is coming less than a year to the election of a new governor. This time around, Imo State has to put forward its best hand for governor to halt the anguish in the state.
The Metropolitan Archbishop of Owerri Ecclesiastical Diocese, Rev. Anthony Obinna, was apt when he said, "Jesus Christ is always there to restore confidence and give courage to those who are in fear. For some years in the past, Imo citizens have been living in fear because of bad government. It is absurd and undemocratic for the governor to anoint his son-in-law to succeed him while his daughter will succeed his wife as first lady. Christ has liberated us by His death on the cross; therefore, no person can overturn what God has done."
A Word for FRSC Boss, Oyeyemi
The Corps Marshal of the Federal Road Safety Commission, Boboye Oyeyemi and his men have decided to inflict more pain on vehicle owners across the country, following Oyeyemi's directives to his men to impound vehicles without its new preposterous Number Plate. For most of this week, Oyeyemi's men were on the roads harassing and extorting money from vehicle owners without the new Number Plate.
My dear Oyeyemi, I doubt if you know that Nigerians are already going through hell, with the excruciating economic condition of the country. Notwithstanding, you want them to cough out a minimum of N42,000 for a new Number Plate. Are you unaware that new vehicle license, Insurance and Road Worthiness Certificate would be required alongside a new Number Plate? Aside the financial burden on Nigerians, I am very sure that your FRSC lacks the capacity to provide new Number Plates for the millions of vehicles on Nigerian roads at the same time. So, why put vehicles owners through more traumas in an era of economic crisis?
My dear Oyeyemi, are you unaware that there is an appeal at the Supreme Court against the judgement you are relying on, to implement this new Number Plate policy? Why don't you allow the Supreme Court to make a finale pronouncement before implementing this notorious new Number Plate policy?
For me, acquisition of new Number Plate should be optional. Only owners of new vehicles should obtain the new number plates. The National Assembly must stop Oyeyemi and his men from traumatising vehicle owners by stopping the implementation of this new Number Plate policy. Our lawmakers must rise and save Nigerians from Oyeyemi and his men.
Osinbajo's Deadline to Apapa Tanker Drivers
I need to remind Vice President Yemi Osinbajo that his 72-hour deadline to security agents and traffic managers to clear the mess created by tanker drivers in and around the Apapa ports has failed. Almost four months after Osinbajo gave the order for the clearance of the gridlock, Apapa remains a big mess. Recall that the VP visited Lagos on July 20 and dashed to Apapa to see the madness of tanker drivers on the roads leading to the ports and inside Apapa itself. After experiencing the gridlock, which has made vehicular movement almost impossible, our VP gave instruction for a 72-hour joint operation by security and traffic managers, to restore order in Apapa and its environs. Of course, I knew Osinbajo was showboating. Many, who are easily deceived, thought succour was on the way for the traumatised residents and businesses in Apapa, with Osinbajo's instruction. I have been proved right.
Almost four months down the line, Apapa remains one big mess, with residents and businesses gasping for breath. Coldblooded tanker drivers have made lives miserable for those entering or leaving Apapa. My dear Osinbajo has suddenly forgotten that he gave an order for the gridlock to be cleared within 72 hours.
On Monday, the six governors in the South-west desperately called on the federal government to urgently find a lasting solution to the Apapa gridlock. I am not sorry to say that the federal government lacks the capacity to clear the Apapa gridlock. It's a big shame. For now, billions of Naira and man hours go down the drains daily, as trucks continue their madness in and around Nigeria's largest ports. Many businesses and home owners have been forced to flee Apapa. The situation here is hopeless. What a country!