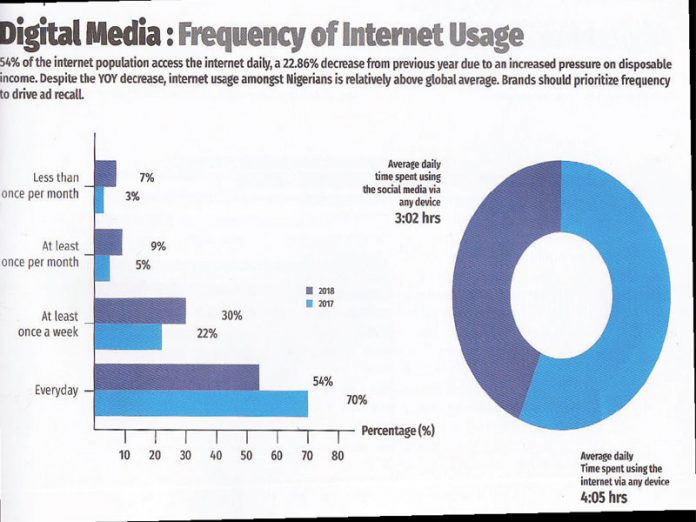 Raheem Akingbolu who reviewed the Nigerian Media Advertising Guide for 2018/19, argued that technology has become an established complement to the traditional media in the market
With an average of 4:05 hours daily time spent using the internet via any device and 3:02 hours average daily spent using the social media via any device, it may be argued that any brand owner or advertisers, who ignore digital marketing in today's market does so at its peril.
New findings have also revealed that newspapers, television, radio and other traditional platforms are still also relevant as various media owners are raising the stake to compete globally.
According to the Nigerian Media Advertising guide for 2018/19, a publication of one of the Nigeria's leading media agencies, Starcom Media Perspectives, consumer behavior enhanced by tech has continued to evolve industries and communication landscape. It identified; personalisation, social networking and convenience as among the major factors aiding the growth of digital marketing in the market. The report however observed that this will also affect the way audiences are reached and how media measurement metrics is approached.
While pointing out that the global phenomenon of programmatic is becoming evident in Nigerian media particularly in Television and Out of Home landscape, the report pointed out the need for more marketing professionals to adequately equip themselves to navigate this new wave of media buying technique.
As the rest of the world focuses on Africa as the next marketing destination, the Media Advertising report predicts that Asia and Africa will determine the future of the internet with exponential growth in mobile first users.
"More tech development will be hinged on their ubiquitous computing usage and preference for localised content.
"The exciting news is that Nigeria leads the Africa region in growing the next billion users. What an exciting time to be a Nigerian!" the report stated.
Media penetration
As a build up to its analysis on the recent media penetration in the market, the report first analysed the Nigerian market, based on FDI trend, population distribution, household purchasing decisions, among others.
It stated equivocally that rising FDI despite negative economic outlook, as established by Tradingeconomics.com of the CBN, has only assured those who are keen about the Nigerian market that there are potential opportunities ahead.
It pointed out that the country's population reflects great economic potential with over 60 per cent of Nigerians being 24 years and below, adding that pressure on income has instigated rising involvement of Male HOH (Head of Household).
The report however stated that TV and Radio penetration have reached a peak nationally but quick to add that opportunity to growth for these traditional platforms lie in digital.
Sadly, for the out-of-home, the report stated that environmental factors like urbanisation, security and others have affected its penetration.
"With the imminent shift from analogue to digital TV, advertisers need to pro-actively consider investment on Pay-tv, which increasingly affordable as witnessed in the growth of cable TV penetration in Lagos and South West over the past year.
Radio remains the most efficient medium to drive frequency for brand communication while brands increasingly leverage the integration of TV and social to maximise engagement," the report stated
It further stressed that more brands are utilising digital media innovatively to engage the youth who have the highest media penetration and drive increase in ROI.
The report attributed the higher media exposure in Lagos and South region to the liberal lifestyle while insecurity is said to have further instigated lower penetration in the core north.
To this end, the report recommended the need for brands to prioritise indoor and personalised media in the core north.
For instance, the report puts OOH penetration in the South-south at 93 per cent while penetrations in the North-east and North-west were put at 72 per cent and 74 per cent respectively.
The North central situation appears better with 93 per cent. One cheering news is the discovery that television viewership has increased significantly in the north as social life is gradually normalising following reduction in insurgence activities.
Most often read newspapers
While pointing out that peculiarities of different cities across Nigeria influence the media consumption patterns based on its observations in the audience viewership variance on network stations such as NTA, AIT, Silverbird TV and some cable TV platforms, it established that print media is largely influenced by the editorial fit with socio-political inclination of the resident majority in those days.
The report revealed that there were significant consumption of dialectical newspapers in major cities in South-western and northern Nigeria.
Relying on All Media & Products Survey (AMPS) 2017, the report named THISDAY to be among the top three most often read daily newspapers in Nigeria.
The finding was based on survey conducted on readers of 23 newspapers published in Nigeria.
Meanwhile, the report noted that growth in the print media was not encouraging as hard copy was being threatened by online version and blogs.
Digital media
On growth of digital media, the advertising guide stated that active social media users increased by 2 million from 2017 as a result of more people accessing social media platforms on the go with active mobile social media users accounting for 89.5 per cent. This is despite the fact that Nigerian internet users' population dropped by 2.5 per cent to 94.8 per cent in 2018 attributable to the decline in purchasing power of Nigerian which impacts data subscription thereby reducing internet penetration.
It pointed out that innovation on social media platforms such as instagram stories, whatsApp stories and others are redefining video consumption behavior and encouraging the uptake of smartphones as smartphones now account for 56 per cent of the mobile population.
It attributed the increase in smartphone penetration to the influx of low end smartphones making Nigeria the lead mobile-first market globally since mobile accounts for 81 per cent of internet traffic.
Thus, to reach Nigerians a mobile first approach is necessary and it is important to note that mobile video is the dominant social content format projected to constitute 80 per cent of online content by 2019.
NMAG App
Aside releasing the hard copy of the Nigerian Media Advertising Guide 2018/19 edition, Starcom Media Perspectives raised the bar with the unveiling of a software application that will make media buyers and consumers be in constant engagement with happenings in the industry.
Speaking at the event organised within the office complex, the Chief Operating Officer of the agency, Mr. Jude Odia, said, this year's report went beyond the boundary of gathering facts but added insights and intelligence to help media planners, advertisers and other stakeholders do their job effectively.
Odia pointed out that the report has also been deployed as an application and interested stakeholders could download it on Google Play store as NMAG on their Smartphones.
According to him, the report was deployed as an app because of the high rate of internet penetration in the country, affirming that the move was to reach a wider audience who could not have the opportunity to grab the hard copy of the report both within and outside the shores of the country.
He said: "It is important to note that this year's edition of the Nigerian Media Advertising Guide 2018/19 is now on an app."
"The reason is simple and it is because internet penetration is high in Nigeria. Nigeria is over 180 million people which is regarded as the biggest market and mobile is driving it."
"So, why leave this kind of valuable information in a hard copy that people may largely or relatively not read. Get it to a platform where it becomes an integral part of them and they can easily access it and it will be useful to them."
"This is long awaited and to a large extent we are glad to know that we are the first in West Africa that have done this and we hope to move it to higher level as we go in the coming months and years."
Speaking in the same vein, Head, Digital Services, Starcom Media Perspectives, Mrs. Ose Osundeko, said, deploying the report in the form of an app became very necessary due to the inability of most stakeholders to grab a copy of the last edition of the report.
Osundeko noted that the report is essentially released to help stakeholders within and outside the integrated marketing communications industry gets insights about the times and trends of what is happening within the media landscape.
According to her, the app came about because last year when we launch, we had people from Nigeria, and a few people from abroad asking that how can I get this information."
"We could not reach them round, so we looked at it and realized that about 80% of people in Nigeria access the internet through mobile."
"So, we know that mobile penetration is very high and the easiest way for us to be able to provide this information was to go mobile and that is why we launched the app."
"Now, in terms of the usefulness of the app, it gives you information, for instance, if you are a student and you need to do your research, you have it at hand, if you are a marketing professional and you want to double check some information and you want to plan media, you actually have insight and actionable data."
"Based on that, as media partners; you want to know what the trend is based on different target audience segments, you actually have all that information. So, I encourage you download it and start using it immediately."
Meanwhile, the Associate Director, Strategy & Innovation, Mr. Dolapo Ogunbambo, noted that deploying the report as an app would enable the organisation become competitive amongst its peers at the global level.
Ogunbambo, decried that it was high time Nigeria stopped playing catch-ups in the media landscape globally.