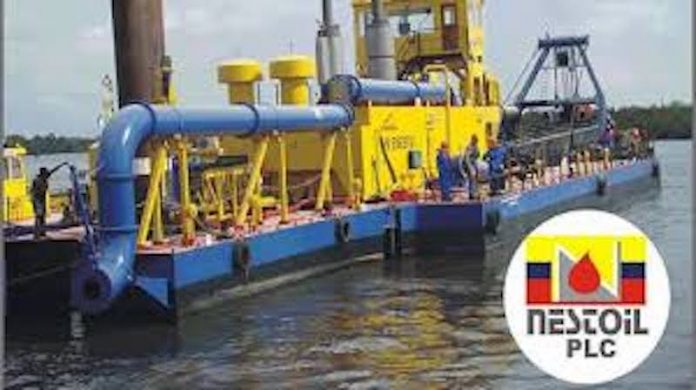 Established in 1991 as a trading and logistics company, Nestoil has grown and expanded into a conglomerate, priding itself as a local content champion in the Nigerian oil and gas industry, writes Peter Uzoho
Before the conception and subsequent enactment of the Nigerian Local Content Act in 2010, an indigenous oil and gas company, Nestoil had already envisaged the need to address the issue of non-participation of Nigerian owned companies in the country's oil and gas sector. This, it set out to address through setting up sister companies otherwise known as Strategic Business Units (SBUs) as time demanded to venture into providing services in the end-to-end activities of the oil and gas industry.
Expansion
Having wound up the trading and logistics company, Nestoil expanded into the different SBUs providing various forms of services to the oil and gas industry. These units or subsidiaries included the Energy Works Technologies (EWT), IMPaC, B&Q Dredging, Hammakopp Consortium, Scorpio Drilling, Neconde Energy, Nesthak, ShipsideDrydrock, Gobowen E&P, and Century PowerLimited.
"We expanded by identifying insightful business opportunities from needs that did not have readily available or sufficient in-country solutions, then creating well equipped companies to meet those needs," the Group Managing Director/President, Nestoil Group, Dr. Ernest Azudialu Obiejesi was quoted to have said on the company's website.
"Our SBUs were initially created to provide for critical needs that arose during Nestoil's execution of pipeline construction projects. Today, these companies have become authorities in their fields," he noted.
Scope of Operation
Each arm of the Nestoil group has its unique area of operation which supports the activities of the company as a whole. One of the key subsidiaries of the group is the Energy Work Technologies (EWT) created in 2012 out of the company's engineering exigencies to support the group in heavy industry fabrications and engineering especially building vessels.
"If we take the count of what they have done in terms of age or how young they are, they are far away from the other fabricating industries because they have done creditably well," the Business Development and Operations Manager, Mr. Chris Ijeli, said during a recent facility tour at the Nestoil Industrial Estate in Abuloma, Port Harcourt.
The EWT services range from pressure vessels and piping, process packages and modules, and offshore steel structures.
"Currently we are rolling vessels that are 110 million metric tonnes – 5.5 inches. We can roll plates of up to 130 mm thick. We have a workshop of 14, 000square meters covered area with a maximum lift of 100 tonnes. We have cutting capability of 300 mm with our CAC machine; we have plate rolling capability of 530mm; the ground bearing of the workshop area is 10 tonnes per square meter," he said.
Also, the EWT arm of the company has the capability of doing over 2,500 tonnes of pressure vessels per annum, and structural steels of 9,500 metric tonnes. It can also build one single module of 10, 000 metric tonnes.
With the help of IMPaC, another strategic unit of Nestoil, EWT has a good engineering and operational maintenance capability.
"EWT is an ISO-9002015 certified company, certified manufacturer of pressure vessels, process modules, process plant equipment and oil and gas steel structures fabricators in Nigeria and West Africa. We are the fabrication yard among the first companies to transit from 2008 to 2015," ijeli said.
Nestoil equally has in its fleet of subsidiaries, B&Q Dredging Limited, established in 1996 which provides a range of dredging solutions using its highly experienced and motivated multinational workforce to meet global operating standards.
Its services ranged from dredging services, reclamation, sand filling and road embankments toward erosion control, shore protection and consolidation. This places the company as the foremost indigenous dredging service provider. The B&Q arm is currently preparing dredgers to be deployed for the dredging of the River Niger.
"We are mobilising before end of November for the dredging of the River Niger. We have done a lot of dredging at the OB3 – Obiafu, Obrikom and Oben pipeline, supporting Nestoil in pipeline construction. We are currently doing the Sagbama/Ekeremor 44Km road alignment project in Bayelsa. We have done the sub-grade and the base," he said.
However, in recognition of its capabilities in the industry value chain, three of the groups companies, Nestoil, EWT and B&Q were in 2017 identified by the London Stock Exchange out of 300 African companies as companies with the great future for the continent – companies to lead Africa in the next 10 years.
Notably, the entity, through its engineering and construction arms, has delivered services to a good number of organisations according to global best practices and that has earned it numerous product and management certifications. For instance, Nestoil has the ISO-9001/2015 certification and has also moved from ISO-2008 to 2015.
Determined to turn Nigeria's oil and gas industry around to enable the country reap fully its natural endowment, Nestoil, EWT and IMPaCarecompacting the Shell system of separation to a three face system at the OML 42. This milestone will result to exporting oil right from the fuel stations.
"So they have done it for Odidi, they have done it for Jones Creek. And they are trying to do it for Egwa and Iba town in a short while. So what that means is that the OML42 can comfortably export oil straight from the fuel stations. That will make it easier to get the accurate volume of crude oil lifted at the fuel stations," Ijeli revealed.
Also in the Nestoil's stable is the WhiteDove,which renders marine vessels maintenance, repair, upgrade, and dry dock activities. It comprises over 37 fleet of vessel doing various ship-to-ship delivery services. Also the White Dove has a floating terminal known as 'Ugocha' with a storage capacity of two million barrels per day.
Nesthak which is Nestoil's aviation arm provides executive services to both the oil and gas and non-oil and gas industries. It does river and road crossings. The company's power generating arm, 'Century Power' is currently at its designing and construction stage. Hammakopp Consortium Limited which is a civil structural construction company undertakes construction of physical infrastructure ranging from roads, jetties, hangers, boats. It delivers services to both government and the oil and gas sector.
Nestoil also owns an E&P company, 'Neconde Energy Limited' currently operating in the OML42. It has its drilling arm, Scorpio Drilling Limited which does drilling for shallow water and swamp locations.
For Local Content
From the onset, even when the Nigerian Local Content Act had not been conceived, the vision of the company's founder had been to create an entity that would 100 per cent indigenous status to compete with the International Oil Companies (IOCs) in the industry. This, according to his plan was to give Nigerians the opportunity to participate in the oil and gas activities in the country. The Local Content Act passed and assented into law in 2010 specifies that the Nigerian independent operators should be accorded first consideration in the award of Oil and Gas related contracts and that Nigerian service companies should also be given exclusive consideration for contracts and services.
Nigeria seats as the world's eight biggest oil exporter and relies on crude as its main foreign exchange earner. The industry accounts for over 40 percent of Nigeria's gross domestic product and is associated with over a billion-dollar worth of investment annually.
However, in an industry of such importance to the life of the country, Nigerians before the Act were not actively involved in its operation due to certain limitations.
About 90 percent of the equipment and personnel used in the industry were imported. This, the local content Act sought to address by increase indigenous participation through prescribing a minimum threshold for the use of local services and promoting the employment of Nigerian staff in the industry.
Accordingly, all the companies under the Nestoil group have bought into the vision. The company ensures that all the equipment in its disposal are owned by it 100 per cent. It also ensures that over 90 per cent of its workforce is Nigerians.
"And the good thing about it is that its capacity and capability was built without even sighting the Nigerian Content policy or Act. So Nestoil under the Obijackson group has fully nurtured these companies and brought them into the Nigerian Content glory because by the time we finish this industrial estate you will know that here is a glory of Nigerian Content.
"Championing global standards of quality in the Nigerian Oil and Gas industry is at the heart of Nestoil's culture – and that of its parent company, the Obijackson Group. The Group consists of Strategic Business Units (SBUs) that offer a broad range of services," Ijeli said.
Sustenance
In its 32 years of operation, one thing that has continued to drive the growth and sustainability of Nestoil has been the tenacity of the GMD, who has shown remarkable interest in the development of the Nigerian economy.
Ijeli said: "He's not an engineer, he's from the financial side but he saw the opportunity and grabbed it. During his Master's programme in the University of Benin, he had some friends in the engineering world in the University of Benin and as they were talking about the opportunities in the sector, he picked interest in it, ventured into it and created Nestoil.
"It took Nestoil six years before getting the first job in Shell. He got the first job in Shell, second, third and fourth job in Shell. He was consistent in working in Shell before he got job from Exxon and the NNPC side. With that, he now ventured into E&P which again is a big heart. Instead of channelling those monies he made into a fruitless ventured, he used it to create an opportunity for all of us"
However, with all the assets acquired by the group over the years, the company sees acquiring more as not a priority.
According to Ijeli, "we have acquired enough, so there is no need acquiring more. What we need now is to deepen what we have acquired and get returns. But for the EWT to go into deep offshore it has investment plan of over $20 million in the next two years. But all others have their investment programmes."
QUOTE:
So Nestoil under the Obijackson group has fully nurtured these companies and brought them into the Nigerian Content glory because by the time we finish this industrial estate you will know that here is a glory of Nigerian Content