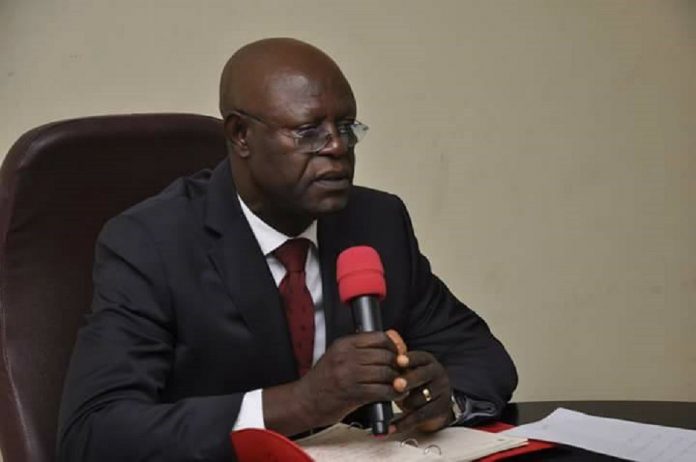 George Okoh in Makurdi
Benue State's acting Governor, Benson Abounu, has ordered full investigations into the unexplained killing of five members of a family in Makurdi, the state capital, on Friday night.
Abounu who described as horrific the killing of Mr. Nicholas Adetsav, a staff of Makurdi Local Government Council and his entire family, said the suggestion that the late wife carried out the killings before taking her own life is mind-boggling and needs to be properly investigated.
He instructed the Commissioner of Police to delve into the matter and carry out full investigation with the aim of unraveling what actually took place.
He said he was saddened by the events of Friday night and the loss of five precious lives. He condemned the killings, describing it as a sin against God and humanity.
The acting governor commiserated with the relations and family of the deceased and prays that such a horrendous thing never happens again.
Meanwhile wife of the Benue State Governor, Dr. Eunice Ortom, has inaugurated the Safe Space Centre for Reproductive Health And Psycho- Social Support Ffor Victims And Survivors of Gender Based Violence ( GBV ) at Daudu.
The governor's wife said the centre was aimed at helping victims of gender abuse to recover from abuse and stigmatisation.
She decried the rising incidents of gender violence, especially the abuse of the girl child in the state.
Ortom condemned the fatal and serial rape of little Ochanya, which led to her untimely demise and assured she will get justice as the perpetrators of the dastardly act will be made to face the full wrath of the law.
She urged the public to support the efforts of government and aid agencies to curb this social ill that is ravaging the society.
The centre is a collaborative program between the Benue state government and the United Nations.