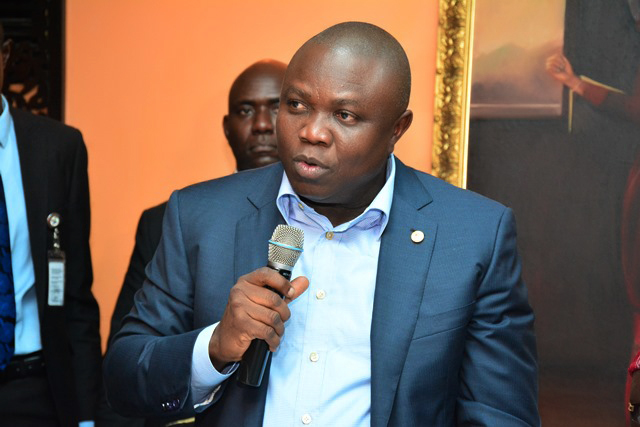 Monday comment

 Akinwunmi Ambode writes that an inclusive society must have institutions and structures that empower all
There have been so many papers on nation-building, focusing on institutions and regulations but I will restrict myself to the softer issues – the people; the most important fabric of the nation.
In discussing this topic, we must determine who we are as a nation, where we are and where we want to be.
I will not draw any conclusions but I will present some critical information and present what we have tried to do in Lagos State for nation building.
Globally there is a feeling that we live in an increasingly fractured world. Results of the World Inequality Report of 2018 shows that inequality has increased everywhere in the world despite substantial geographical differences, with the richest one per cent twice as wealthy as the poorest 50 per cent and Nigeria is no exception.
In recent decades, income inequality has increased in nearly all countries, but at different speeds, suggesting that institutions and policies matter in shaping inequality.
There are a number of prevailing opposing political, economic, and trade trends reshaping the world, including the widening gap between the rich and poor, climate change and concerns around the future role of technology.
So, recently, we have been hearing things like Brexit, nationalism or Triumpism, which some people see as populist and nationalistic tendencies. That is how fractured the world is.
Around the world, people are finding it increasingly difficult to buy into the narrative of shared, continuous social and economic progress that has prevailed for decades.
The truth is that globalization has inadvertently exposed a fractured world. However from a strictly economic perspective, the world is really not in bad shape. The International Monetary Fund (IMF) for example predicted a growth rate of 3.7 per cent in 2018.
The reality however is that for most people, the benefits of economic growth remain elusive.  This category of people thus feel excluded from globalization and all the rosy narratives that often accompany it hence the fractures we see in the world today.
These fractures foster intolerance, the rising nationalism, populism and strife all over the world and intolerance technically leads to terrorism. This fracture is even more evident in Nigeria with the various indicators of inequality.
The focus of national economic programmes since 1960 has been the reduction of poverty, bridging inequality and the achievement of a sustained economic growth that should translate to economic development.
However, our growth indicators, even when we averaged growth of 6 per cent prior to the recent recession of 2015 and 2016, we have not managed to translate into real development for the greater majority of our people.
The reality and which is the stark truth is that the country is stuck in dire situation.
UNDP's most recent Human Development report (combines life expectancy, education, and income into a single measure)  reveals Nigeria's has a score of 0.51 which is low (one is the maximum; Norway is at 0.953).
To put this in perspective, Nigeria's HDI is lower than Kenya, Congo and Ghana. The question is, if Nigeria is number one on GDP, then where should our HDI be if we really want to grow and become a true nation?
However, the 0.51 score masks massive differences between different parts of Nigeria, for example, Lagos ranks the highest among all states at 0.65 and is comparable to South Africa and Morocco, while, Sokoto ranks the lowest at, 0.29, which is worse than war-torn Yemen.
The stark difference in HDI scores points to the extreme inequality in Nigeria's well-being – imagine a segment of the population with life expectancy, education and incomes similar to South Africa, while others live like residents of currently devastated Yemen.
Various other indices present an equally worrying picture. According to UNICEF, Nigeria has the highest number of out-of-school children in the world: 10.5 million children (20% of world population of such children).
According to Oxfam, women represent between 60 and 79 per cent of Nigeria's rural labour force but are five times less likely to own their own land than men. Women are also less likely to have a decent education.
Over three-quarters of the poorest women in Nigeria have never been to school and 94 per cent of them are illiterate. Five million of our people face hunger. More than 112 million people are living in poverty in Nigeria. Some 57 million Nigerians lack safe water. Over 130 million lack adequate sanitation.
The National Bureau of Statistics (NBS) in its Q2'2017 report stated that the country's unemployment rate rose from 14.2 per cent to 18.8 per cent. Underemployment is also close to 20 per cent. We need to understand these statistics for us to realise why we need to talk about nation building, inclusion and prosperity.
CBN's data indicates that only 48.6 per cent, equivalent to 46.9 million Nigerians have access to formal financial services. This is behind developed nations, but it is also behind some of our African peers.
According to the World Bank, only 39.4 per cent of adult Nigerians have bank accounts with only 5.6 per cent having access to mobile money service. In other words, millions of our people are excluded from the formal banking and financial systems.  To build a virile nation, we must pursue financial inclusion aggressively.
Nearly 10% of newborn deaths in the world last year occurred in Nigeria (UNICEF: 2017).
What really is inclusion? According to the World Bank framework for inclusion, social inclusion is the process of improving the terms for individuals and groups to take part in society.  It is also the process of improving the ability, opportunity, and dignity of people, disadvantaged on the basis of their identity, to take part in society.
Individuals and groups want to be included in three interrelated domains: markets, services, and spaces. Intervening in one domain without consideration of the others is likely to be one of the most important reasons for the limited success of inclusion policies and programmes.
I can use Lagos as a good example of a society practicing social inclusion because Lagos is a classical example of a cosmopolitan city that has imbibed every other person to succeed in anything that they try to do.
In their day-to-day interactions, people engage in society through four major markets—land, housing, labour, and credit—all of which intersect at the individual and the household level.
Access to services is also essential to improving social inclusion. Health and education services enhance human capital. Social protection services cushion vulnerable groups against the effects of shocks and promote their well-being.
Besides, physical spaces have a social, political, and cultural character that solidifies systems and processes of exclusion.
Intense global transitions are leading to social transformations that create new opportunities for inclusion as well as exacerbating existing forms of exclusion. So we must ensure that we do not exclude people or groups from building a great nation.
Social inclusion matters for itself. But it also matters because it is the foundation for shared prosperity and because social exclusion is simply too costly.
There are substantial costs—social, political, and economic—to not addressing the exclusion of entire groups of people.
A sustainable path towards ending extreme poverty and promoting shared prosperity also involves creating an inclusive society, not only in terms of economic welfare but also in terms of the voice and empowerment of all groups.
We must begin to realise that every strata of the society counts, we must listen and accommodate all views, whether they are poor, whether they are Igbos, Hausas, whether they are rich, Muslims or Christians, we must put everything in a basket for us to be able to build the nation correctly. An inclusive society must have those institutions, structures and processes that empower local communities, professional associations, artisans, CDAs so they can hold government accountable.
It also requires the participation of all groups in society, including traditionally marginalized groups, such as ethnic minorities and indigenous populations, in decision-making processes.
Excerpts from the address of Lagos State Governor, Mr Ambode at the 75th anniversary of Island Club, Lagos