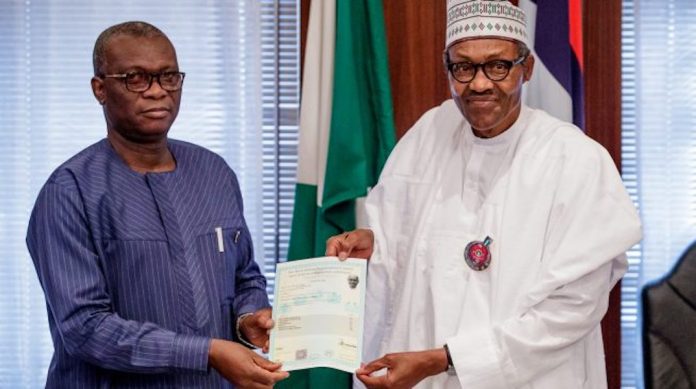 By Omololu Ogunmade, Adedayo Akinwale, Udora Orizu and Mercy Apollos in Abuja

President Muhammadu Buhari, yesterday, in Abuja received the attestation and confirmation of his West African School Certificate(WASC) Examination result issued by the West African Examinations Council (WAEC) in 1961.
There has been controversy over the president's secondary school certificate for several years.
In a swift reaction to the attestation certificate presented to Bunari, the opposition Peoples Democratic Party, PDP, said it was a political certificate and that the Buhari photograph embossed was abnormal because as at 1961, WAEC certificates did not carry photographs.
Special Adviser to the President on Media and Publicity, Mr. Femi Adesina said, in a statement, that the documents were presented to Buhari in the State House during a courtesy visit by a delegation of WAEC, led by its Registrar, Dr. Iyi Uwadiae.
Adesina said Uwadiae was accompanied by the Head of National Office of WAEC, Olutise Adenipekun, Head of Public Affairs, Abiodun Aduloju and WAEC's Zonal Coordinator in Abuja, Olufemi Oke.
He said the President thanked the examination board, which was established in 1952, and which conducts the West Africa School Certificate (WASC) examination in West African countries, and JAMB entry examination for universities, for upholding its integrity over the years, adding that he did not expect anything less from the institution.
Adesina also said the president remarked that it would have been impossible for him to attend the Defence Services Staff College in India in 1973 and the United States Army War College thereafter, as a Nigerian military officer, if he didn't sit for the WASC Examination in 1961.
He said the president also recalled that during his secondary school days, it was very difficult for anyone to commit examination fraud, even though it was not impossible.
Adesina quoted Buhari as saying, "My colleagues and I who spent close to nine years in boarding school, both in primary and secondary, including Gen. Musa Yar'Adua, when we intended to join the military, we had to take a military examination.
"We were examined in three subjects – English, Mathematics and General Knowledge because English is the language for general instruction throughout the country because of our colonial heritage.
"Mathematics in the military was necessary, coupled with Geography. We were trained how to be dropped off in the bush, given only a pair of compass and since we were not astronomers, you have to learn to find your way, calculate, using the Pythagoras Theorem and others to work out your position."
The statement added that the registrar, in his remarks, said it was possible for candidates to lose their examination certificates through fire and any other unfortunate incident.
According to the statement, the registrar said while WAEC would not issue a certificate twice, it could issue an attestation or provide confirmation wherever necessary, adding that it had the record of every candidate who sat for WAEC.
"We don't issue certificates twice but we can issue attestation or duplicate copy of the certificate.
"We also have what we refer to as confirmation; usually, universities were using this in those days when Information Technology was not in vogue.
"Whoever sat for WASC exams in whatever year, we have the records in our database, and Mr. President, we have the records of the examinations you sat in 1961.
"We have the attestation of results which we issue to candidates who lost their certificates and confirmation of results," Adesina quoted Uwadiae as saying.
Adesina, in a tweet yesterday, queried what cynics would say next after the WAEC presentation.
 "WAEC presents attestation certificate and confirmation of school cert result to President Buhari. What will the naysayers say next?" the tweet said.
Regardless, the PDP described the presentation of attestation certificate to President Buhari by WAEC as a tragicomedy.
A statement by the party queried why the president refused to present his certificate to the Independent National Electoral Commission (INEC) in 2015 if he actually had one.
The National Publicity Secretary of the PDP, Mr. Kola Ologbondiyan described the attestation certificate from WAEC as a political certificate.
He stated: "It is a tragicomedy. We never expected Mr. President to dramatically come this low, because you cannot have a certificate and be calling it an attestation. "What are they attesting to? We stand by our position that Mr. President has no school certificate. 
"It's simply a political certificate. We have said that the Buhari presidency and his handlers are always fretting at the mention of a certificate. 
"So, they want to mislead Nigerians to say that Mr. President has a school certificate. If Mr. President has a certificate, why did he not use it in 2015 election? Why is the certificate suddenly emerging few months to the election? 
"And have you checked the photograph that was attached to the certificate? In 1961, was it the requirement of WAEC to have a passport attached to school certificate? 
"Even in our own generation, was it a condition in WAEC that you must submit your passport to be attached to your certificate? They should come off it. It's too low. 
"You remember the procured Martin Luther Award presented to our president which later was discovered to be fake? This is a similar award procured. We are waiting for the story of its declaration as another procured document.
The PDP told Buhari to abide by his undertaking to accept the outcome of the 2019 Presidential election, which it said, by all indices, would be overwhelmingly won by its presidential candidate, Atiku Abubakar.
The party's statement said that the APC administration had gone down in history as "irredeemably incompetent, blatantly corrupt, overtly insensitive, incurably vengeful and under which Nigerians are facing the worst form of economic hardship, hunger and starvation."
He added that  Buhari Campaign Organisation had seen the handwriting on the wall; that Nigerians across board have reached an irreversible consensus to end the Buhari administration and vote in Atiku, as their next President, stressing that no amount of smear campaigns, intimidation and threats can shake their will or cow them from firmly defending their resolution after the elections.
In 2015, the president had claimed that his secondary school certificate was with the Secretary of the Military Board.
But the military leadership then swiftly dismissed the claim, saying it didn't have Buhari's certificate.
The controversy compelled Buhari, who was then the All Progressives Congress (APC) presidential candidate, to present a certificate embossed with his recent photograph which only aggravated the controversy, leading to unresolved litigation over the matter.
However, there was a resurgence of the controversy last week when the Independent National Electoral Commission (INEC) published names of candidates and their credentials.
As was the case in 2015, Buhari's certificate was again missing as he only submitted a sworn affidavit attesting that his certificate was with the secretary of the military board.
This sparked another wave of controversies in the polity as most Nigerians believed that by making the same claim that was dismissed in 2015, the president must definitely have something to hide.
Also yesterday, the Coalition of United Political Parties (CUPP) described the sudden release of a confirmation of result for Buhari by WAEC few days to the commencement of the suit seeking to disqualify him from the 2019 election as laughable, unbelievable and a desperate effort to mislead the court and shield Buhari from disqualification.
The CUPP, in a statement in Abuja by its National Spokesperson, Ikenga Imo Ugochinyere, called on WAEC to produce the official ledger and booklet containing the scores and records of names of students of the Provincial Secondary School, Katsina, now called Government Secondary School, who sat for the exam in 1961.
He added that the confirmation of result was not backed with any evidence to show that Buhari participated in the 1961 exams.
The spokesperson further said that WAEC succumbed to high level pressure to issue the document "which is suspicious and aimed at misleading Nigerians and the court to believe President Buhari sat for the WAEC certificate exam when actually, he did not, as there is no evidence to support the assertion.
"Let Nigerians be reminded that few days ago the opposition raised an alarm that there was on going move to tamper with the records of WAEC and pressure the leadership into manufacturing a result for President Buhari. Today's action of WAEC has vindicated our earlier fears and confirmed our stand that WAEC is now competing with Oluwole Market in manufacturing documents," Ugochinyere said.