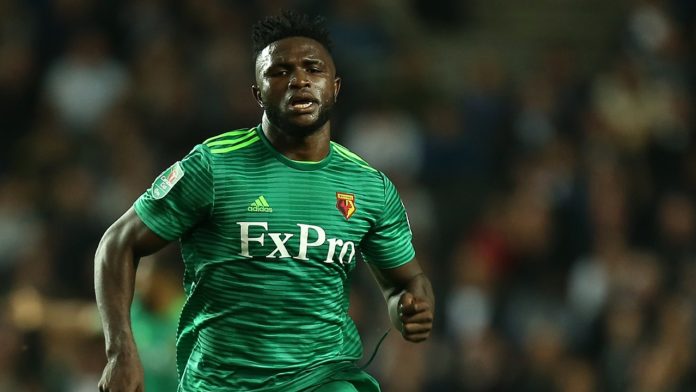 After his record transfer from Granada to Watford, Isaac Success was not successful at hitting the back of the net for the Hornets, managing just a goal in 19 appearances in his first season to the disappointment of the fans. However, since the start of the current season, the 22-year-old seems to have found his groove again, scoring twice in the Carabao Cup against Tottenham Hotspur culminating in his invitation to the national team for the first time since 2017, for the doubleheader AFCON qualifier against Libya. Just last weekend, the 2013 U-17 World Cup star was on target in the English Premier League
Watford boss, Javi Garcia, thrilled with Isaac Success and has praised him after scoring a goal of the season contender in the Hornets 3-0 rout of Huddersfield Town in the Premier League last Saturday.
Robert Pereyra and Gerard Deulofeu scored two brilliant individual goals in the first half but the Spanish gaffer has picked Success' 80th-minute strike as his favourite because the goal was created on the training ground.
"I prefer the last one. We were able to have a good free-kick, with three good passes and then Isaac was able to score his first goal of the Premier League season," Gracia said to Watford's official webpage.
"I prefer always the collective rather than individual actions. All of them were amazing."
The Nigerian international has featured in every single game played by Watford in all competitions this season and broke into the starting lineup in their last two Premier League games.
"Isaac was working very hard before coming back for pre-season. He was fit, he was ready to play and he has been waiting for his moment, his chance, and now he's showing his level.
"I don't think there is a secret or something special. It is about hard work and being patient for his chance to play," Garcia said.
His newfound form could not be ignored by Super Eagles head coach, Gernot Rohr, as the German tactician recalled Success for their back-to-back 2019 Africa Cup of Nations qualifiers against Libya after the Watford forward last played for Nigeria in 2017 in a friendly game against Senegal. He is also in a good stead to earn his third straight cap for the Super Eagles for Africa Cup of Nations qualifier against South Africa in Johannesburg.
It has taken 10 appearances eight of those as a substitute for Success to score his first Premier League goal of the season last Saturday against Huddersfield Town, though he had earlier scored twice in the League Cup against Tottenham Hotspurs.
His move to England was expected to be his big break for his career, instead, the most prominent headline was an alleged dispute with four prostitutes in a Hettfordshire hotel.
But this season, not only was the forward not making the right choices, but he was not getting the right counsel to help him navigate those waters.
"In life, we come across difficulties, we come across challenges," he began. "Some people are meant to get a solution to their challenges easier than others. I just think it was a difficult challenge for me I was not around the right people to put me in a position to get a solution quickly and come back to my feet again.
"Then I got injured because I wasn't fit enough, and when I came back from my knee injury I added a bit of weight and that made me more unfit. That slowed me a bit."
He, however, acknowledges that a change in attitude has been behind his improvement.
"I had a different mentality then than now," he continued. "Then I thought talent can do it all because to me I know the talent is there. I realised just before the start of this season that talent was not enough, and hard work will always beat talent. So I am more of a professional now. It took a lot of time to adapt to the Premier League system, the lifestyle and professionalism."
Coming to that realisation helped Success put in the work necessary and he decided to do it well before the other players at the start of the campaign.
"I had a plan for myself, I set a target for myself this season and I stuck to it with the aid of my boss. I came in two weeks before the pre-season started, and went to Manchester to do some personal training with my trainer.
"I think that helped me because it made me stronger and by the time pre-season came, I was already fresh and fit so I was able to compete and now I am getting more chances in the Watford team.
"l lost a couple of kilos which has made me fitter and quicker for my team," he continued. "I think I have now become a better person, I have become a better professional and that helped my career a lot.
"I would like to say thank you to Javi Gracia and Watford that they had belief in me and have been giving me chances all season to build up my fitness level. Now, I am in shape and ready to go any time."
Despite his track record, Success has insisted that there should be no concern of him falling off the wagon again.
"I am a much better player now, much better professional," he continued. "I know my ability, I know my quality. I just want to keep on working hard and giving what I can give to both my country and the club side.
"Obviously, being the third striker, I am not far from getting a starting shirt. All I need to do is just keep on working.
"Whenever I get in five minutes, 10 minutes, I just try to make an impact on the team. That impact is going to keep on growing until I get into the team, and when I get into the team, it's left for me to seal it up and say no going back.
"I just want to say I thank God I am now with the right people to put me through in my career because I can't do it alone and I am grateful to them. Now is just the time to take what belongs to me, the forward concluded.
It, however, remains to be seen if Success has finally found back his groove.