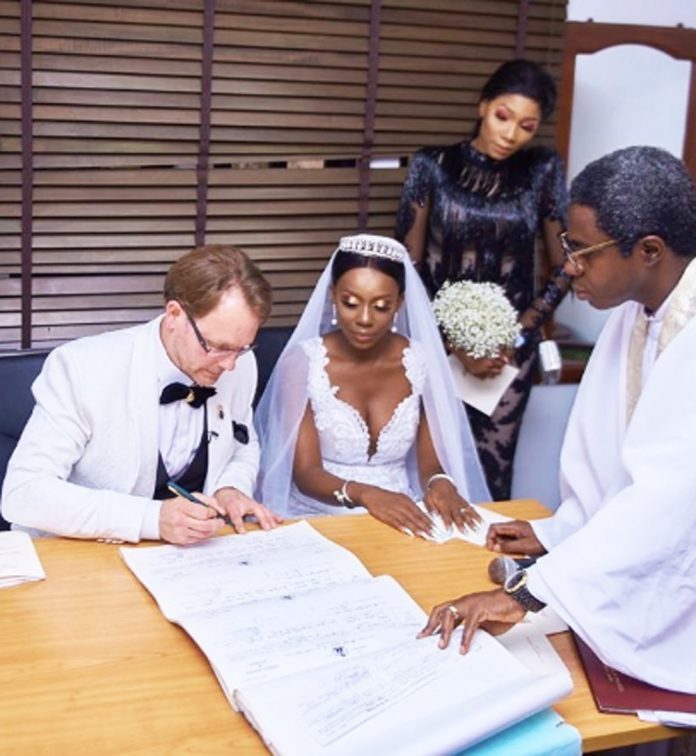 Beautiful actress and filmmaker Ada Slim, tells her white lover "we are in this forever" as they wed in Lagos. Ferdinand Ekechukwu reports
Quickly changing her social media username from Ada Slim to Ada Karl, to reflect her new status, surely confirmed the news of her wedding and completion of her dream, like every other woman. The TV host and Nollywood filmmaker cum actress Adanne Onu, known as Ada Slim married her Caucasian lover, Karl Fredrik Skargard (Karl Sk) in Lagos. The ebony complexioned actress and her groom, who is an engineer, tied the knot last weekend.
The wedding ceremony was attended by notable Nollywood celebrity friends of Ada, including Chinyere Wilfred. Fashion stylist Toyin Lawani's son, Tenor, was one of the kids who played a part at the wedding.
Sharing the photos on Instagram, the groom Karl SK wrote: "Yesterday, I married my first love."
The bride, Ada, wrote: "Thank you for loving me unconditionally, we are in this forever. Happy married life to US. @karlsk1 #Adakarl #MrsSK #Adaslim #Theskargards."
An online source had it that the couple met in New York and fell in love immediately. The groom Karl knew that he wanted to spend the rest of his life with Ada. So, he wasted no time in making this known to her with his words and actions. Ada was mesmerised by his love and unwavering commitment. All her doubts were cleared with each moment she spent with him. The couple had their traditional wedding on the 29th March 2018.
The excited actress "had been in the wilderness for several years" until her come back with fresh movie projects while on a major controversy with friend and colleague Tonto Dikeh sometime last year.
An active player in Nollywood until her hiatus, the re-emergence of the award winning actress, timing and exchange of words with Dikeh suggests a well-staged social media drama to create awareness for her upcoming projects which earned her an article with the title "How filmmaker used Instagram rift to push out three movies at once."
Although she laid out legitimate grievances against Dikeh when she called her out on social media, it would be hard for Ada Slim to deny that the episode raised public interest in her, and by effect, on her new projects."
Known for her previous movies, Gallant Babes, and Thanks for Coming 1 & 2, Ada is now an established name in the industry. On the strength of her hustle, Ada, asides producing the movies, also has a role in each of them. There was also a plus for having Nollywood icon, Pete Edochie, as her godfather and mentor.
Ada has many movies and entertainment works to her credit, some of which have featured prominent A-list actors and actresses like Pete Edochie, Desmond Eliot, Nora Roberts.
Some of her movies like Irreplaceable and Secret Pain have been aired on South Africa's pay television platform Africa Magic and other television stations within and outside the country. Earlier in her career, in a quest to develop and encourage fresh talents, who didn't have the privilege to fulfill their dreams, Ada Slim created a talent hunt programme titled "Adaslim Talent Bank" which sought to promote many young talented artistes  by providing platforms and exposure for them to explore their potentials and reach for their dreams.
The effort it claimed, produced one of the most successful and sought-after actress in Nollywood, Tonto Dikeh, as she was cast for a huge supporting role being the debut of her movie career, Secret Pain 1&2 which was followed by Irreplaceable 1&2 and others, all from the stable of Adaslim Productions Ltd. Ada Slim achieved a great media footprint in her early 20's; and once received accolades as the Most Creative Young Producer in Africa.
She studied Broadcasting at the University of Nigeria, Nsukka (UNN), Real Estate at New York Real Estate Institute (NYREI) Manhattan, New York and Communication Arts at the New York University. In a bid to adapt with the ever-changing global trends and boost her insight and competence in TV presenting, Ada Slim received an international training in TV presenting at the Los Angeles Film School, California, USA, before launching the flagship TV programme – Celebrities with Adaslim in 2010.