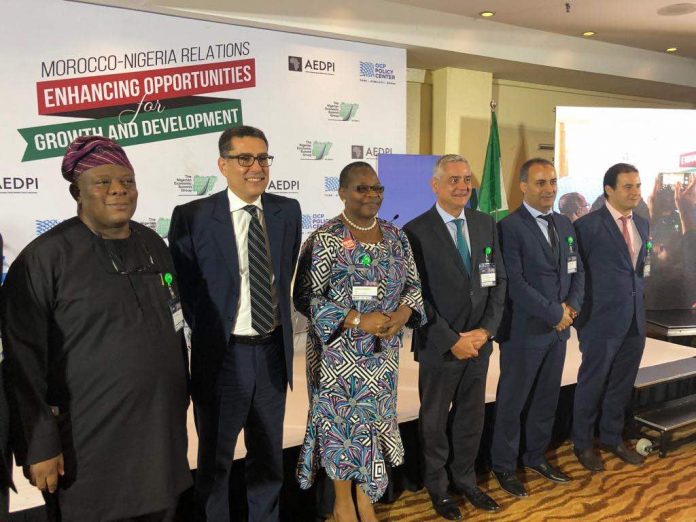 The win-win components of building tactical partnerships between Morocco and Nigeria for economic growth dominated discussions at the maiden Morocco-Nigeria Strategic Dialogues in Abuja, recently. The output of robust combination of renewable energy and traditional sources to power the economy was unmistakable at the vibrant talks. Bennett Oghifo reports
The first Morocco-Nigeria Strategic Dialogues with the theme, "Enhancing Opportunities for Growth and Development" was a veritable platform for everything that is possible to grow the African continent. The event was organised in Abuja by the Nigeria Economic Summit Group (NESG), the Africa Economic Development Policy Initiative (AEDPI) and OCP Policy Center.
More specifically, the partnership between AEDPI and OCPPC plays a pivotal role in bridging the two countries, and places both institutions as catalyzers of ideas and knowledge related to Morocco and Nigeria.
Morocco and Nigeria, as emerging countries, have considerable leverage in multiple sectors such as energy. In 2016, both countries have brokered a deal on the construction of a gas pipeline from Nigeria to Morocco. Nigeria remains one of the leading producers of oil and gas in Africa while Morocco has developed an increasingly robust expertise in renewable energy.
The opening address/agenda setting on the undisputable benefits of having tactical partnerships was done by former Minister, Mrs. Obiageli Ezekwesili, who is Senior Economic Advisor, African Economic Development Policy Initiative (AEDPI) and by Mr. Karim El Aynaoui, Managing Director, OCP Policy Center. The keynote speech was delivered by Mr. Othman El Ferdaous, Secretary of State for investment, Ministry of Industry, Investment, Trade and Digital Economy, Kingdom of Morocco.
The discussants and panelists were incisive as they discussed topics related to economic development of African countries, partnerships in the energy sector, the mobilisation of financial resources and the role of youth. The Morocco-Nigeria Strategic Dialogues also presented an opportunity to further explore the inputs of Morocco and Nigeria as two strategic players within the African continent.
Head of AEDPI, and former Vice President (Africa), World Bank, Mrs. Obiageli Ezekwesili set the tone for discussions by giving instances of strategic partnerships worked to improve the economy of nations that engaged in such alliances.
According to Mrs. Ezekwesili, "Even at the World Bank, there were some lessons that Morocco had for some of our countries, not the least is the fact that they went from a crippling port process- the Port of Morocco was the least competitive in that region at some point, and then they embarked on vigorous reforms that changed the platform as far as logistics is concerned. So, when Morocco says it is the path leading to the rest of the world, it is not a boast, it is actually a statement based on evidence of what worked. Such opportunities to share knowledge cannot all be underestimated."
The former World Bank chief said she had seen situations where countries that did not have anything sought knowledge and adapted it for their benefit. "In the case of Nigeria, we are leaders, not just in our sub-region, but on the continent, but the fact is that our continent still struggles from economic integrations, especially continental trade- our continental trade is reported to be less than 15 per cent."
Speaking later on the sideline, she said the event was, "A tripartite meeting that we have called between OCP of Morocco, the Africa Economic Development Policy Initiative, which I run, and the Nigeria Economic Summit Group. This is based on the fact that the more that knowledge is processed and shared; we take turns on the continent to forge the strategic linkages between countries or among countries, the better for our continent, because knowledge is at the heart of how the development processes happens and usually, knowledge leads in the action towards policy and so our policy orientation of three groups that have convened this meeting is such that we want Morocco and Nigeria to grow in leaps and bounds economically.
"Our own GDP is about $375 billion today and our GDP per capita is about $1,968, that of Morocco is $109 billion for the GDP and about $3,109 GDP per capita. These are low numbers; we have the capacity to triple this GDP level. The more that we can collaborate, the more that we can find regional integration basis to do things with business to business; government to business; people to people, the better for the two country. They can then be the drivers of even more integration within, not just our sub- region but the continent and then to look towards the rest of the world on the basis of higher productivity and competitiveness."
Mr. Karim El Aynaoui, Managing Director, OCP Policy Center, in his presentation, said the dialogues was an attempt to provide a platform for policy makers, for business people, for researchers to get to know each other better and come up with ideas of partnerships.
He said the desire is to "Create joint, completely harmonised free trade zones in specific sectors that will be available for both Nigeria and Morocco private investors to work, build value chain in a seamless way."
Further discussions, he said would be on energy, saying "Nigeria is a resource-rich country in fossil fuel, while Morocco has a good experience in renewable energy. So, here again they can find space for cooperating and partnering. What I like in what we are doing here is that it is within the spirit of South-South cooperation, partnership, dialogue in trying to do things together, as we have quite similar challenges as middle income countries of Africa.
OCP Policy Center, he said is "a think tank; we are doing fact-based analytical empirical work for better policies," saying they do not do advocacy. "We are a patient people and so it takes time for two countries to multiply its link and partner together.
"We are not government and our partners in Nigeria are also think tanks and we are here to highlight what we believe is important; the result of our research to shape agenda, to offer options, but it is not for us to decide. What we tell you is that the three partners are convinced that there is a lot of space for improving and to do much more."
OCP is supporting the Presidential Fertilizer Initiative of the federal government, which is designed to provide affordable, tailor-made and in a timely manner, fertilizer to farmers. There are talks between Nigeria and OCP to produce fertilizer locally in Nigeria. "What is very interesting here is that you have two countries putting together natural resources for the benefit of the people and also for the private sector to grow around it. I like both the spirit, the objectives and I think we need to multiply this kind of initiatives."