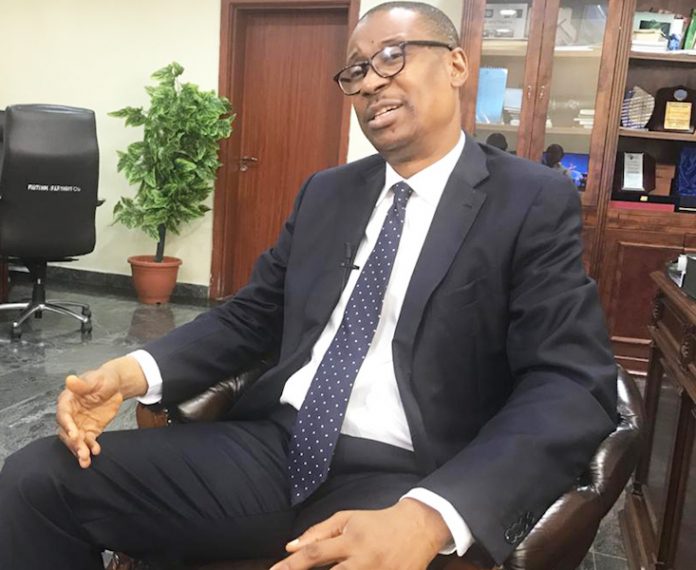 Okechukwu Enelamah
The Minister of Industry, Trade and Investment, Dr. Okechukwu Enelamah, reveals plans by the President Muhammadu Buhari administration to tackle critical socio-economic issues. Enelamah also addresses pertinent issues affecting trade and investment in the country, including implementation of the Nigerian Industrial Revolution Plan (NIRP), ease of doing business and power supply while giving reasons for the federal government's delay in signing the African Continental Free Trade Agreement (AfCTA). He speaks with Iyobosa Uwugiaren and James Emejo
Amost four years of President Muhammadu Buhari's administration, what is your view of its efforts to fix issues of industry, trade and investment in Nigeria?
I think it's an excellent question, because we are in that season when we must do quite a few amounts of stock-taking and reflection on where we've been and where we are going. So, we got here in November, clearly, the government is of three and a half years. And from the point of view of the mandate of the president, I think one has to start from the top. He had a three-point mandate: one was focus on peace and security – maintaining peace in the country. The second was on fighting corruption and the third one on the economy, basically trying to revamp the economy, strengthen the economy to be more inclusive and create jobs.
If I look at our role in that bigger picture for the Federal Ministry of Industry, Trade and Investment, I will say it's primarily around the economy. We'll find that, depending on how we go about it, we'll also impact positively on fighting corruption, and also peace; I think all these points are related.
Let's take it one after the other
The first point I'd like to make is that, as part of the economic management team, we're all coordinated; we're all trying to work together for the common goal, which is basically to create a more robust economy that is more inclusive and to make sure that the economy creates jobs and also to make sure that the economy is more competitive, and there's sustainable growth, which is what the Economic Recovery and Growth Plan (ERGP) is all about.
If you come to the role of the Federal Ministry of Industry, Trade and Investment, we have a roadmap from the beginning and that roadmap had a five-point agenda and it's probably the best way to take stock. Let's me just say what those five things are. The first one was that we think that the most important responsibility of government is to create an enabling environment for business, I mean in terms of the economy.
Since we are not the ones to do the business, if you think about the role of the ministry as it relates to industry, trade and investment, we consider ourselves the ministry of enabling environment for industry, trade and investment; that's the first pillar of our roadmap.
The second pillar is on industrialisation, which is the first of the three core mandate that we have – industry, trade and investment. And for industry, basically, our focus was on implementing the Nigerian Industrial Revolution Plan as well as creating sustainable partnership that'll underpin industrialisation going forward, knowing again that industrialisation has to include the private sector and other stakeholders.
The third area is investment; and when it comes to investment, basically to pro-actively promotes and attracts investment, both domestic direct investments and foreign direct investments are also other forms of investments.
The fourth area is on trade; basically, to create the kind of trade relationship with other countries and in-country, as well as that, that would basically foster economic growth.
And finally, SMEs; for the SMEs, we believe there's a lot we can do for them; but they need to have a ministry that takes care of the primary responsibility for the well-being of SMEs. We believe that if you look at our mandate and department and agencies of this ministry, we must accept responsibility for supporting SMEs through these various agencies as well as our departments to make sure they get the support they need from government.
Those are the five pillars. Now, we also have the whole overarching policy of whatever we're doing to doing it sustainably.
I know people tend to think of government in discontinuity, almost like in this administration, you're four years – what have we done? My view is that there's a great saying that you can get a lot done if you don't care, who will get the credit. There's a way to do the right thing even if it doesn't look it today but it then creates the under-pinning for a greater Nigeria of the future, for the next 30 years. And that's the kind of minister I want to be.
Even if nobody gives me credit; and the reason is that as a Nigerian, as a business person, as a stakeholder in the economy, that'll benefit me more, and that's better than just the praise of men, which you come under pressure, because people want to say what you have done during your own tenure.
Let's look at your mandate of creating the enabling environment. Look at some of the challenges we have in the country, especially infrastructure and institutional challenges. How far have you been able to address these challenges?
Thank you. I think that's an excellent question because if we have to do one thing, it has to be the enabling environment for the reasons you've very well-articulated, which is what you need to do to create the ecosystem and the atmosphere for the economy to thrive. So the first thing we did, when we came as a government under the leadership of the president, was to acknowledge this enabling environment as a priority of the entire government.
So, the president launched the Presidential Enabling Business Environment Council in 2016 and the whole purpose of that council, which is chaired by the vice president, is to oversee all the reforms and activities and interventions of government that'll improve the business climate, investment climate, the enabling environment and making it easier to do business in the country. Now, that council then set up a secretariat called Enabling Business Environment Secretariat, which is worked out of the Nigerian Investment Promotion Council and is led by a lady called Dr. Jumoke Oduwole, and basically, we are the oversight ministry and I'm the oversight minister.
That council meets once a month. It's a council that for instance, led the reforms that led to the improvement we saw in The World Bank Report in 2017, when we improved by 24 places, and we were adjudged one of the top 10 reforming countries in the world. What's more important is the actual benefit to people, so you start from things like entry and exit into the country. I'm sure you've seen the difference at the airport, when you can now get visa on arrival and it's not a very big thing – it's a small thing. But those little steps add up. If we want people to come and invest in our country, it sounds logical to me that we should welcome them in; and therefore, we should make it easier for them to come. Even the Nigerians in the Diaspora, who want to come, we should make it easier for them. And I would say that there are 10 areas The World Bank measures ease of doing business: and those 10 areas go to the life cycle of business — from when you register a company to how you obtain credit to how you pay your taxes to how you obtain permit for construction, as well as land acquisition, and so on.
All those steps we've worked on both at the centre, at the federal level and with states to improve on then, and I'm sure you know that those were the things The World Bank measured when it said there's an improvement. But having said all that, there's also an Executive Order, which was launched at the beginning of 2017, which focused primarily on making it easier for people to do business with government. The principle of one government, the principle of transparency and the principle that basically states that we have to have the principle of deemed approval, which means you state how long it takes to get approval, and if you don't issue it that time the person can deem it approved.
Now, all these things take time because culturally, government needs to be increasingly service-oriented, in the sense that we have to accept that we are here to render services to the public and to the stakeholders and that's what this Executive Order is doing. And I believe it'll happen over time, which was why I made my point earlier that it will not all happen in one administration. I think most objective Nigerians will agree that we have set the tone. One of the most important responsibilities of government is to define the agenda and I think we've set the tone that enabling environment matters and we are going to work on it.
But, don't you think infrastructure is still a big problem, especially given that those who do business in Nigeria spend a lot of money generating power by themselves?
I think you're right. That overall, infrastructure is an important component of industrialisation, of a robust economy, of ease of doing business and this goes on. I think you will also accept that it's one of the things this government, right from the president has been harping on – the need to address the infrastructure deficit in the country and to rebuild our infrastructure, which is why we've been fairly robust, even aggressive in trying to build infrastructure: the power infrastructure, road infrastructure and all the other infrastructure. If you look at power, when we got into government, power was probably at about 3000 megawatts that was generated, but today, I think what is generated is at least twice that, including the power, which is generated, but not received by the discos is even more. However, the important thing is that we still need more power, but I will tell you we've at least doubled the output at the generation.
But you generate power and you don't have the capacity to distribute what is generated; that is a huge problem. Don't you think so?
The distribution is now at least 5,000 megawatts: the truth of the matter is that there's a lot of investment going into distribution that will take it up. That problem is a problem that we need to solve in terms of working with the discos because you know we privatised part of power and what that means is that a lot the downstream, which is the customer part, is being handled by the discos, but we have something called eligible customer programme, which, basically, means that for the customers that have scale or size, they can get power directly from the grid or generating companies. All these will lead to the solution. I think we have the right formula, but the implementation may be slow, but I think we're heading in the right direction.
Several MoUs were recently facilitated by your ministry, particular in the automobile industry. When are we going to see tangible results from these?
True, we've signed a number of agreements and I'm going to use two or three as examples, starting with the one you mentioned. So, we signed an agreement with Volkswagen, when they came with the German Chancellor, Angela Merkel and that agreement basically is a comprehensive MoU in three stages to basically set up Nigeria as a hub of Volkswagen products manufacturing. Just this week (last week), we had a call with their group managing director for African operations, and we are already setting dates for early workshops, where we'll do a workshop on that plan to flesh it out in full before we start implementing it. So they're very serious and we are very serious and I'm confident it would happen. However, just to go back to your point about laying foundation, clearly, the implementation will take a number of years.
But it must start now, and I think you're right that we have to register that the work started now. Before the end of this year that workshop will take place; and I'm sure implementation will start from early next year. So that's one example. There's also an agreement we signed in the area of manufacturing: textile garment manufacturing with a Chinese group known as the Ruyi Group. We're in discussions with them and we'll like to reach an agreement with them by November this year with the idea that they'll come and invest in our industrial parks; in our special economic zones and they could invest across the country; in Lekki Special economic zone and textile park in Lagos. They're going to invest in Kano, in the existing industrial park that the government owns there, the appropriate work is just to revamp; and they're going to invest in Eyinmba City in the east, where there's industrial city development taking place and the government is a partner in that development.
Now, this group, by the time they're done, they are investing about $2 billion and they'll make Nigeria a manufacturing hub in terms of the entire value chain from the growing and harvesting of cotton, all the way to spinning to production of textiles and garments. So I think that's something that will obviously be a game changer because it'll create a lot of jobs. The other thing to also say is that for those that are already existing, for the players that are already here, we are signing agreement with particular countries and within our own region- ECOWAS and Africa as a whole with a view to trying to position Nigeria to be a country that'll be a hub for production not just for Nigeria, but for the sub-region and ultimately for Africa, which is still why we are still working on the African Continental Free Trade Agreement (AfCTA).
We're also trying to make sure the ECOWAS agreements are favourable to Nigeria. So, all these agreements should establish the links between investment, trade and industry because the reason those three parts are linked together is because they're actually inter-connected, and they work hand-in-hand: trade ultimately leads to investment and investment ultimately goes into industry and that's how you create jobs and that's what we're engineering here.
The purpose of creating this enabling environment is to be able to employ more Nigerians within the country, but there are both local and international reports that suggest that in the last three and a half years, many Nigerians had lost their jobs. How do you reconcile that with what you're doing?
It's a good issue that you raised, and the way I'll address it is the following and I will make a number of important points: The first thing is to say that when you restructure an economy, there's some pains you go through to reap the gains. But even before I get to the restructuring, remember that we came in and there was a recession, and the recession was on its way when this government came in. It's due to the commodity cycle, which had to do with plummeting of the oil prices. And we then tried to address it in a robust way; we first had something called the Strategic Implementation Plan, which was a 12-point plan basically on steps to take for low hanging fruits to address the immediate challenges to help the economy to recover. From there, we then moved into the Economic Recovery and Growth Plan (ERGP), which is a medium-term plan (2017 to 2020) on how you basically regroup and restructure the economy.
Now what you'll find is that between that recession and this plan, yes, certain sectors of the economy contracted, meaning that in some cases, jobs were also lost, but certain sectors of the economy also did well like agriculture. My understanding is that agriculture has actually created quite a number of jobs in the millions; it's obviously not in the cities; agriculture is done in the rural and hinterlands, and so a lot of those people have changed what they do to working for themselves or working in agriculture. But equally important is that as we implement our programme, we believe we will create a lot of jobs. Take for instance, manufacturing.
These special economic zones strategy we are dealing with will create 1.5 million within five years and the work is already on-going. So, at times, you invest in your future by making the upfront investment so that the jobs will follow. And it goes back to that point I made earlier that when these things start to happen, we should also remember that people laid the foundation and that foundation is what you'll be seeing. I can tell you that you're going to see manufacturing expanding. Our target will move from 10 per cent of GDP to 20 per cent.
We're laying the foundation in terms of infrastructure – industrial infrastructure, industrial parks, industrial zones and power. And each of these parks will employ hundreds of thousands of people, but they have to be built first and it'll take two or three years to build and that work is already on-going. The Eyinmba City, Lekki Free Zone, what we are doing in Kano, though it's been dormant for some years, but we are now revamping it, what we are doing in Calabar though it's been dormant for some years, but we are now revamping it. I think people will look back and give this government credit for a very deliberate approach to nation-building.
Nation-building has to do with frankly diversifying your economy away from the problem, which is when you are to rely on just one product. But it takes a collective action and partnership to do it. One other thing that I should talk about in that context is the work we are doing in the industrial council. We have something called the Industrial Policy and Competitiveness Advisory Council, which is basically a council that was set up primarily on industry and manufacturing, and it's a collaboration between the public sector and the private sector, including many of the leading people in business, in technology, SMEs and so on.
The whole idea is, why don't we meet and talk about the specific interventions that are needed to improve industry? And we identified five areas and we are working on all five.
Number one was that we need critical infrastructure, how do you rebuild the infrastructure for manufacturing; critical roads, improved power, we need broadband access for those that do digital economy and so on.
Number two was on financing. How do you provide the kind of financing for growth that would be long-term and that would not be too expensive, maybe around 10 per cent or less as opposed to double-digit people have to pay at times and the loans are usually short-term for one or two years, rather than the usual long term loans that are needed to plan for industry? So, financing is the second area.
The third area is around skills acquisition and vocational training: how do you prepare our people for work in a way that as people come, they'll receive the necessary training to work?
Number four, is on trade and market access. How do you create the kind of enabling environment for trade to prosper, including international trade and intra-country trade or domestic trade? And the final one is on policy, basically the policy environment that underpins industrialisation. For instance things that would discourage dumping, smuggling, sub-standard goods coming into the country and we are working in a way that is reinforcing. I believe that those things will produce the results. If you talk to manufacturers they'll tell you they're already seeing signs, but there's still a lot of work to be done and I'll be the first to admit that.
The delay by the present administration to sign the AfCTA has elicited criticism from some quarters, largely because the agreement is deemed to open up opportunities to expand the country's merchandise trade. Do you think the AfCTA will be signed by this administration?
Let me give you the background to the agreement, so you understand why Nigeria is actually not in a bad place. The agreement is something that the African Union Heads of Government or Summit as they're called, had decided that it's good for Africa to have to increase intra-Africa trade-the AfCTA – and Nigeria was involved in that and we actually led the negotiations both at the ministerial and technical level with the chief negotiators.
But Nigeria's also a democracy with robust stakeholders. When the AU Summit decided to sign the agreement in March this year, some of the Nigerian stakeholders rightly pointed out that they had not read and absorbed what the content of the agreement is, never mind the fact that it was a framework agreement. So these included unions, some of them included the Manufacturers Association of Nigeria, state government and so on. And the president wisely decided that it was better for us to complete the consultation with them. We've done the first round of consultations with them; the President then asked us to do a series of impact studies because obviously out of those consultations they told us what their concerns were and so the president asked us to do some impact studies that'll help address those concerns raised. And in fact, just recently, you may be aware the president inaugurated a committee to complete this impact study work. So, I'm still confident or hopeful that work can be finished in time during the life of this administration. '
But, let me make two observations about the AfCTA. First, we should be aware that the agreement is going to last for 50 years, so it's not a question of who's the first to sign the agreement that's the issue; it's signing it and making sure you implement it well because the problem we've had in the past is poor implementation.
The second point to make is that even for those that have signed they're still working out the modalities for effective implementation. I mean, we met with South Africa the other day at the UN General Assembly and we're in touch with them. Now that we've done our consultation, I won't be surprised if Nigeria ends up playing a much more effective and pro-active role in the successful implementation of the AfCTA because we've done more work than the others who signed first and went back to decide what to do. So I think there's reason to be hopeful that the agreement will be signed in the life if this administration. But having said that, it's not a test of speed but a test of doing it well.
Nigeria's swelling debt profile is raising serious concerns within and outside the country with the IMF recently raising concern about it and also the National Assembly raising serious concerns. Can you justify the rising debt stock?
I think what I would say is the following: first, in terms of actual numbers, debt as a percentage of GDP for instance, you find that Nigeria is probably still under 20 per cent or about that, debt to GDP, which broadly speaking will be considered acceptable compared to those of other countries. However, the interest on the debt is an issue, which then tells you what the real problem is: so Nigeria has a revenue problem not a debt problem because debt to GDP is just under 20 per cent. It's like somebody who has a mortgage on his house, the mortgage may be reasonable but if he doesn't have a job, he had better go and get a job; he can decide to move out of the house but he has to live somewhere.
So my view is that we need to ratchet up and step up the revenue profile of the government and I will tell you why: our revenue to GDP is six per cent, which is abysmally low and the reason is that unfortunately we don't have a tax paying culture. If you look at people in the tax bracket, even though they say numbers had gone up from 15 million to 18 million, but you're talking about a country of 180 million , that's still 10 per cent or less.
And tax-paying is a good culture to have because it creates a social contract between the people and the government. A system that's based on oil revenues, that's shared across the tiers of government, is a recipe for abdication of responsibility because it looks as if the money is dropping from upstairs. Whereas if it's like in other countries, where the money is built up, the people actually feel that government owes them because they are now funding the government. And I think Nigeria should get back there, which is also part of the diversification of the economy. What is clear is that the revenue from oil is not enough, which is why it's just six per cent.
The other part hasn't caught up but it's growing fast: if you look at the collections from the Federal Inland Revenue Service for the last one year, it's gone up by 35 per cent, 2016 to 2017 and it just continues to go up. So what we intend to do is to sharpen our five-year plan; we want to move from about 6 per cent of GDP to about 12 to 15 per cent of GDP. The former finance minister made that point, obviously started the work, but now that work has to continue and it's continuing. So, I do agree that we have work to do, but I will say that work is to increase our revenue to GDP and certainly do it in a way that is sustainable and robust. What we have now is fragile, which is basically dependent on oil revenue.
You claim that Nigerians don't have a tax culture, but some people would said the government has failed to establish social contract with the people, people don't trust government. That once they pay tax, the revenue will be utilised for their own benefit. And this government in 2015, during its campaign promised to change the narrative. What happened?
It's a good point; but let me tell you a story to buttress what I'm about to tell you; I lived in South Africa a while back- about 20 years ago. When I got to South Africa in 1994, that's when I started living there, after schooling abroad and on my way back to Africa, I started from South Africa. And when I got there, that's when Nelson Mandela was elected president of South Africa in 1994. The black South African and in fact, some of the liberal white South Africans were also reluctant to pay taxes – they said basically that social contracts were broken and they were right, but it took them time to accept the tax culture. I think the same thing is going on in Nigeria, where our governments historically, have not been accountable enough and giving the people social services and infrastructure and all the things that government does. And therefore, there was a reluctance to pay taxes. But as you said, that narrative has to change.
How do you change it? And that's why we are rebuilding our infrastructure. Number two, that's why we are diversifying our economy because if you build the economy outside the oil system, it's Nigerians that'll do the work and pay the taxes from there. But how do you do that? You make it easy for them to invest in the infrastructure. That's why government is borrowing, investing in infrastructure so Nigerians would get the benefits – so when eventually they pay the taxes, the government will then use the money to repay the borrowing, because let's face it- it's a chicken and egg problem: you have to invest in a way that the people will feel you are showing good faith and this government is showing good faith. We've been building the railway system, we're rebuilding the roads, we're rebuilding power and we're frankly doing the soft infrastructure as well in terms of enabling environment and ease of doing business. It's just that these things take time. Like somebody once said, it took many years for the problem to develop, it'll not go overnight. However, there must be evidence of progress, which is why we are having discussions like this. We are actually working flat out to give our best to Nigeria because we're Nigerians first before people in government.
Minister, people are not feeling the impact of what you're doing. That is a statement of fact. If you go to the streets and ask ordinary Nigerians, they'll tell you they're not feeling the impact of this government. Do you agree?
And there are two things to resolve them, which is why we are having this discussion, the media is extremely powerful. There's a point of view that the media is also not articulating and telling the story the way it should be told. Obviously, we have to take the first responsibility; we must give you the ammunition or the information for you to then go and tell it, which is why we have some of your people in government as our correspondents or as our advisers.
The government needs to partner the media, not for propaganda, but to get the information out so that people can benefit and it's important. I'll give you another intervention of that: do you know that there is a lot of SMEs and all kinds of funding for them, but most of them are not aware of it? But we have to keep disseminating that information through several channels.
The other point to make to people is also that like I said, when you're recalibrating an economy, you know we have to change our consumption culture; we were used to imports, we import close to 99 per cent of our goods and people are used to foreign goods.
And you know initially when you tell a person to use Nigerian goods, even myself, if you tell me to wear Nigerian goods, I will feel I'm short-changed, but eventually I will acquire the taste. But it's healthy to acquire that taste. Nigeria is a country that has a large population and we're doing it for ourselves because we are the people that'll produce what we'll consume. So, by producing, we're employing ourselves, as we're consuming, we're generating revenues for ourselves. So, we need to enter a social contract with ourselves to say; we are going to feed ourselves through agriculture. And that's what all these countries did – Japan, China, South Korea, Taiwan – that's what they did. They fell in love with their own products. But you know a typical Nigerian is in love with foreign products and we need to change that because we're short-changing ourselves, which is why the government is promoting made in Nigeria goods, which is why we said we as a government, 40 per cent of what we consume in terms of services or products, should be made in Nigeria.
We know your profile and we know where you're coming from and we know what you're capable of doing. But there are people who believe that within the establishment, for example the Federal Ministry of Industry, Trade and Investment, that you don't have the human capacity to drive the implementation of your policies. Do you agree that it's a challenge?
I think it's a broader point, but it's being addressed. The point I'm trying to make is that over time, the capacity of government to deliver services to people has deteriorated. The capacity of government: federal, state, local, people often talk about the permanent secretaries of the 1960s and 1970s and how well trained they were; but these are Nigerians. The key that I see is purposeful leadership that would respond. I can tell you that in the ministry, we've forged a good partnership, myself and the permanent secretary with the directors and civil servants, and it's working. However, we're not where we need to be in terms of providing services to our people because of the culture and mindset and attitude of the typical person, who works in government.
I always go back to this classic story in the bible about Solomon, who was a great king in the Holy Bible. Now, when he died, his son called Rehoboam was to take over from him. The people came and told him that if you will treat us well, we'll be serve you well and we'll be loyal to you. He, then, said, 'let me consult', because he just started. He asked the elders and the elders who sat with his father said go and do that and if you do that these people will love you and you'll have a great peaceful kingdom. But, he also talked to his peers whom he grew up with; who say to him, 'the first food in leadership is that you have to earn the respect. But if you lighten their load, they'll take you for granted.' Unfortunately, he followed the advice of the younger people and he never recovered. I'm sure you've heard the expression, 'to your tents oh Israel'', that's where it came from. They scattered and the kingdom never came back.
What's the moral of that story?
Servant-leadership. That love is reciprocal, that if you would serve the people, they'll serve you. And this is something we are trying to inculcate that the higher form of respect you get from citizens is actually by providing services. My own experience here has been like that; I've actually enjoyed working in government in the sense that people appreciate it when you're prepared to render a service. And it's honourable. So, I think you'll see a new Nigeria. That's what we are talking about. Now, people don't believe we are there yet and they're right but I think the trajectory is that way and you'll agree with me that Rome was not built in one day, as the saying goes. And that it takes more than just one cycle or one administration or four year period to build a country.
Some critics of government also believe that apart from you and a few other persons, the present federal government doesn't have a really strong economic team to drive its policies, and that the right people are not put in place to drive the economy. What is your take on that?
You know what the president said is, 'put round pegs in round holes'. If you wanted to be fair to the president and the cabinet, you actually have to look at the ministers. I interact with them one by one and ask yourself honestly, these ministers, don't they fit? My own honest assessment is that in most of the portfolios, we have round pegs in round holes. I can speak for myself, but if you know their background, you'll know they fit. I mean, I don't want to start calling names, but if you look at Audu Ogbeh and agriculture, I mean, he is so passionate about it. So you can go step by step.
My sense is that we actually have round pegs in round holes. However, the point I'm trying to make is that we are very quick to criticise. I have to admit that we have a long way to go, but my view is that collectively as a country, that social contract you talked about, we need to keep reinforcing it and you'll find that the leadership at the ministerial level will get stronger and stronger and so will it get with the civil service and so will it get with the media. I believe that if we forge the right partnership, especially with the media and the public, it's about more people knowing what we're doing. I don't think the information is out there. I don't think our story is getting out. There's a responsibility to get the information out.