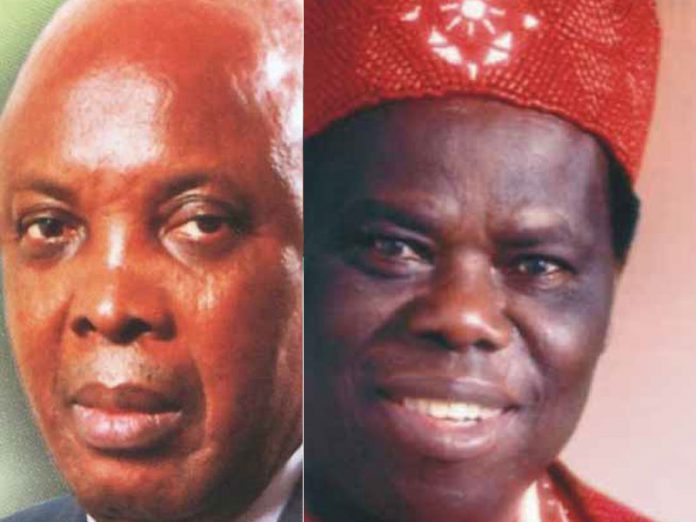 David Dafinone and Allison Ayida, two distinguished professionals, have passed on
Within two weeks, Nigeria lost two illustrious citizens both of whom incidentally hailed from neighbouring towns in Delta State. On September 30, an elder statesman and foremost chartered accountant David Dafinone died at age 91, while Allison Ayida, a renowned technocrat and former Secretary to the Federal Military Government passed on October 11, aged 88. Even though both men lived to their ripe old age, their passing elicited remarkable grief because of their enormous contributions to the development of the nation.
Senator David Dafinone was a prodigy. Born on March 12, 1927 in Sapele, Delta State, he had his early education in Benin City, Edo State and Abeokuta, Ogun State before proceeding to the United Kingdom on scholarship to study public administration at the University of Exeter. He later earned a degree in Economics and qualified as a chartered accountant and a member of the Institute of Chartered Accountants in England and Wales in 1962. He returned to Nigeria and founded his accounting firm, D.O.Dafinone and Co (now Horwath Dafinone) – a firm that has sired and nurtured thousands of accountants across the nation.
Even more, because of his profound skills and professionalism, his services were widely sought after by both the public and the private sectors of the economy including the Central Bank of Nigeria where he was director for so many years. And as a senator representing Bendel South (now Delta Central) during the Second Republic, he provided leadership and distinguished himself with quality contribution to debates and ranked among the most influential of the lots, among them Senators Olusola Saraki and Jonathan Odebiyi.
Dafinone was a remarkable community leader who along with others like the late Olorogun Michael Ibru and Mr. Gamaliel Onosode advanced the cause of his Urhobo people. But perhaps what endeared him to many was his attitude to work. Despite his considerable wealth, he worked hard and brought his family to embrace the discipline of hard work. His defining moment was in 2007 when the Guineas World Records recognised him and his family as the first to produce the largest numbers of chartered accountants.
Similarly, Allison Ayida was a connoisseur, often described as the "quintessential public servant." Indeed, he was one of those dubbed "Super Perm Sec." As a testimony to his knowledge, resourcefulness and staying power, he served three heads of states – General Yakubu Gowon (1966-1975), General Murtala Muhammed (1975-1976) and General Olusegun Obasanjo (1976-1979) as secretary. Mr. Ayida initiated many remarkable ideas that shaped the country's development since the decade of independence. Born on June 16, 1930 of Itsekiri stock, Ayida was well equipped for the task which later fell on his shoulders. After his early education in Edo State and Warri in Delta State, he attended the prestigious King's College Lagos, and Queen's College, Oxford where he earned his Bachelor's degree in Politics, Philosophy and Economics 1956.
Upon his return in 1957, he rose quickly through the ranks in Ministries of Education, Finance, and Economic Development and Reconstruction where he became permanent secretary. He became Nigeria's highest civil servant in 1975, as Head of Service and fifth Secretary to the Federal Military Government. Ayida's profound impact was remarkable in the initiation and execution of government policies and in providing continuity in all situations and in providing leadership at all times, including during the civil war years.
And like Dafinone, Allison Ayida served as Chairman and member of several boards including United Nations Economic Commission for Africa, National Rehabilitation Commission for Emergency Relief Operation and Post-War Rehabilitation and Reconstruction, Nigerian Security Printing and Minting Company Ltd and others. He also was a director at Lever Brothers Nigeria Ltd., Chairman of S.G.E.N, Commercial Bank (Credit Lyonnais Nigeria) and CFAO Nigeria Ltd.
It is not a surprise therefore that the country took note of the services of both men as they were highly decorated by their communities and the nation at large. May their souls rest in peace.