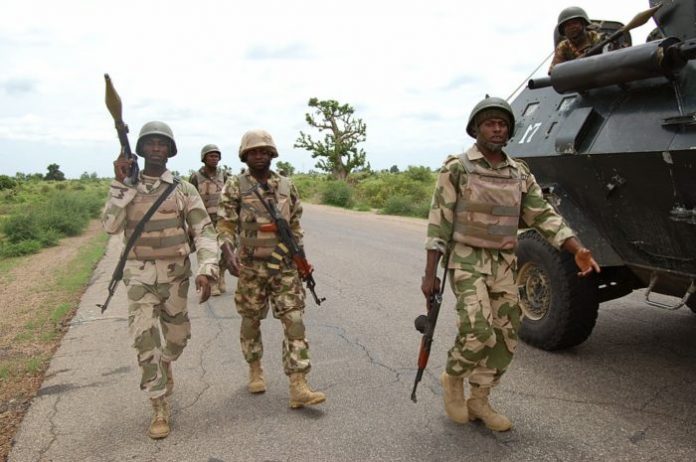 Olawale Ajimotokan in Abuja
Five members of the Shiite Islamic sect were allegedly killed yesterday during a clash with the military in Zuba, Gwagwalada Area Council of the Federal Capital Territory (FCT). According to eyewitness accounts, a cortège of Shiite members was marching from Suleja, Niger State, to Abuja when they clashed with soldiers.
The group, in their hundreds, were protesting the continued detention of their spiritual leader, Sheikh Ibraheem El-Zakzaky, who has been held by the Department of State Services (DSS) since December 2015.
Sources said the Army shot and killed five members of the sect during the clash, which occurred at the Dan Kogi checkpoint at Zuba.
The sect members, clad in black outfits, were said to have rejected the entreaties of the soldiers stationed in Dei Dei, Dakwa and Zuba to back off and, instead, resorted to lobbing stones and other projectiles at the soldiers.
Despite their losses, as the lifeless bodies of their members laid on the road, the Shiite, allegedly, remained defiant as they challenged the military. They barricaded the road, causing a long traffic build up.
As the commotion broke out, pedestrians, traders and other people ran for their life, with many drivers abandoning their vehicles. Many people were also stranded, as commercial drivers refused to ply the road for several hours.
When THISDAY sought the reaction of the Director of Army Public Relations, Brig-Gen Texas Chukwu, on the development, he said he was unaware of the clash as he was out of town.
Shiite protests have become rampant and daring in Abuja since El-Zakzaky and his wife were put behind bars by federal government, after clashes between the sect and the military in Zaria, Kaduna State, in December 2015 led to the massacre of more than 500 members of the sect.