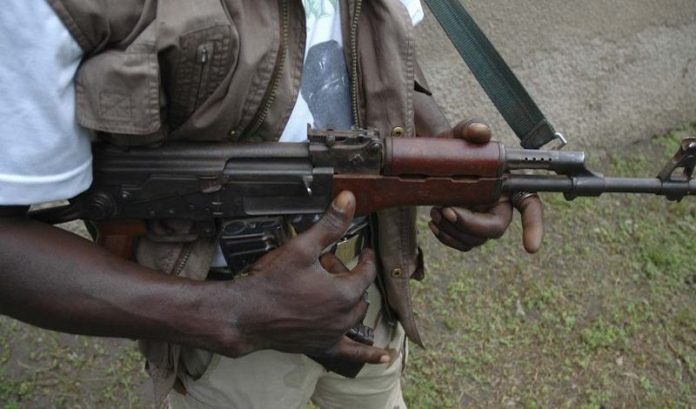 By Victor Ogunje in Ado Ekiti
A member of the Ekiti State House of Assembly, Hon. Michael Adedeji, was in the early hours of Friday shot by unknown gunmen while travelling to Akure, the Ondo State capital.
The Peoples Democratic Party (PDP) lawmaker was one of the legislators that partook in the removal of the former Speaker, Hon. Kola Oluwawole, and subsequent election of an All Progressives Congress (APC) colleague, Hon. Adeniran Alagbada, as the new occupant of the seat.
The Deputy Speaker of the House, Hon. Segun Adewumi, told journalists in Ado Ekiti Friday that Adedeji, representing Ekiti South West constituency II, was shot in the head.
He said the lawmaker was immediately rushed to the Ekiti State University Teaching Hospital (EKSUTH), where he was admitted at the Accident and Emergency Unit for intensive medicare.
The legislator, who is of PDP extraction, added that the lawmaker was accosted on the road by the gunmen and was shot while trying to escape the scene by putting his car in reverse.
"When he was accosted on the way, the lawmaker wanted to flee the scene by putting his car on reverse gear to another direction, but these evil men opened fire on his vehicle and the bullets hit him on the head.
"He was immediately taken to hospital in Ado Ekiti where he received emergency treatment," he said.
When newsmen visited the Accident and Emergency Unit of EKSUTH at about 11.40am Friday, one of the staff disclosed that the lawmaker had been referred to the Federal Teaching Hospital in Ado Ekiti.
"He had been transferred to Ido Ekiti. The bullets hit him in the head and he would have to undergo neurosurgery as soon as possible," he said.
The Deputy Speaker further revealed on telephone that the lawmaker has been taken to FETHI where he would have access to CT scanning of his head.
The lawmaker once had problems with former Governor Ayodele Fayose and the Oluwawole-led Assembly prior to the PDP governorship primary over his closeness to the senator representing Ekiti South district, Mrs Biodun Olujimi.
Olujimi backed the former Minister of Works, Prince Dayo Adeyeye, in the primary election against Fayose's preferred candidate and former Deputy Governor, Prof. Kolapo Olusola.
The lawmaker narrowly escaped being hammered with suspension, but his punishment was commuted to tendering of apologies to the former governor which he did at the house's parliamentary session.
When called for confirmation, the Police Public Relations Officer, Ekiti Command, Mr. Caleb Ikechukwu, said the incident has not been brought to his notice.
"We have not been officially briefed but when we have the information, we shall act appropriately," he said.