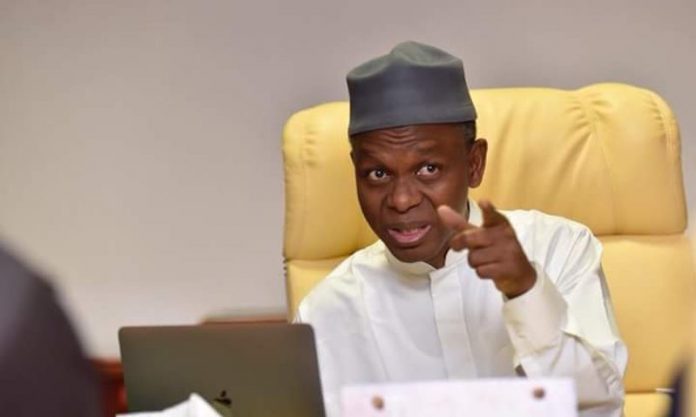 By John Shiklam in Kaduna
Kaduna State government on Friday reimposed the 24-hour curfew on Kaduna metropolis, its environs and some local government areas following the tension that trailed the killing of a traditional ruler, the Agom Adara, Mr. Maiwada Raphael Galadima.
The traditional ruler who was abducted last Friday on his way from Kasuwan Magani to his palace in Kachia was killed on Thursday night by his abductors after collecting an undisclosed sum of money as ransom.
News of his death threw the city into confusion as angry youths started burning tyres along the Sabon Tasha Expressway.
Residents were gripped by fear as they ran helter skelter to their homes.
The 24 hour curfew earlier imposed on the city following violent clashes that claimed 77 lives within the metropolis and Kasuwan Magani community, was Wednesday reviewed to commence from 6:00am to 5:00pm daily till further notice.
The state government in a statement by Samuel Aruwan, Media Aide to Governor Nasir el-Rufai, said the 24 hour curfew had been reimposed as a result of fresh security concerns.
He said the affected areas include Kaduna metropolis and environs, Kasuwan Magani, Kajuru, Kateri and Kachia, where the palace of the traditional ruler is located.
"This is a necessary step to help maintain peace as we mourn the death of His Royal Highness, the Agom Adara, who lost his life in the early hours of today (Friday) to the criminals who abducted him last week.
"The Kaduna State Government calls for calm in all our communities. The criminal elements who perpetrated this crime should not be allowed to divide us" the statement said.
The statment lamented that what is happening in the state was a struggle between law abiding people and those who want to divide and destroy the state.
"This is a struggle between good, decent, law-abiding people trying to uphold the peace and criminals who want to divide and destroy. It is not a struggle between religious or ethnic groups. Let no criminal find succour in faith or tribe.
"Let us unite against every criminal activity. Let us stand together as human beings who have a right to live in peace" the statement said.