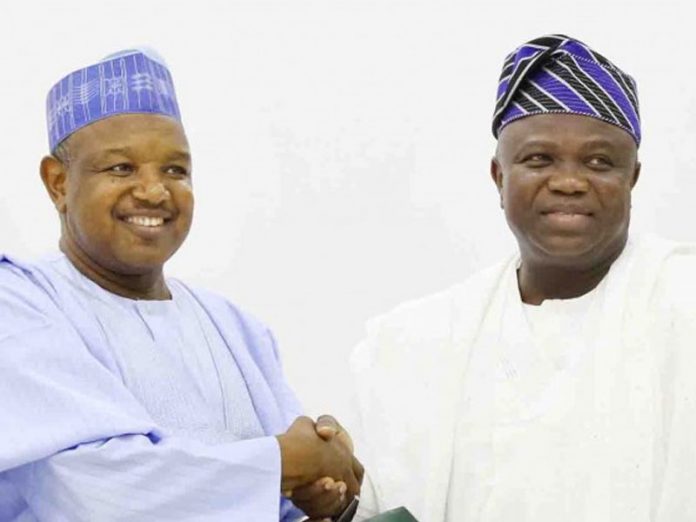 Praises his contribution to rice import reduction by 90%
Gboyega Akinsanmi
Kebbi State Governor, Alhaji Atiku Bagudu thursday regretted despite his good works, Lagos State Governor, Mr. Akinwunmi Ambode, had been denied the opportunity to serve for another term.
Listing Ambode's good works, Bagudu said, for instance, Nigeria could not have been able to reduce rice importation by 90 per cent without his strategic support to the Nigerian Rice Initiative (NRI).
He gave insight into how the partnership between Lagos and Kebbi States culminated in the massive production of Lake Rice at the 18th National Women Conference of the Committee of Wives of Lagos State Officials (COWLSO) held in Lagos yesterday.
At the conference, Bagudu commended Ambode for the Lake Rice initiative, saying apart from rekindling hope in the ability of Nigerians to achieve a lot for Nigerians, the initiative led to 90 percent reduction in rice Importation.
He said, "Ambode spoke about one of the things I believe is a measure of his greatness, which is the partnership between Lagos and Kebbi. Ambode and I have worked in farms in Kebbi State. Without Ambode, there would not have been Lake Rice. I repeat again, without Ambode, there would not have been Lake Rice. "The significance of Lake Rice is that it encouraged a revival in the 'we can do spirit' and Mr. President captured it adequately when he said at least now when we tell the world we are going to do something they better take us seriously.
"Those Nigerians, Africans and well-wishers who saw Mr. President when he visited Prime Minister Theresa May and President Donald Trump and announced enthusiastically that Nigeria has reduced its rice importation by 90 per cent can humbly say that without Ambode we wouldn't have achieved that.
"Ambode supported the NRI. Without her Excellency, Mrs. Bolanle Ambode and COWLSO, who encouraged and supported the Lake Rice and the Nigerian Rice Project that would not have been possible. I thank you all for what you have done for Nigeria and what we have done to show that it is possible." Bagudu, however, lamented Ambode's botched second-term aspiration, which according to him, might have been due to the fact that the governor might have offended some political leaders and interests in the state.
Despite his botched aspiration to seek re-election, Bagudu commended Ambode for the high sense of maturity displayed in the wake of the political developments, saying he demonstrated grace, which had united the APC ahead of the 2019 elections.
Bagudu said while it was inevitable to offend people in life, Ambode had since moved on and holds no grudges against anybody, noting that history would be kind to him for his great works in the state.
He said, "Ambode does not like to be praised; he is a very private person. I always see a reflection of him in me that how private people function in all our public works in politics. He has done a lot for Lagos. He has continued in the tradition. Understandably, he might have offended some people.
"I have done so, many others before us have done so. But Ambode has demonstrated grace and being the believers that we are. We believe that history will judge him kindly. He holds no grudge against anybody. He has assured me and he loves the people of Lagos State and he is committed to their will."
In his remarks, Ambode said the Lake Rice initiative had significantly impacted on the economic fortunes of not only Lagos and Kebbi States, but also the entire nation, saying Bagudu also deserved commendation for the success of the partnership.
Ambode congratulated executives and members of COWLSO for another very successful conference, saying it was on record that Mrs. Ambode, along with other hardworking and committed members, had succeeded in taking the association and the annual conference to a higher level. He said from testimonies, the conference was yet another rewarding two days of networking, eye-opening, educative and inspiring experiences, adding that it now behoves participants to spread the knowledge gained.
He said the opportunity to be part of a conference such as this is a privilege which also comes with a corresponding responsibility, noting that women "have a responsibility to share this experience with other women and men around you.
"This is the only way that the impact of the knowledge gained at this conference can be widened and deepened. It is a burden each and everyone has to discharge to the best of your abilities. The government, no doubt, also has its own responsibility in terms of giving due and deserving consideration to the recommendations contained in your communiqué."
In a communiqué for the conference, COWLSO said it was time for women to rise against the menace of children becoming mothers, especially by putting machinery in place for continuous sensitisation and advocacy to address and eliminate the root-causes and consequences.
The communiqué, which was read by Prof. Ibiyemi Olatunji-Bello, said government must put structures and policies in place to address the issues of children having children.
"The government at all levels, policy makers in health sector both at State and local levels, family, society, NGOs and so on, must all rise and resolve to eliminate the menace by enacting a policy for a reduction in the minimum age in rendering family planning services from 13 to 15 years," it said.