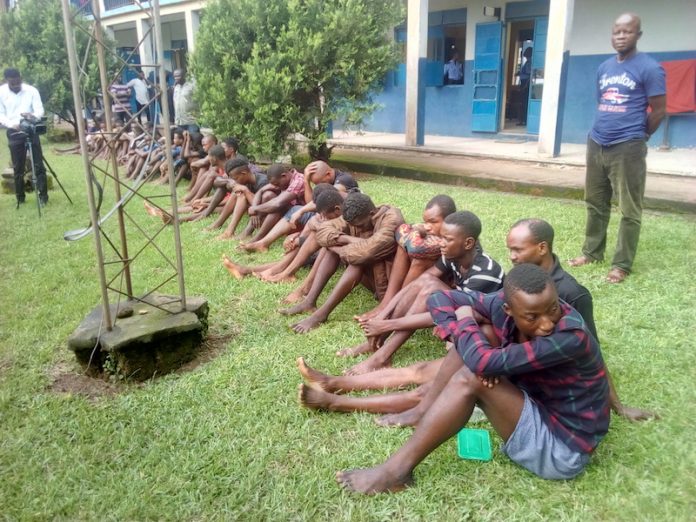 Adibe Emenyonu writes that the spate of cult related killings, which recently resurged in Benin City, Edo State capital, has reduced, following the arrest of 58 suspected cultists
Recently, cult related killings seemed to be gradually becoming the order of the day in Benin City, capital of Edo State. In the past, such killings were usually associated with motor park operators who from time to time engage each other either in a supremacy tussle or sharing formula on the proceeds of park tickets. With removal of ticket collections from these elements, it was expected that such scenarios will fizzle out. This is however not the case as no week passes by without stories of one killing or the other. Most times, the cause of these clashes are shrouded in secrecy.
Blackspots
Consistently, all the recent cult activities, be it clashes or meetings have always taken place in certain areas now branded as black spots in the state capital. These areas are Ekenhuan Road by Stadium Road junction, Ekenhuan Road by Akenzua junction, Ekenhuan Road by Asoro junction, Evbuotubu Road, Ugbiyoko, Murtala Muhammed Way by 3rd junction, Murtala Muhammed Way by Uwa junction.
Other identified black spots included Uwasota/five junction/Ibiwe, Siluko Road by Mobil/Traffic light, Siluko by Erhumhunsee, Sapele Road by Ogbelaka/Agip, GRA(Benoni, Boundary Road, Ihama, Giwa Amu, 2nd Ugbor by BIU junction, Abuja Quarters, Airport Road by Irhirhi, among others.
Series of Attacks
According to information gathered by THISDAY, the first attack saw three persons dead. One of the victims was killed on a Sunday at about 1 pm in Iyobosa Street by Sokponba Street. Sources said his assailants first stormed a Pentecostal Church along Eweka Street but did not find him. Determined to gun him down, they were said to have searched for him in other places within the vicinity they suspect he would be. When they finally found him by Third Junction, he ran to Iyobosa street where he was eventually killed.
Similarly, another of the victims was said to have been killed on Isibor Street off Sokponba road while the third victim was said to have been shot by gunmen in Alohan Junction off Erediauwa by Sapele Road.
While the state commissioner of police's figure was based on the recent events of October 10 to 11, THISDAY however gathered that the killings actually began in September when two persons were reportedly killed in Auchi, Etsako West Local Government Area in a clash between rival cult groups. It was gathered that the initial clashes were between members of the Black Axe and Aiye confraternities. Before members of another group, identified as Maphites, later joined in the fracas.
Within the same time in Benin City, two other persons were also killed in cults' clashes around Upper Uwa, Isiemwerho between 1st and 2nd East Circular Road, and at Uwhene Ugbague Road axis of Benin, the state capital.
The dead included a patent medicine store owner along Igbei Street and a generator mechanic, before a combined team of police operatives and the local vigilance group were drafted to the streets to restore law and order.
Before then, the streets were deserted and stores closed down when a technician identified as Godbless Olitan was killed by persons suspected to be cultists near Oliha Market in Benin, after he was reportedly chased by his assailants to a building along Ore-Oghene, where he was eventually killed.
Eyewitnesses say the assailants drove a Toyota Camry car. Our reporter was told that the deceased had received a call in his family house at 6, Basuaye Street, off Ore-Oghene Street, that a costumer was waiting at his shop near the market. He was on the mission to see the purported customer when news came to his family that he has been shot dead.
Even those on their way to church were not safe either. Just last week, gunmen suspected to be kidnappers, were reported to have abducted a yet-to-be identified woman on her way to church. The incident as gathered occurred on Ogeifa Street, off Mission Road, Benin City, following the killing of another unidentified middle-aged man on same road. It was gathered that the victim was allegedly ambushed by the gunmen on her way to attend the 6:00a.m. mass at the Holy Cross Cathedral Church on Mission Road, one of the biggest Catholic churches in the metropolis.
The attackers were said to have ordered her into an unmarked vehicle and zoomed off before residents could either raise the alarm or come to her rescue. The Assistant Parish Priest, Rev. Fr. Mark Okoh, who was in shock at hearing the news of the abduction, as well as many of the faithful when it was announced during Sunday mass, condemned the incessant criminal activities taking place in the area recently.
Arrests
The sudden outbreak of violence no doubt elicited public outcry before the police stepped in to arrest the situation to avoid futher breakdown of law and order.
Addressing journalists at the Police Command headquarters, the stage Commissioner of Police, Mr. Johnson Kokumo, disclosed that 54 suspects have been arrested in connection with the latest cult killings. The Edo police boss who confirmed the killing of eight persons by the various cult groups in the state, also disclosed that some exhibits were recovered from them.
According to him, "there was heightened criminal activities viz cultism by rival cult groups; the Black Axe, Eiye, Black Mafians, Vikings and Aye within the period of 11 – 12 October this year leading to deaths".
He listed the location where the eight persons were killed as 3rd East Circular Junction, where two persons were hacked to death, Iyobosa street by Murtala Muhammed Way, Osibodu street by Sokponba road, Alohan street by Sapele road, Guru Maharaji Hotel and Omomo by Tipper garage.
Kokumo said four pump action riffles, seven single barrel cut-to-size guns, one double barrel cut-to-size gun, two battle axes, 45 live cartridge and one Toyota saloon car with registration no: Lagos AKD 467 DV, as some of exhibits recovered from the suspected cultists.
Also listed by the CP were one Nissan Vennet Bus with Reg no: Osun FFE 599 CA; one Nissan Vennet Bus with Reg no: Edo EkP 628 XF; one unregistered Mazda 626 station wagon car, one driver's license, one Permanent Voter (PVC) with name and one photograph that were recovered from the suspects hideout.
To this end, CP Kokumo warned those involved in cult activities in the state to begin to relocate, noting that his command will leave no stone unturned to ensure they are prosecuted when arrested.
He said it was cultists not armed robbers that were on rampage, adding that "We made adequate deployment to key areas, a sizeable number of the cultists have been arrested and a reasonable number of their arms and ammunition have been recovered.
Governor's Vow
Also in a statement, Governor Godwin Obaseki through his Special Adviser, Media and Communication Strategy, Crusoe Osagie, vowed to flush out criminal elements from the state after a meeting with heads of security agencies.
"I have met with the Commissioner of Police and the DSS boss over the increased spate of cult activities in the state and we are deploying resources to ensure that those fuelling the crimes are brought to book. We are committed to a safe Edo and will not tolerate any criminality," Obaseki stated.