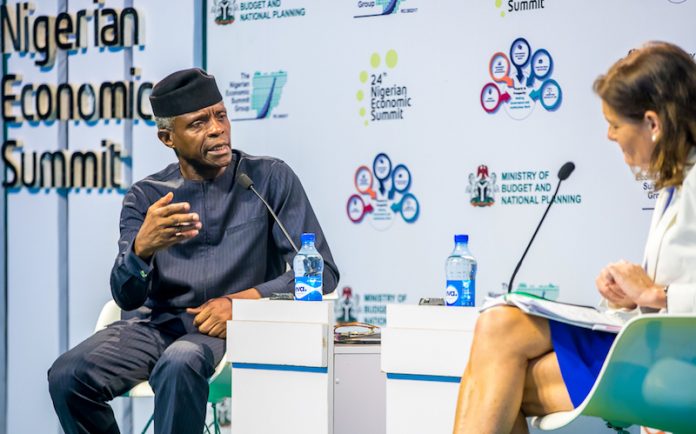 Segun Awofadeji in Bauchi
Vice President Yemi Osinbajo yesterday inaugurated the nationwide Micro, Small and Medium Enterprise Clinics (MSME Clinics) for viable enterprises event on a one-day working visit to Bauchi State.
National MSME clinic is a brain-child of the vice president's office in partnership with the Federal Ministry of Industry, Trade and Commerce, and other federal Ministries, Departments and Agencies (MDAs) responsible for business facilitation.
It is aimed at providing solutions to various challenges affecting the growth and development of MSMEs which account for 99 percent of businesses in the country in order to accelerate their ease of doing businesses with the federal government's regulatory agencies.
Speaking at the state edition of MSME clinic held at the multi-purpose sports hall in Bauchi, the vice president reiterated the federal government's commitment to use the resources of the country to empower the lives of Nigerians by providing job opportunities that will elevate their standard of living.
Osinbajo said the Government Enterprise and Empowerment Programme(GEEP), Market money, school feeding and N-Power programme are all geared towards providing employment opportunities for Nigerians.
According to him, "The determination of our administration is to see to it that Nigeria resources are used for the benefit of Nigerians. We will not allow any part of Nigeria resources to be used for private purposes.
"President Buhari's commitment to Nigerians is that he will not steal the country's resources, but will use them for the benefit of the people. Our aim is to make sure that all young men and women are occupied in their businesses or employed one way or the other.
"There must be jobs and resources for young men and women to be able to do their work and contribute their quota to the country."
In his address at the occasion, the state Governor, Mohammed Abubakar, lauded the federal government for providing employment opportunities through various interventions programmes, saying many youths who have been empowered by the skill acquisition programmes of the federal government in the state are now independent and proud owners of businesses.
Earlier, when he paid a courtesy visit to the Emir of Bauchi, Alhaji Rilwanu Adamu, Osibanjo said the federal government is set to launch 'One Stop Shop' programme for the regulatory agencies in Bauchi.
Osinbajo said: "For the first time, we are launching what we call 'One Stop Shop' for the regulatory authorities in Bauchi State.
"This means we would have the NAFDAC, SON and Corporate Affairs Commission under one roof in Bauchi so that anyone of these traders and small businesses owners can go there and deal with all their problems," Osibanjo revealed.
The vice president also reiterated that corruption remains one of the greatest challenges facing the country, adding that it is a great blessing having President Buhari at the helm of affairs who is willing to tackle corruption with all cost and positively impact on the lives of the common man.