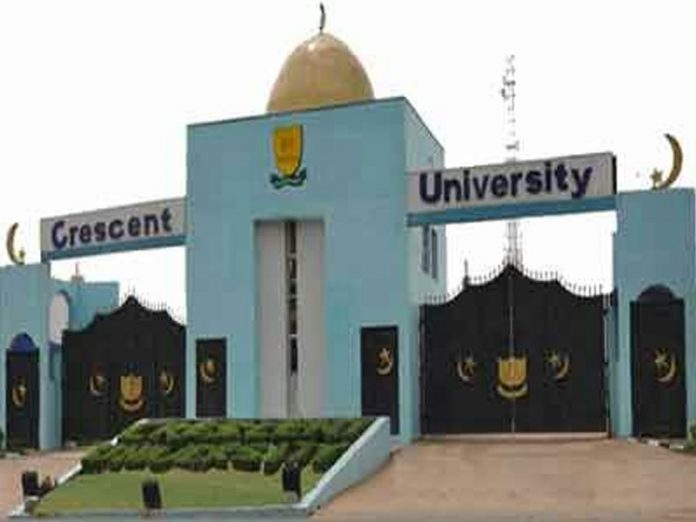 At the 10th convocation ceremony of Crescent University, held in Abeokuta, Ogun State last Saturday, outstanding students were rewarded, while three distinguished Nigerians were also honoured with Doctor of Science Honoris Causa in various disciplines. Funke Olaode reports
The Nigerian education sector got a boost at the recent 10th convocation ceremony of Crescent University, when it graduated 424 students with 30 outstanding ones who made first class; 171 with second class upper division; 156 with second class lower division; while 67 came out with third class.
Among the outstanding graduands was 21-year-old Tiamiyu Ayokunumi Latifat of the College of Natural Science and Applied Science, who graduated with a first class in Microbiology with a Cumulative Grade Point Average (CGPA) of 4.91, the best ever produced in the history of the 13-year-old institution. Of course, that earned her several academic laurels and an automatic employment.
As a part of its norms to honour outstanding Nigerians that have shone brilliantly in their endeavours, the management led by its founder and Proprietor, the erudite legal luminary, Judge Bola Ajibola SAN awarded Doctor of Science Honoris Causa to Chairman of Telemobile Nigeria Limited, Alhaji Sakariyau Babalola; Professor of Engineering, The Ohio State University, United States, Prof. Alfred Soboyejo; and Chief Executive Officer of ZGM Investment Group of Companies Limited, Mr. Abbey Onas.
In his opening remarks, Ajibola thanked God that the management has been able to sustain, the academic activities of the university in 13 years, as they have continually kept faith in God, and kept the institution's gate open for seekers of education, knowledge and understanding.
He said just like all human endeavours, the management is constantly faced with a multiplicity of challenges in keeping the institution abreast of its mandate and not running afoul of its core philosophy of education plus, that is academic excellence, high moral rectitude and the fear of God. The joy he said is that with determination, the conscientiousness of management and staff and the support of men and women of goodwill, the institution has continued to triumph.
"In the last five years, some five programmes of the university have received accreditation. The atmosphere of learning and the quality of faculty have continued to ensure that our products can compete with the best available anywhere in the world. It is our hope that these stars in whom we are pleased will sooner become a legion and indeed will form a galaxy shining forth for the entire world to see."
On the management's effort to encourage indigent but brilliant students whose education may be truncated due to lack of finance, he said the institution has instituted a scholarship scheme that comes to their aid after establishing the merit of such cases. "I am glad that one of those beneficiaries, Ayokunumi Tiamiyu performed exceedingly well to be the best graduating student."
In his acceptance speech on behalf of other honorary awardees, Babalola thanked the management of the university, especially the proprietor for the honour bestowed on him. "It is uplifting that this award is coming from this great citadel of learning that is rooted in integrity, moral, values and standard in all facets of academic. I am proud to associate with this institution, which happens to be one of the best private universities in Nigeria.
"Its impact in turning out the best brains in its 13th year of establishment is laudable as its products have continued to keep the flag flying in academic excellence both at home and abroad, and their tentacles are being felt in multinational companies globally. This feat attests to the vision of the founder who is also one of the brightest Nigerians ever produced in the legal circle to produce nothing but the best.
"No doubt, Crescent University is playing its part in providing quality education to the Nigerian citizenry because education has the power to transform the society, education is the tool and power that one can use to realise one's potential. Above all, it is the only liberator from the shackles of poverty. Once again, I thank the management of this great institution for this honour bestowed on us and I believe as the year progresses, coupled with the achievements recorded within a short period of time, Crescent University will not only be an enviable university in Nigeria nay Africa, but it will be a global reference," he said.
Born into the notable family in the town of Ede, Osun State over 80 years ago, Babalola started his intellectual journey with the acquisition of Qur'anic education which he commenced when he was barely six years old. Though his parents insisted that he should continue his Islamic education for the next four years after which he joined the St. Peters Anglican School, Oke-Egan in Ede where he had his conventional primary education between 1948 and 1953.
A visionary young man with global traits, shortly after his primary education, he sought greener pasture in Lagos with a meagre sum of thirty shillings. The 30 shillings business grew into a conglomerate, diversifying into areas such as haulage, oil and gas, communication and solid minerals development.
Having set out to conquer the world of business, commerce, science and humanity, SOB as he is fondly called shone brilliantly in the telecommunication sector where he made the most significant contribution. His company, Telemobile Nigeria Limited was the first indigenous telecommunication company to deploy satellite communication in Nigeria. By this feat, he was honoured by the federal government with the Officer of the Order of the Niger (OON) in 2003.
Alhaji Babalola is many things to many people; to his family, he has been the exemplary father, teacher and guide, while to several others he is simply a combination of philanthropist, life coach, and motivator and compassionates religious figure whose love for humanity has endeared him to the hearts of many.
In philanthropy, he is legendary. Having realised the importance of education, his scholarship award to many indigent Nigerian students in various disciplines both in local and foreign universities has reawakened many dreams that would have been aborted. In appreciation of his quality of leadership and contribution to the society, Babalola has been honoured by his faith and community and federal government.
The Crescent University is not the first recognition that would be bestowed on him. In 2003, the University of Calabar honoured him with Doctor of Science honoris causa in Telecommunications, Fountain University, Osogbo and Oduduwa University also gave him honorary doctorate degree in Business Administration. He is also a Fellow of the Federal Polytechnic, Ede, Osun State.
Happily married and blessed with outstanding children who are making marks in their endeavours; one of his sons once served as Minister of power and his eldest daughter is currently the Commissioner for Federal Matters in the Osun State Government.
Among the dignitaries at the event were former Deputy Governor, Lagos State, Alhaja Sinatu Ojikutu; Vice-Chancellor of the institution, Prof. Ibrahim Gbajabiamila; the Registrar, Zakariyya Ajibola, among others. The event was rounded up with a fully equipped medical ambulance donated by the Parents' Forum to the university clinic.