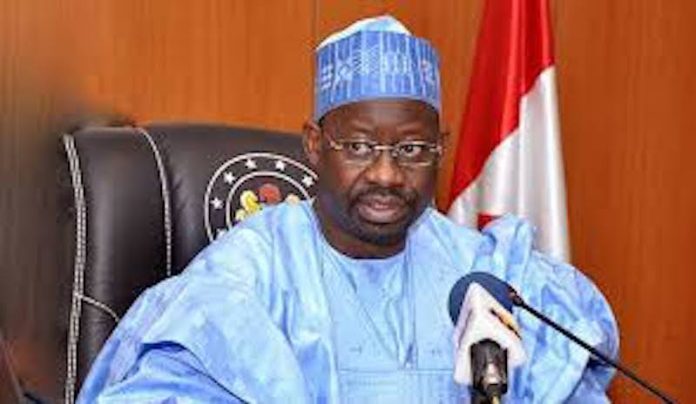 By Junaidu Usman Abubakar
I read with utter dismay an article titled, "Acting the Dankwambo, Nafada Script in Gombe' by one Ibrahim Sani on an online news medium, and I can't help but feel bad about the lack of insight and the perspicacity of the piece.
The writer, like many other enemies of Gombe State, is only concerned with condemning Gombe State governor, Alhaji Ibrahim Hassan Dankwambo, Senator Usman Bayero Nafada, and the most credible, free and fair primaries of the PDP in the state. From the first paragraph to the last, there was nothing in the piece but falsehood and deceit.
It may interest Sani to know that, it is the same Reggae legend, Bob Marley, who once said, "Don't trust people whose feelings change with time. Trust people whose feelings remain the same, even when the time changes." Nothing explains Jamila Isyaku Gwamna's misdemeanors like the above saying.
He is a man whose feelings change with time for just no cause. How will the good people of Gombe State trust such a man, when they have a man in Gombe State Governor Dankwambo, whose feelings remain the same even when time changes? A man who has done so much for the state to make it a better place for all, and a man who allowed a free and fair choice of succession.
Before I proceed, I will want to ask the writer of that mischievous piece a few questions because he is clearly doing more harm with that piece than good to Jamilu Gwamna, JIG, as he called him. How many followers did JIG decamp with to the All Progressives Congress (APC) and how many of such followers are prominent politicians in the political arena of Gombe State? Does JIG have any state or grassroots political structure? Was there any party chieftain or stakeholder he consulted with before defecting to the APC, less than six hours after losing the governorship primaries? Since his defection, how many of his PDP loyalists have joined him in the APC, as a conviction that what he did was right and he has the backing of his followers?
As far as Gombe State's political arena is concerned, JIG is nothing but an opportunist and a power-monger, who wants to get there at all costs. JIG is a political novice and it is an established fact that Talban Gombe and distinguished Senator Nafada are not his mates in politics, and if the PDP primaries is not enough proof for that, the general elections will prove that, come 2019, Insha-Allah.
It is baffling that anyone will even condemn Talban Gombe with all the good things he has done for the state. When his contemporaries are battling to pay salaries, Dankwambo has constructed over 1,782kms of road networks, hospitals, schools and empowerment of thousands of women and youths.
It is Allah who giveth health and taketh it. Sani should know that and it's unfortunate if he doesn't. But Senator Nafada is super-healthy to govern Gombe State and he has the wherewithal and insight to continue the good things Dankwambo has done for Gombe State. How on earth does anybody even think Inuwa Yahaya, a serial loser, can defeat Senator Nafada in any election – Nafada a man who has won every election he has contested by the grace of God and a strong political structure?
Nafada is a man who bears no grudge against anybody and plans no evil or vengeance against any native of Gombe State. Just like Talban Gombe, he will also desist from using government to award contracts to his father's company or give juicy contracts to himself, relatives, and families – nepotism will never be part of his government; it is going to be a credible government for all, just like Talban Gombe did.
To quote another writer in a piece from a different online medium, Nafada has been in the mainstream of the political process for quite some time, unlike JIG, a novice, both at the national and the state level. This grassroots politician has earned and sustained the trust of his constituency and those opportune to have come close to him over the last two decades.
Gombe State has a very interesting political atmosphere in which the people unequivocally stated their stands when it comes to the choice of leadership, promotion of good governance and sustenance of democracy. And I have no doubt that come 2019, the people of the state will queue patiently to cast their votes for Nafada and Talban Gombe.
Notably, the state is home to electorates who do not follow the crowd just because everyone is joining the political bandwagon, but are attached to quality leadership and effective representation. This is why the likes of Senator Nafada could rise through the ranks to his current position as a lawmaker in the hallowed chamber of our nation's National Assembly, to vie for the Number One seat in the state.
With the coming of Nafada into its fold, the view is that the PDP is bouncing back to its full potential and is fast solidifying in the face of dissatisfaction with the performance of APC on one hand, and the consequent rise of politicians of high standing, like Nafada. This army of credible politicians appear to have a consensus on rebuilding the country and their respective states in various capacities on the platforms of the PDP in the coming years.
But what does the return of Senator Nafada hold for the Gombe PDP family? The fact remains clear that as a man who has immense followership in the state and long entrenched political structure, Nafada's return and his long-term interest in the governorship of the state is a good prospect for a state that needs all the competences it can get in sustaining the good work of the outgoing administration of Talban Gombe.
* Abubakar is Senior Special Assistant on Media and Publicity to Governor Dankwambo