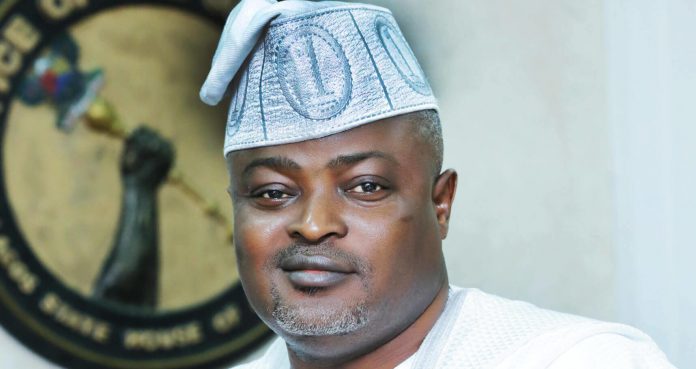 Lagos State House of Assembly has denied the rumour going round, both in the social media and conventional media, that it was planning to remove the state Governor, Akinwunmi Ambode.
Speaking at plenary yesterday, the Speaker of the assembly, Hon. Mudashiru Obasa, said there was no truth in the rumour.
Obasa revealed that he had received telephone calls and enquiries from prominent members of the public over the alleged removal moves against Ambode.
According to him, Solidarity Group of Nigeria and a faction of the APC in the state, led by Mr. Fuad Oki had been insinuating that the lawmakers in the state threatened the governor to open the state treasury for them, and that they threatened to remove him if he failed to do so.
"We are not embarking on any removal process against the governor now. If there would be any removal, it would be from the governor and if there would not be any need for that, it would be from him based on his actions.
"Even at that, removal is constitutional, so many speakers, Senate presidents, presidents and others have been removed all over the world. So, nobody can threaten us if it happens because we are representatives of the people.
"We don't need the wailers to guide us in performing our duties. It is not out of place for us to do our job," he said.
The Speaker added that if there was going to be any removal of the governor, it would be done in the open, but that there was nothing like that for now, adding that the people would know if any impeachment against the governor would happen.
He however, promised that the assembly was working with the governor to ensure peace and development in the state.
This was corroborated by the Majority Leader of the assembly, Hon. Sanai Agunbiade, who stated that the constitutional procedure for impeachment (removal) does not harbour secrecy, adding that members of the public would know if it would happen.
The assembly last week ordered the 20 local government areas and 37 local council development areas in the state to direct the operators of Private Sector Participation (PSP) involved in refuse clearing in the state to go back to work.
The assembly had also disowned Visionscape that was contracted by Ambode to take over refuse clearing job in the state from the PSP operators over a year ago.
It was added that the state government would have to return all the money they have paid to Visionscape and that the heaps of refuse all over the state was an indication that the organisation lacks the capacity to do the job.