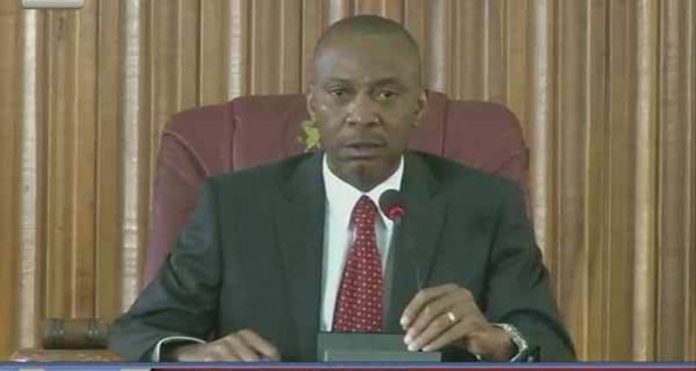 Adibe Emenyonu in Benin City
The Edo State House of Assembly yesterday removed its Deputy Speaker, Mr. Victor Edoror, representing Esan central state constituency.
In his stead, the former Speaker, Justin Okunbo, (Igueben state constituency) was nominated as the new Deputy speaker.
The lawmakers also suspended the member, representing Owan East and Etsako West II constituencies, Folly Ogedegbe and Gani Audu respectively for three months over alleged unruly behaviour.
During plenary, Chief Whip of the House, Osaigbovo Iyoha, (Oredo I) constituency drew the attention of the House to the impeachment notice purportedly signed by 16 members accusing the deputy speaker of misappropriation of funds, corruption and act of desperation capable of throwing the Assembly into confusion
The impeachment motion was seconded by the member representing Akoko Edo constituency II, Emmanuel Agbale, amidst chaos
The plenary was however thrown into confusion when the embattled deputy speaker rushed for the mace and laid hold to it for over 45 minutes, an aftermath of unfruitful attempt to move a counter motion of impeachment against the speaker.
In the drama that ensued, the speaker (Alhaji Kabiru Adjoto, refused to recognise Ogedegbe who in a counter motion accused Adjoto of embezzling N100 million fund belonging to the Assembly.
It took the efforts of the security men, mainly armed mobile policemen who were stationed at the three entrance gates to the assembly as early as 7: am from stopping the fierce looking thugs armed with dangerous weapons from attacking the anti- speaker lawmakers
Addressing the crowd, the Speaker appreciated the people for coming to defend democracy.
He said: "I will always be loyal to APC. The interest of the state is greater than the interest of an individual. As APC members, we are working hard to ensure President Muhammadu Buhari wins in 2019.''