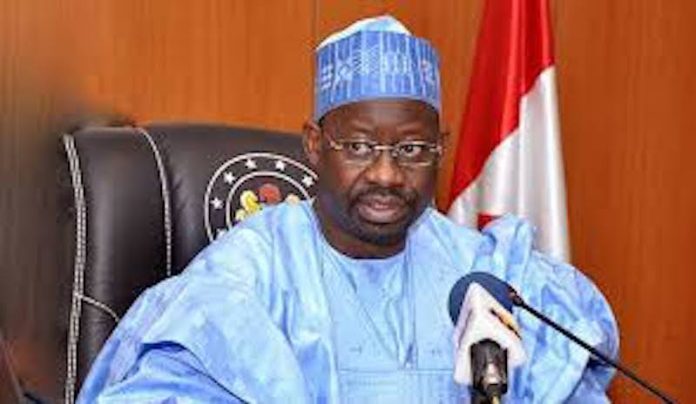 By Kayode Fasua

Gombe State Governor, Ibrahim Dankwambo, came under intense pressure to defect to the ruling All Progressives Congress (APC) in the aftermath of the Peoples Democratic Party (PDP) presidential primary that produced former Vice President, Atiku Abubakar, a close aide of the governor has revealed.
The governor's Senior Special Assistant on Press Affairs, Mr. Junaid Usman Abubakar, in a chat with THISDAY yesterday, said different APC emissaries approached his boss with a view to making him defect but that they forgot "who the man Dankwambo is."
Already, Dankwambo, who lost out along with 10 other contestants in the bid to pick the PDP presidential ticket, has secured the party's senatorial ticket for Gombe North district.
The party's senatorial candidate, Mr. Usman Ribadu, in relinquishing the ticket to him, said Dankwambo, was better than him.
Incidentally, Ribadu is a commissioner in the governor's cabinet.
Speaking on why his boss shunned "juicy offers" from the APC and chose to remain a PDP member, Abubakar said, "They simply did not know who the man Dankwambo is.
"He is a loyal party member who believes in team spirit and who sees politics as sport and not a do or die affair.
"It is true that a lot of people from the APC came to persuade him to shift camp but he wasted no time in telling them his mind, that he is a loyal party man, who will not leave the party simply because of his inability to secure the presidential ticket."
Appraising the presidential primary held in Port Harcourt, Rivers State, where Atiku emerged winner, Abubakar noted that the former VP was able to win because he is a politician and that his boss is more of a technocrat.
"On that day, the core politicians had their way and we had to accept the outcome of the primary like good sport men, and from there, we have moved on.
"The truth is that Governor Dankwambo is 70 per cent technocrat and 30 per cent politician. He has all it takes to fix Nigeria, but we abide by the verdict of the delegates of our great party, and we are ready to do our best in building the party," Abubakar said.
He, meanwhile, debunked speculations that Ribadu was coerced into submitting his senatorial ticket, saying that he willingly gave it to Dankwambo whom the ex-senatorial candidate affirmed as "a better candidate".
"The truth is that, it is too early for Dankwambo to retire from politics, as his people still want more contributions from him.
"Here is a man who is, indeed, a genius. Despite that Gombe collects the second lowest monthly allocation from the federation accounts; the governor was able to construct 1,750 kilometres of roads in both urban and rural areas.
"Also, he was able to build 600 blocks of classrooms in various public schools and set up six tertiary institutions, which include a University of Science and Technology," Abubakar commended.