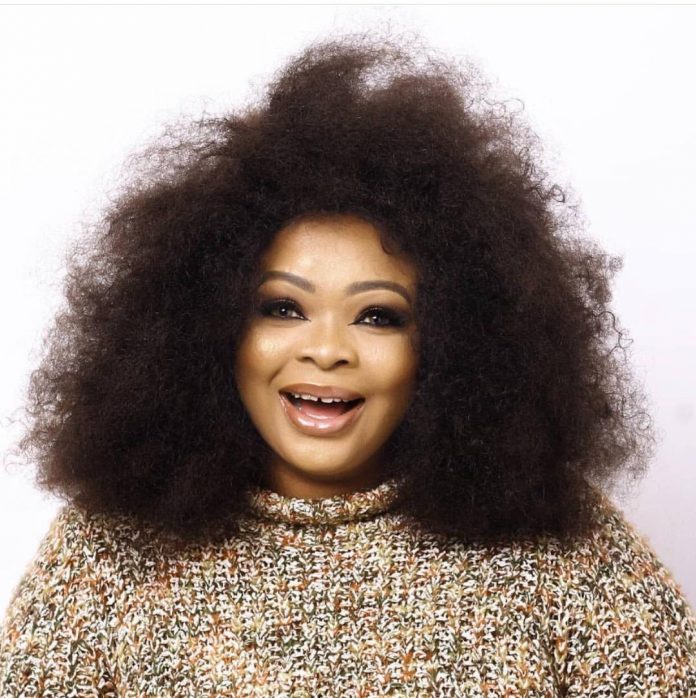 No doubt, Nollywood has become a competitive industry for both actors and filmmakers and has given them the needed avenue to build a career. Dayo Amusa is one of the few talented actresses in the industry who has remained relevant over time. This actress, who is also a singer and an entrepreneur, reveals to Azuka Ogujiuba how she combines business with acting. She also talks about her new project, "That which Binds Us", directed by Desmond Elliot
How did you fall in love with the movie industry?
Being an actress is something I have always wanted to do and had passion for while growing up. I joined the movie industry in June 2002 precisely, I produced my very first movie in 2006 'Ajigbodo' and here we are.
"Ajigbodo" is an all-female cast movie. What was the idea behind the movie?
It is a movie that talks about lesbianism and HIV. The message behind it basically was trying to speak to girls and women out there that being a lesbian does not rule out the fact that you can contact HIV in the process.
What was the reception like, considering the fact that our society doesn't like acknowledging lesbianism? How were you able to handle the backlash?
Initially, it was something else. Some certain people said, 'If she's not a lesbian, why would she write a story that has to do with lesbianism? Why is she producing an all-female cast movie? If she's not into the act, how did she know this and that?' and it went viral at some point. I was wondering how I can be a lesbian and still preach against it. I wanted young girls out there who are into the act to know that it's not something that is acceptable in our society and you could also contact various STD/STIs in the process. My motive behind it was very positive, so I was able to relate with people that feel otherwise about it.
There are loads of movies making it to the cinemas at the moment. Do you consider this as progress for Nollywood?
Yes, it is and we are making money too. I believe if you have a movie with a very good storyline, well produced with good production management, of course, you will make your money.
Tell us about your new project?
My new project is 'That Which Binds Us' directed by Desmond Elliot and produced by myself. The movie is a family tale that talks about love, betrayal, and coming together as a family to amend any form of challenge. It talks about family values as well.
You have ventured into music. How has the reception been?
Initially, it was like 'what's she doing? Why is she singing? Let her stick to her movie, let her stick to acting' and all, but over time I guess they were able to understand my kind of music and my kind of person.
Are you going into music fulltime or is it just for fun?
I've dropped a couple of singles, I've dropped like three videos and I'm working towards dropping a playlist very soon that consists of all my past music and two new songs.
Who has influenced you musically?
I grew up having this thing for entertainment. It wasn't like I'm being influenced to go into it; I just realised that I have the gift. I started music while I was in school even before I joined the entertainment industry where I performed in Canaanland Shiloh and as a chorister in Winner Chapel, Abeokuta.
Tell us about your formative years and how you started your acting career?
As I said, I grew up knowing that I love entertainment. I remember those days that I will have my cousins participate in drama within the house, so I grew up knowing it's something I want to do, though I wasn't given the opportunity.
Which stars did you grow up watching?
I grew up watching Aunty Shola Sobowale, Sandra Achums, and Bimbo Akintola. Those are the three people I looked out for in any movie back then.
You run a school. How do you juggle this role with acting?
It's not a school, it's a crèche. I love kids, I run a kiddies store too and have been able to juggle all with my acting career. I feel it will be easy if you have the right people working for you, everything falls in place.
Are you in a serious relationship or still waiting for Mr. Right?
I am in a healthy relationship.
Are there plans for you to walk down the aisle?
Yes of course, very soon.
What do you have to say to your younger colleagues who think it's right to call out their older colleagues on social media?
I see it as being rude. I think there was a time when situations like that arose and I did make a post about it. Though, some people took it personal but really it's high time we let the upcoming actors understood that there should be room for respect and for the older colleagues, they should try as much as possible to respect their younger colleagues too.
There was a time you had issues with Kemi Olunloyo, how were you able to handle it?
For Kemi Olunloyo's issue, I didn't know her until she picked on me on social media when we lost Aunty Henrietta. She came up with a post that Uncle Jide Kosoko used her for money rituals and I'm like 'is this person okay?' That was how it started. I felt like I cannot give room to be bullied and I cannot be silenced for my own opinion, so I just expressed myself and gave it to her straight up.
How do you handle negative comments?
Over time, I've come to understand that everybody has the right to his or her own opinion and then the fact that the way you see things is different from the way I see things, fingers aren't equal; so there is room for us to see things differently. Sometimes, I like critics because they help me be a better person. I really don't pick offense in it, but when I get to see some nasty comments or someone makes a nasty statement, If you don't think of me as a fan or as a celebrity before you say trash, I'm not going to think of you as my fan before I give it back to you.
Do you think women have a role to play in politics or men are still dominating?
Politically, men are dominating, then it still doesn't rule out the fact that they can take out women. We have our space, we have our voice and it must be heard whether they like it or not.
Have you ever been approached to go for an elective office before?
Yes, I am the Vice Chairman of Actors Guide of Nigeria (AGN) Lagos Chapter.
Women are very vocal when it comes to equal rights these days, what are your views on feminism?
In as much as I want to agree that everybody should have equal rights and even as women we should be given our platform, we should have freedom of expressions. I would at the same time say that we cannot be equal in totality with men. Men have their own responsibilities that they have to stand up to, same as women.
There is this impression about actresses that as playful as they are, they are flirty and randomly available, how true is this?
It depends on the angle they are looking at it from, for me, if you are in a relationship and the relationship isn't working or you feel you have every reason to walk out; you walking out does not make you a flirt. If you are in a healthy relationship and you are finding it all cool, I don't think there is any reason for you to move from here to there.
Some people refer Yoruba actresses to being local and not polished compared to your English counterparts. What is your take on this?
I like the fact that you started with "Yoruba", so I don't know where 'polishness' is coming from locality. We are locally rooted and I don't see the classiness you want to put into you being a local girl. How do you expect a village girl to come on heels and be sassy? So, Yoruba actresses are not razz, as a matter of fact, we have graduates, we have many that speak good English and we are the most polished 'Chickitos' in the industry.
What outfits are you more relaxed in?
I like outfits that are not clingy; they make me feel very comfortable. Sometimes, I might want to be trendy but then, I still love free outfits.